Tawonga Together LIVE 2021
All sponsorship levels include registration for the concert.
Thanks to the All Together Now matching grant program, Tawonga will receive an extra $1 from the Harold Grinspoon Foundation for every $2 you donate!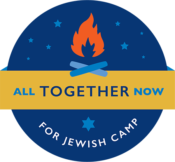 Please be informed that Camp Tawonga may take photos and videos during this event for promotional use.
Looking to donate through your Donor Advised Fund?
⋅ If your fund is held at the Jewish Community Federation click here.
⋅ If your fund is held at Schwab, Fidelity or BNY Mellon click here.
Tawonga Jewish Community Corporation is a 501(c)3 not-for-profit, tax exempt agency. Tax ID #94-3227261