Below you will find a list of our most frequently asked questions about working here at Camp Tawonga.
When should I apply?

Applications will be available at the beginning of December. To be considered in the first round of hiring, applicants must have submitted a completed application and references, and been interviewed by one of our directors by the end of January. Beginning in late January/early February, any open positions will be filled on a rolling basis.
What is the application process? How do I apply?

Applying to be on staff at Tawonga involves an application, references, and an interview. The staff application will be available in December, find it here. Within the application, you will need to provide three references we can contact. After you have submitted your application, it is your responsibility to call our office at 415.543.2267 to schedule an interview.
What are your policies surrounding COVID-19 for the 2021 summer?

View this document to review Tawonga's COVID-19 policies for summer staff.
I've only ever considered being a camp counselor, but I now see that you have many more positions available – how do I choose?

There are jobs at Camp Tawonga for many personalities and skill sets. Read through the position descriptions and see what feels like it would be a good fit. On your application, you can indicate interest in multiple positions. When you interview with one of our directors, they will discuss all positions you apply for and help assess where you might be most successful.
What qualifications do I need to apply to work at Camp Tawonga?

At a minimum, applicants need to be 18 years old by the start of staff training in June 2021 and have graduated from high school. Having prior experience or skills in the position(s) you are applying for is highly recommended. Some positions do require additional, specific certifications. Please see our Summer Job Descriptions page for more details. Experience in group and teamwork settings is also valued.
Why would I want to work at Tawonga?

A Camp Tawonga staff position is a rewarding and coveted position where you get to change the lives of children immeasurably for the better. Working to help realize Tawonga's mission with over 200 peers will be one of the greatest jobs you'll ever have, and love! Click here to read reflections from people who have recently held positions on the Tawonga staff.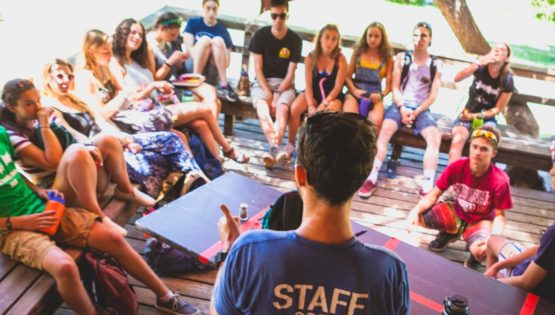 Get Ready to Apply in December