We've finally made it to Session 4! On Sunday we welcomed over 300 campers to Tawonga, showering them with cheers and singing as they descended excitedly from the buses. The traditional Tawonga welcome song echoed across the valley for one last time this summer: 
"We welcome you to Camp Tawonga, mighty glad you're here. Send the air reverberating with a mighty cheer. We'll sing you in, we'll sing you out! For you we'll raise a mighty shout! Hail, hail, the gang's all here, Camp Tawonga welcomes you!"
As campers found their bunks and met their counselors for the first time, they began bonding right away through icebreaker games like "Eyes of Doom" and "Would You Rather". Campers also got to discover their bunk theme! Each session, bunk counselors choose a theme for their cabin, and these range anywhere from goofy to clever to just plain loopy. Some favorites from this session include: G-8A-bba, B-6 Prius, G-5 Pickle and G-6A New Theme Every Day.
After collecting their bags and getting settled in their cabins, campers got to work on their bunk cheers to present at the opening campfire. These campfires are a great opportunity for bunks to show off their creativity while also introducing themselves to other campers, and everyone gets a chance to say their name and pronouns onstage. Also at the campfires are staff from various departments like Waterfront, Teva, and Nannies– each of the departments are presented to campers so that they'll be able to find friendly faces throughout Camp.
Introductions continued on Monday morning with Rotations, which are a chance for campers to visit the various program areas of Camp. Traveling in units (similar-aged bunks), campers also get to meet some of the wonderful staff they'll be interacting with, like the Camp therapists at the Rainbow Lounge, and the GDP (Greater Department of Programming), who plan awesome activity blocks like Gnarly, Jazzercise and Improv games.
Monday evening, we concluded the day with another special Tawonga tradition: the Gender Campfires. Held during the longer sessions, these campfires provide one of three options for campers to participate in: a girls' campfire, a boys' campfire, or (starting in 2017) a third option for those who don't feel like they quite fit into the other two categories. These gatherings are an opportunity for campers to meet in community and discuss experiences and challenges regarding their gender identity, and create a space to support, build confidence and foster a strong sense of self-esteem. 
This morning, activity blocks began in earnest and campers began partaking in classic Camp activities like Lilypad slip n' slide, tea-making in the Garden and even meeting the family of goats at the Farm. 
Now that we're all acquainted, campers and staff alike are eager to dive headfirst into the session with all the blocks, hiking trips and campfires (just to name a few) we can pack into two and a half weeks. These campers have brought such joy and laughter to Camp already, and we can't wait to see what this session has in store!
P.S. In case you missed it, our summer updates have changed this season! We will be posting to the blog about twice a week during Session 4. Parents of Session 4 campers can see daily photos and mini updates from Camp on the Campanion app.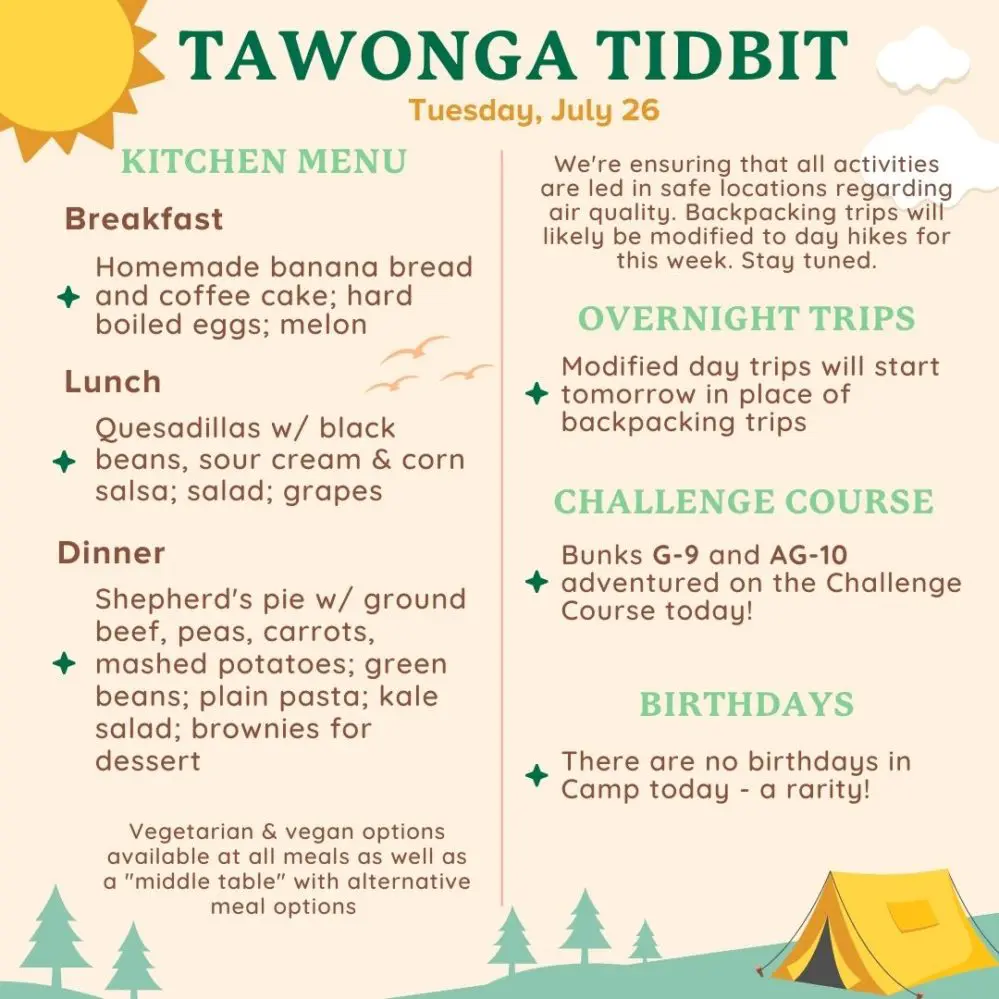 ---
Enjoy these photo highlights from the start of Session 4!