Camp Tawonga's beautiful 160-acre property is situated on the doorstep of Yosemite National Park, on the middle fork of the Tuolumne River and nestled among the trees of Stanislaus National Forest.
Our rustic, remote and serene wilderness location truly sets us apart – offering authentic, immersive experiences in nature and unparalleled access to the majestic beauty of Yosemite, a mere eight miles away. Foundational Tawonga experiences include refreshing dips in the flowing waters of the Tuolumne River and awe-inspiring backpacking trips and day hikes into Yosemite National Park and Stanislaus National Forest.
Without distraction from technology in our screen-free environment and surrounded by nature, kids can focus on friendships and fun – exploring, learning new skills, seeking out adventures and having the time of their lives.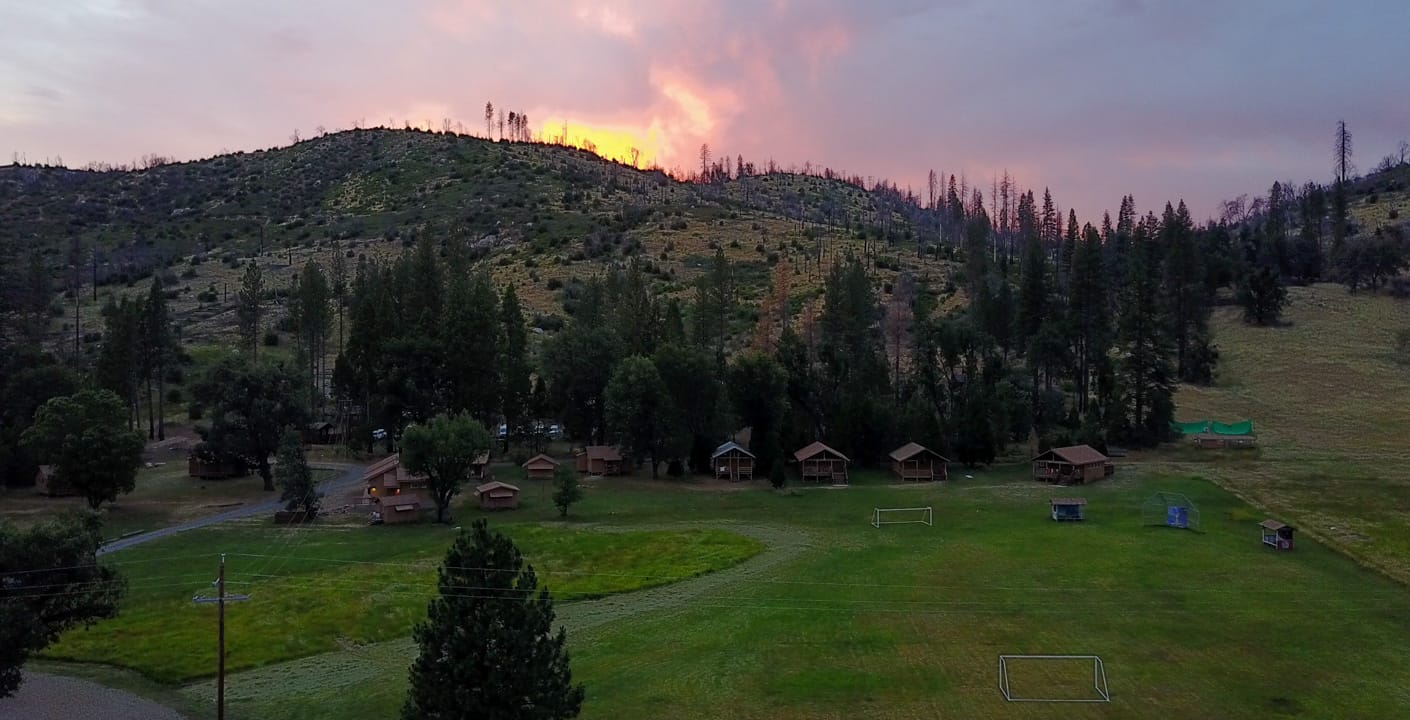 Even when you're indoors at Camp Tawonga, you feel like you're in the wilderness. I love how the cabins are rustic, and you're always surrounded by trees. It's totally refreshing to get to unplug and immerse in nature in this way. Tawonga is my happy place.Ayla, Tawonga Camper
Facilities
In addition to offering immersive wilderness experiences within and surrounding our rustic setting, Tawonga also expertly maintains safe, clean and comfortable facilities, guided by an ethic of environmental stewardship and sustainability. Our property offers:
An Olympic-sized swimming pool for laps and endless games
A lake in the center of Camp (with its own mini island) for pedal-boating and kayaking
Access to multiple magical swimming holes and beaches along the Tuolumne River, which runs through the base of Tawonga
An epic Challenge Course boasting 17 elements situated among the trees
An overflowing organic garden growing herbs, fruits and vegetables – where campers love to make and taste new creations and learn about sustainable food systems
A farm with goats and chickens, where kids use the milk and eggs to concoct delicious treats
A state of the art Arts & Crafts facility offering everything from throwing pottery on the wheel to tie-dye and copper enameling
An archery range, ga-ga court (for Israeli handball), full basketball court and sports field for anything from soccer and dodgeball to capture the flag
Map
Check out an illustrated map of Tawonga's property here.
In Addition, Our Property Includes:
Camper cabins featuring spacious decks for bunk-wide stargazing made of Tawonga-milled cedar wood
An iconic Dining Hall – updated and expanded in 2019 to fit our growing community – with walls proudly lined with historic plaques spanning generations of campers
A glorious outdoor sanctuary, Makom Shalom, which means "Place of Peace," nestled on a hillside among the trees

A brand new, modern Health Center with an upstairs clinic, patient exam spaces, patient recovery rooms and isolation areas, staffed with medical professionals to administer camper medications and tend to any and all health concerns. (A medical doctor is always on duty during the summer.)

Did You Know…
Camp Tawonga was first located in Lake Tahoe but moved to its current location on the Tuolumne River in 1964. With the help of many of Tawonga's original campers from the 1920s, we purchased this property and own it outright.