A Full Circle Moment, from Adolescent to Mom
By: Ellen Nystrom
Last summer my 14 year-old son participated in the Camp Tawonga Northwest Canada Quest Trip, a three-week outdoor adventure with eight other teens and three wilderness leader staff. At the end of the trip, a group of eager parents waited at the designated pick up spot and cheered as two camp SUVs rolled into the parking lot – full of kids, windows down, music blasting.  
As a bunch of excited and scruffy looking kids emerged, full of laughter and inside jokes, I found myself choked up with an emotion that is familiar, but still always seems to take me by surprise. Beyond gratitude, it's an awareness of moments where it's possible to feel completely comfortable in our own skin. 
Each summer when my kids get on the bus to go to Camp Tawonga, I feel this rush of gratitude for the summers that my own mom sent me off to Tawonga back in the 80's. As my kids head into their teen and pre-teen years, I'm reminded of my final year as a camper when I was 12. 
As Tawonga families know, the overnight backpacking trip is a core part of the regular Tawonga summer camp experience, and not always embraced by the campers. My 12-year-old self was no exception and my camp BFF and I stubbornly packed our shampoo and conditioner with every intention of washing our hair in the icy cold river where we'd be camping, because obviously we could not possibly survive one day without washing our hair!  
The morning of our departure from camp, my cabin was up at dawn. We piled ourselves and our gear into the camp van, rode to the east side of Yosemite, transferred to a motorboat, rode across Saddlebag Lake – and finally began our backpacking trek into the backcountry. 
Once we had set up camp, one of my counselors asked if anyone wanted to explore, and without hesitation, I joined her, along with one other bunkmate. My hair-washing plans were forgotten, and we were off! I remember being captivated by the pristine backcountry, and the excitement of what we would discover over the next rock or hill. 
The beauty of Saddlebag Lake, and the experience of shedding the concerns of my pre-teen-self left such an impression on me that 30 years later, I returned to Saddlebag Lake with my family. 
In the time between these two visits to Saddlebag Lake, I've had many meaningful Tawonga experiences as a staff member, loyal Family Camp attendee, camp parent, and – one of many Tawonga love stories – having met my husband on staff. 
Our family trip to Saddlebag Lake brought back memories of what it was like to be a pre-teen, straddling the worlds of childhood and adolescence. At times wanting to run off and play, other times wanting the space to try on different versions of whoever I was becoming, and still needing some guidance to help the best parts emerge and thrive.  
I am so grateful that Camp Tawonga created that space for me, and I view that backpacking trip as a formative moment in my relationship with the outdoors that has shaped me personally, as well as our family culture. 
So, when my son got home from Quest, and I was speechless with emotion, maybe it was just one of those full circle experiences that makes it feel like we are exactly where we are meant to be.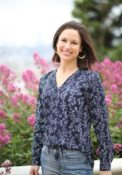 Ellen Nystrom is a former Tawonga camper and staff member, and current Tawonga parent.  She writes a blog for her interior design firm, Nystrom Design, where she shares what inspires her design point of view, including a section dedicated to Nature Therapy.  Read more on the blog here.