By: Morgan Smith, Farm and Garden Supervisor  
A month ago, Tawonga's mama goat named Xbox gave birth to twin baby goats! As you can imagine, this was huge news at Camp. This Sunday, Wet Lightning Mcqueen and Poopsie will be celebrating their four-week-old birthdays. 
In the winter, Tawonga's goats live in Murphys with a wonderful Tawonga alum, Jen Kimber, who takes excellent care of them. During the birth, Jen came up to Camp to be by Xbox's side and to provide support; this mama goat could not have been prouder of her twins! 
These little creatures have stolen everyone's hearts, and I would venture to say that Camp Tawonga is goat obsessed. 
Walking past the Dining Pavilion I overheard B-1 brainstorming fundraisers so they could buy Xbox out from under us. But it's not just love – it's amazing structured programming. In Arts & Crafts blocks, campers get to hang out with the whole goat family and create beautiful and unique art. I've seen everything from goat comic books inspired by the lives of our farm friends to goat postcards with beautiful nature art and cute notes from campers that are delivered to the farm mailbox. 
With song leaders, campers have written their very own lullabies for the babies – who love falling asleep snuggled in a little pile. Of course the classic goat Baah Mitzvah is still a popular program, and campers laugh themselves silly making speeches and giving gifts of manzanita and pine boughs. Farm programming is ubiquitous this summer, so many bunks get to visit the goats, not only to watch milking and make cheese, but to sing,create and develop a genuine relationship with Xbox, WLMq, Poopsie and Mas.
As the Farm and Garden supervisor, I might be biased, but I really love camper goat programming. Unique even among the many amazing opportunities here at Camp Tawonga, hanging out in the Farm is such a great experience to teach campers impact awareness. It is so obvious when our goats are nervous and just as easy to see them feel joy. Letting children develop a relationship with such clear communication and trust is an incredible opportunity for developing self esteem and nurturing empathy. 
At only four weeks old, I think Poopsie and WLMq are already fully in the magic of Tawonga. They have just as much fun as the campers exploring new ideas, meeting new friends and discovering the beautiful world beneath these tall, tall trees.
| | | |
| --- | --- | --- |
| | | Morgan Smith is the Camp Tawonga Farm and Garden Supervisor. She is passionate about empowering children with agricultural knowledge and loves the moment campers realize that not only can they wheelbarrow, they love doing it. Morgan has worked at Camp Tawonga since 2016 in both the kitchen and garden.  |
---
More Session 4 Highlights
Our baby goats aren't the only kids having a blast this session! Campers are really finding their niches and chasing their passions, whether that's perfecting the art of lanyard making at A&C or putting in laps at the Pool to reach Mad Miler status (the highest level of which, Leviathan, is awarded to the camper who swims the most laps).
Other highlights from this week include Tawonga's first ever "Eat With Feet" block, during which one brave G bunk explored their podiatric motor skills and tested the theory that toes have taste buds (results were inconclusive), and a B bunk hanging out with our talented Transportation staff and sharing their favorite songs during a "Car Party" block. 
We also caught up with three bunks enthusiastically engaged in a "Frat Block", which involved a lot of chanting, group rivalry games, and backwards baseball caps, followed by a constructive discussion about toxic masculinity and the positive impacts of camaraderie and inclusive community building.
Meanwhile across Camp this afternoon, campers are scrubbing up in their Shabbat best for our celebrations tonight. It's the first one of the session, and kids are looking forward to the legendary Shabbat chicken (or Shab-ofu for those so inclined) and challah, as well as singing and dancing their hearts out at Freilach, our special Shabbat Song Session after dinner. 
Shabbat programming continues with Kabbalat Shabbat (affectionately nicknamed Kabb Shabb), a reflective Friday night activity shared amongst units, followed by the traditional sleep-in bagel breakfast and Torah services at the idyllic Makom Shalom (Place of Peace) Saturday morning. 
We're so lucky to have over a week and a half more with these campers, and to get to share the magic of Tawonga with all 315 of them!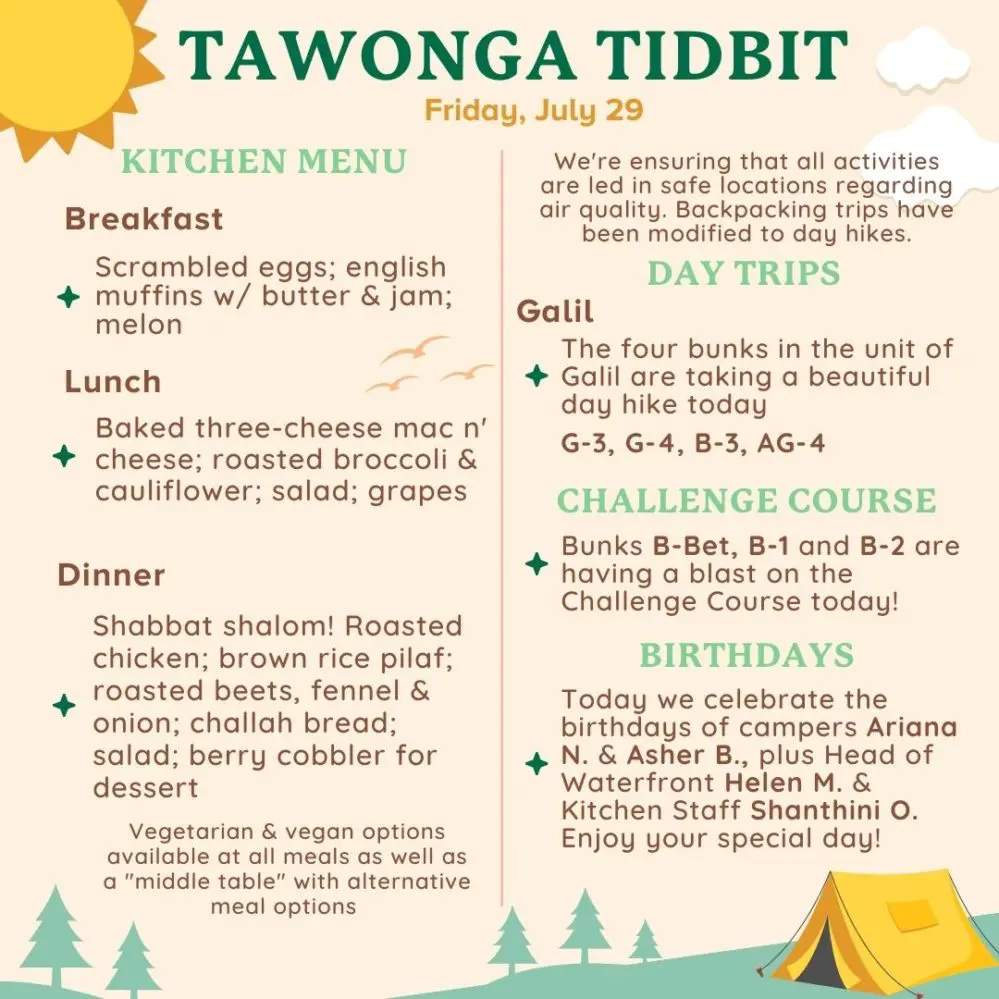 ---
Enjoy photo highlights below from Session 4, followed by some of our favorite goat moments!