Rounding Out Session 2 
In the home stretch of Session 2, some of the most exciting Camp moments are still to come! Last night, Chalutzim Bagel Runners returned triumphant, and today, we gleefully welcomed Haifa backpackers back to Camp. Everyone is here for our end-of-session traditions, from Carnival to Banquet. At this point in the session, friendships are crystallized, making the last few nights particularly special. 
Campers' Partnership with Nature 
Campers all summer, including during Session 2, are giving back to Camp and connecting with the environment in meaningful ways. The Hebrew expression L'dor vador (from generation to generation) is a key Tawonga theme, especially when paired with the core mission value of Tikkun Olam (repairing our world). At Tawonga, our goal is to care for this land as those who are indigenous to it – the Miwok – have out of respect for the land and all its past, current and future inhabitants. SNAP Fellow and Tawonga Forestry Supervisor, Jack Rohwer, is helping make this goal a reality. 
Meet Our SNAP Fellow and Forestry Supervisor, Jack Rohwer
Rohwer first joined Tawonga staff in 2019 on our Wilderness team and recently became a fellow of the Sierra Nevada Americorps Partnership (SNAP). Assigned to Tawonga as a host site, Rohwer works with kids and the land as a fellow and head of forestry. 
With an emphasis on land stewardship, Rohwer works on controlled burns as well as projects on both sides of the Tuolumne River (which runs through our property). In May, Rohwer started a project on the other side of the Tuolumne River, which hadn't been stewarded since the Rim Fire a decade ago. 
Camp is preparing to build a platform for overnights and other programming on the south side of the Tuolumne River, as a peaceful remote alternative destination for backpacking and other immersive outdoor experiences. Our Teen Leadership Institute program is set to help Rohwer with creating the trail on the other side of the river when they arrive during Session 3.
Through his leadership of Tawonga's forestry program, Rohwer helps to give campers the opportunity to learn about this ecosystem and participate in the stewardship of the land. The program consists of two primary components: education about the historical development of this ecosystem and work in service of it. Every program includes a discussion about the history of fire in this ecosystem and the role Native people presently and historically play in managing and shaping this ecosystem.
"It's a position where I can make a difference. I can leave something behind. It's going to benefit Tawonga for a long time," Rohwer said. 
Rohwer said about 30% of his work is with campers, leading Fuel Reduction Forest Tikkun activity blocks to clear debris near the Challenge Course and in other areas around Camp. Every bunk participates in a Tikkun block during their time at Tawonga to give back to Camp. 
The Forest Tikkun is the main way campers engage with the forestry program.  In this activity campers participate in fuel reduction work in order to reduce the threat of destructive wildfire and aid in the healthy reintroduction of fire as a tool to manage this ecosystem. Fuel reduction work involves gathering sticks, branches, and logs and making burn piles far from trees, including reducing ladder fuel, material that allows a fire to climb into the canopy layer of the forest.
During his first Tikkun, Rohwer was initially nervous about kids' receptiveness to the block, but they have been consistently excited to be there and do the work, he said. At the end of one Tikkun, when asked, "How does this work make you feel?", one camper responded, "This work makes me feel accomplished and thankful for Camp Tawonga. Camp gives so much to me, and it makes me feel proud to be able to give back to Camp."
When kids see scorch marks that reach 20 feet high on trees and realize that the Challenge Course where they are doing stewardship work is relatively new since it burned down in the Rim Fire, they have a new appreciation to fuel their efforts in clearing the land. 
"Once they understand why we're here and what we're doing it for, it really changes their attitude," Rohwer said. 
Doing fuel reduction work with campers allows us to participate in long term stewardship of this ecosystem through aiding the reintroduction of healthy and regularly burning fire. We are also able to equip campers with the skills and curiosity they need to continue working and studying in service of the ecosystem.
During all forestry programming, we do a deep dive into the Jewish value of Tikkun Olam. We discuss what it means to repair the world and what we need to know in order to be good at it. Then we participate in an activity that contributes to the repairing of this ecosystem. In this way, campers get to practice Jewish teachings through our forestry work. 
Camp is placing emphasis on its relationship with its land and fire – how controlled burning has been practiced on the site to promote forest health for thousands of years. By doing so, Camp is doing work aligned with our mission and honoring the request of our Miwok neighbors, to take care of the land we now call Tawonga as Indigenous peoples have for over four thousand years. 
---
Check out today's Tawonga Tidbit: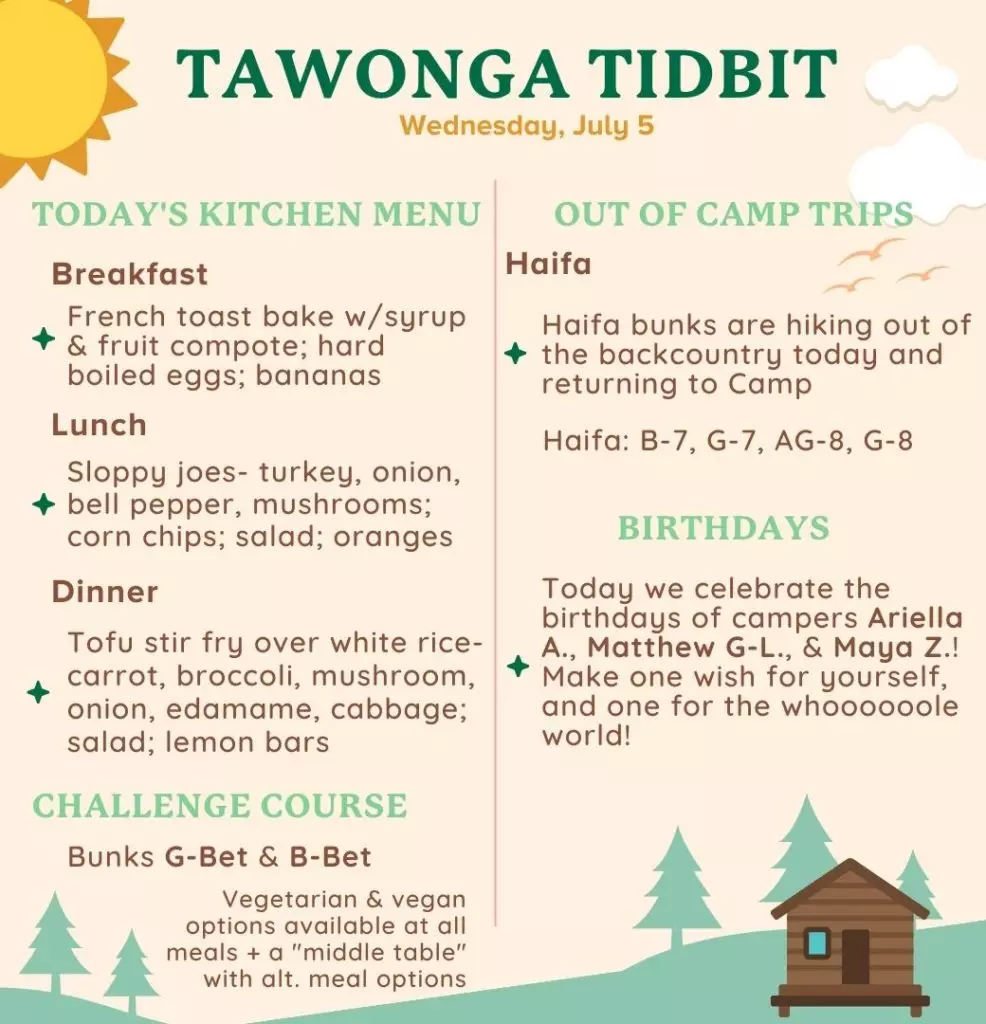 ---
Below, enjoy photos from the last few days of Session 2 and campers doing Forest Tikkun blocks: