We're quickly approaching the end of our first week of Session 2, and campers have become comfortable and confident in their routines and groups.
From singing the "Motzi" (blessing before meals), to nighttime rituals to always showing kindness to one another, some traditions are quickly emerging as Camp favorites. One of these is definitely our nightly song session, where many can be found belting out tunes like The Boxer or MTA, dancing around as the sun sets behind the pines.
Other camper favorites from this week include overnight camping and backpacking trips with our Wilderness leaders, Ruach Hour at Cookie Corner (exploring Jewish values), playing Gaga, foosball and basketball, Animal Anthems with our songleaders and Stories and Songs at the bunks – among many others!
Earlier this week, the Challenge Course hosted its first bunks of the session, with campers taking to the elements to demonstrate their talent and teamwork. Before even stepping onto the high ropes, bunks work together on the lower elements that focus on team building and cooperation. The emphasis is on bunkmates supporting each other (literally and figuratively!), and every camper gets involved in the process.
After lunch on the Course, bunks transition into smaller group or pair activities, moving on to more challenging elements, some 30 feet off the ground! Each and every camper is harnessed and clad in protective gear, attached securely to a belay rope controlled by our highly trained and qualified staff. In this environment, campers are encouraged to challenge themselves and step out of their comfort zone in a safe and independent way. This is always a favorite activity at Tawonga, and bunks come out of the experience stronger, more bonded and more supportive than ever.
Looking forward to this evening, everyone in Camp will be scrubbing up in their Shabbat best (whatever they choose!) for our first Shabbat of the season with campers, kicking off celebrations with the traditional Tawongan Shabbat Stroll led by our songleaders. After a delicious dinner with challah and grape juice, units will head to Kabbalat Shabbat services, with a focus on the Jewish lesson for the week, "My Voice is Powerful".
Wishing everyone back home a peaceful Shabbat.
Check out some highlights from the second half of the week below!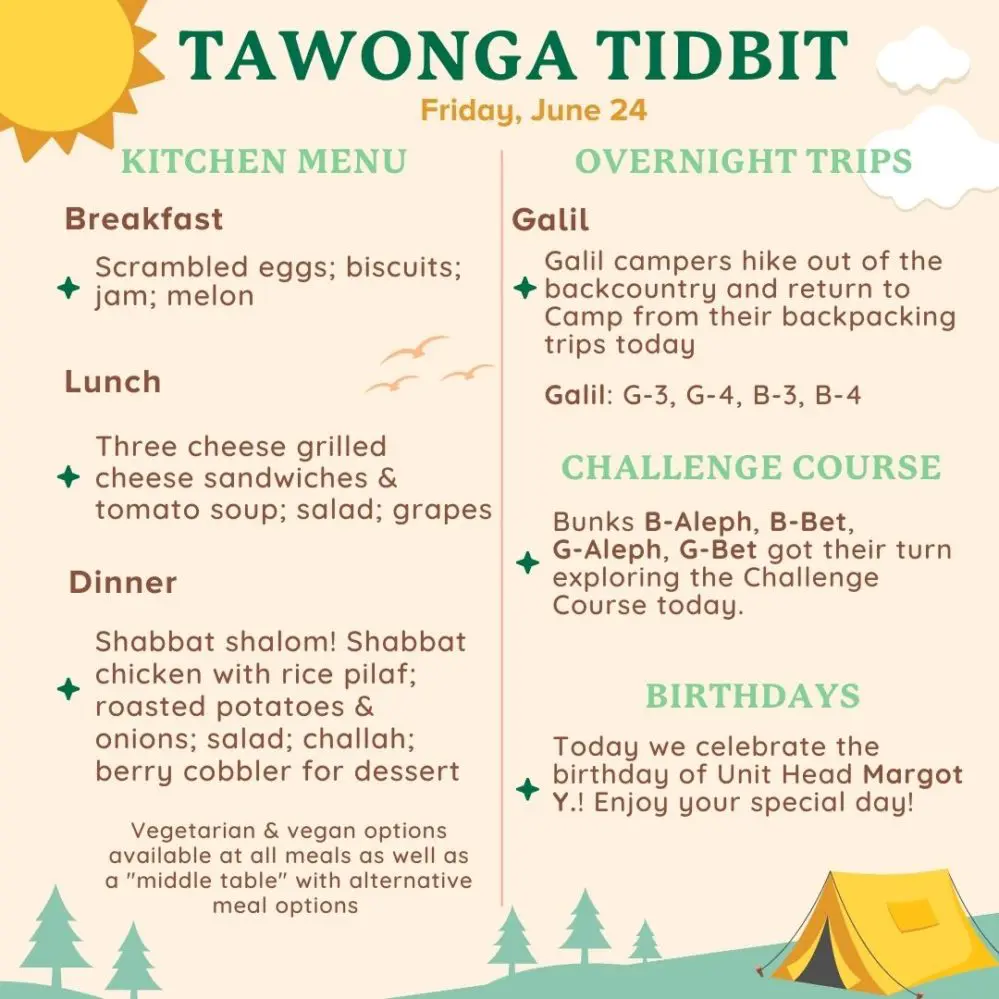 ---
Enjoy photos below from the second half of this week!