The Tawonga Approach
At Camp Tawonga, we strive to support and guide every child so that they can thrive, building confidence in their individuality while learning how to live in a cooperative community. We employ a holistic approach to summer camping, giving bunks of campers the opportunity to choose and experience activities together, rather than focusing on individual skills.
While campers in our longer sessions may participate in elective options or optional day hikes, the majority of each day is spent traveling from one activity area to another as a cohesive bunk. This gives each camper the opportunity to participate in activities they love while being exposed to activities they might not otherwise choose.
We are stronger together than alone, and we strive to instill this in our camper community.
Campers can access multiple bodies of water at Camp Tawonga for swimming, dipping, paddle-boating and more. On our property, we have an Olympic-sized swimming pool, the epic Tuolumne River at the base of Camp (accessible via a short walk) and a natural lake.
We meet or exceed the American Camp Association's requirements for pool staff safety and all safety indicators for natural bodies of water on and off Camp property. We employ five lifeguarding staff and many (approximately 20-25) additional staff with lifeguard training certification. Campers can expect to participate in water activities daily.
Upon arrival at Camp, all campers receive an orientation to the waterfront safety rules. They then take a swim assessment conducted by our lifeguarding staff or can opt out of the assessment and limit their swimming to the shallow end. Safety is our number one priority, and those campers who are not proficient swimmers will always be supervised in the shallow end.
Our swimming program, called "Unit Swim," occurs twice per week and includes 15 minutes of game time to help campers feel comfortable in the water and 15 minutes of "free swim." Campers can also visit the pool during floats or free swim. Our lifeguards facilitate fun swimming opportunities including water polo, "mad milers" lap counting, water aerobics and more.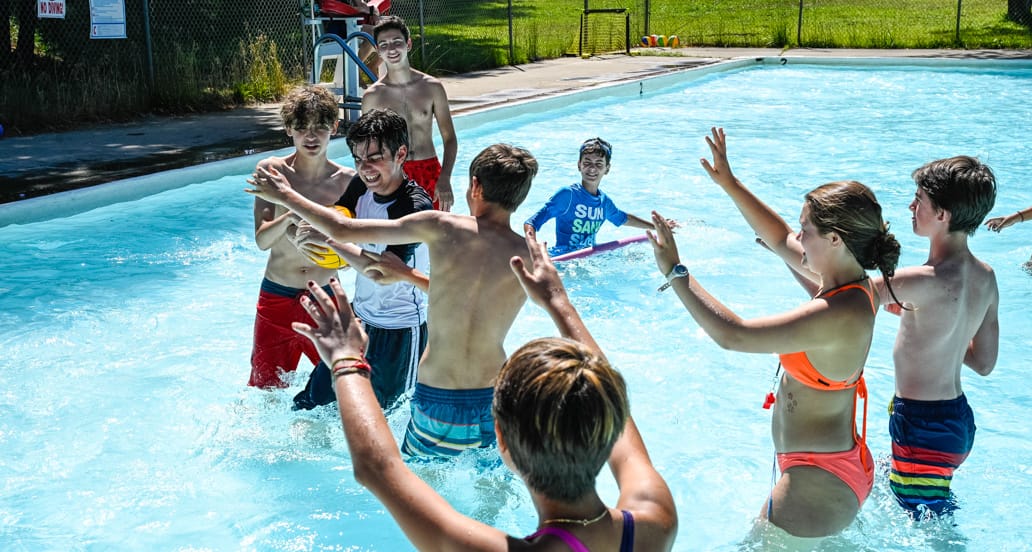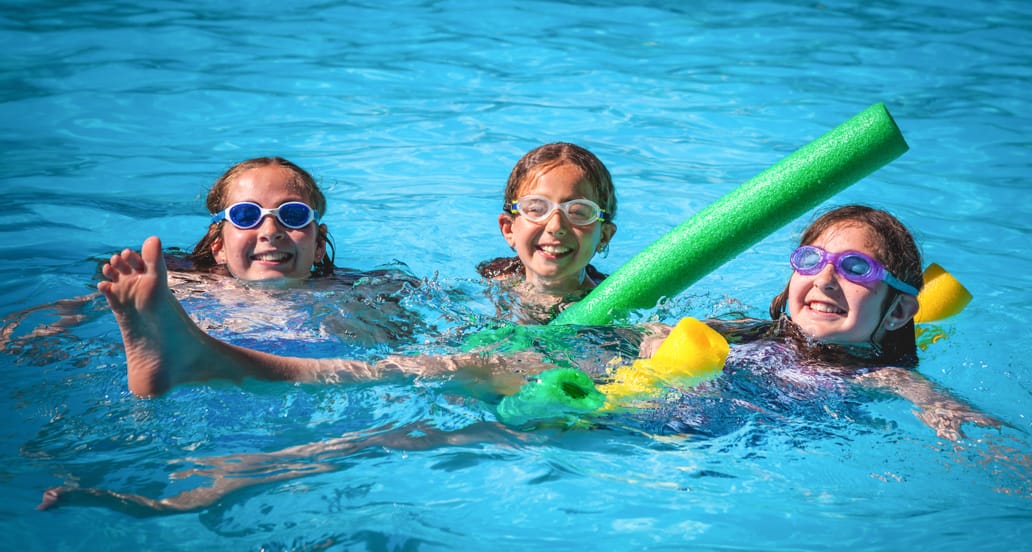 Our lake is primarily used for boating activities: canoeing, paddle boating and kayaking. All campers are required to wear life vests when boating on the lake. Additionally, campers enjoy looking for turtles and frogs in and around the water, as well as playing games or relaxing on the grassy bank. Our famous "Getting Gnarly" activity concludes with a dip in our lake, while supervised by a member of the lifeguard team.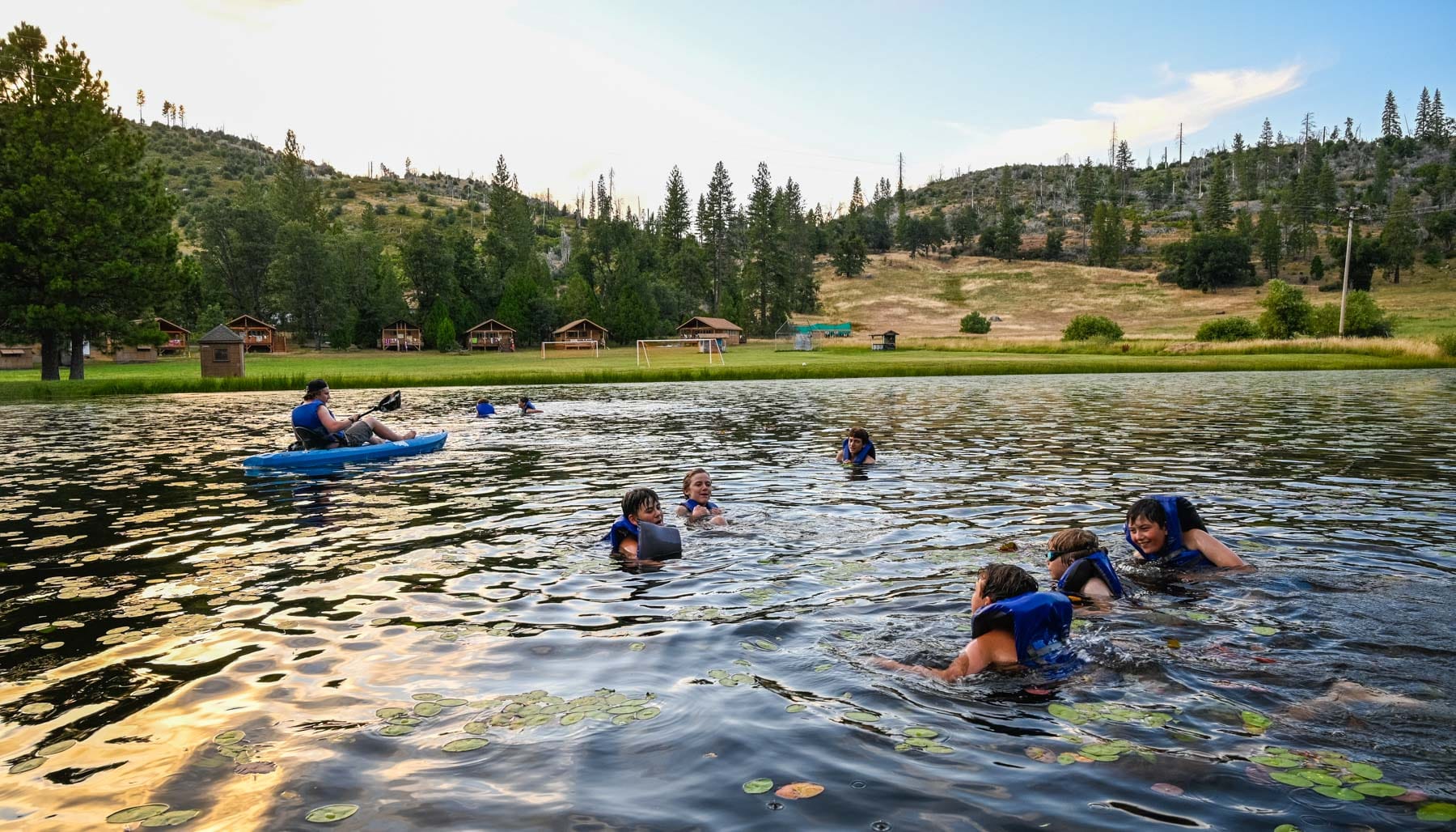 Tawonga is situated on the middle fork of the Tuolumne River and we enjoy this beautiful setting during many Camp activities. The bank of the river is a short walk from the main area of Camp, and each river spot offers different programmatic opportunities.
Campers love basking in the beauty of the river, soothed by its flowing, rejuvenating waters. There's "Pipeline" beach with a BBQ and campfire area, "Secret Beach" with a large dipping hole, and "Ladybug Cove" with a summertime ladybug colony – popular for watercolor painting.
Bunks often dip in the river as a group as part of a "mikveh" or ritual Jewish cleansing bath. In addition, after the classic moonlit Tawonga bunk schvitz, where campers chant, sing and bond in the sweat lodge by the river banks, they cool off in the river to cap off this spiritual experience.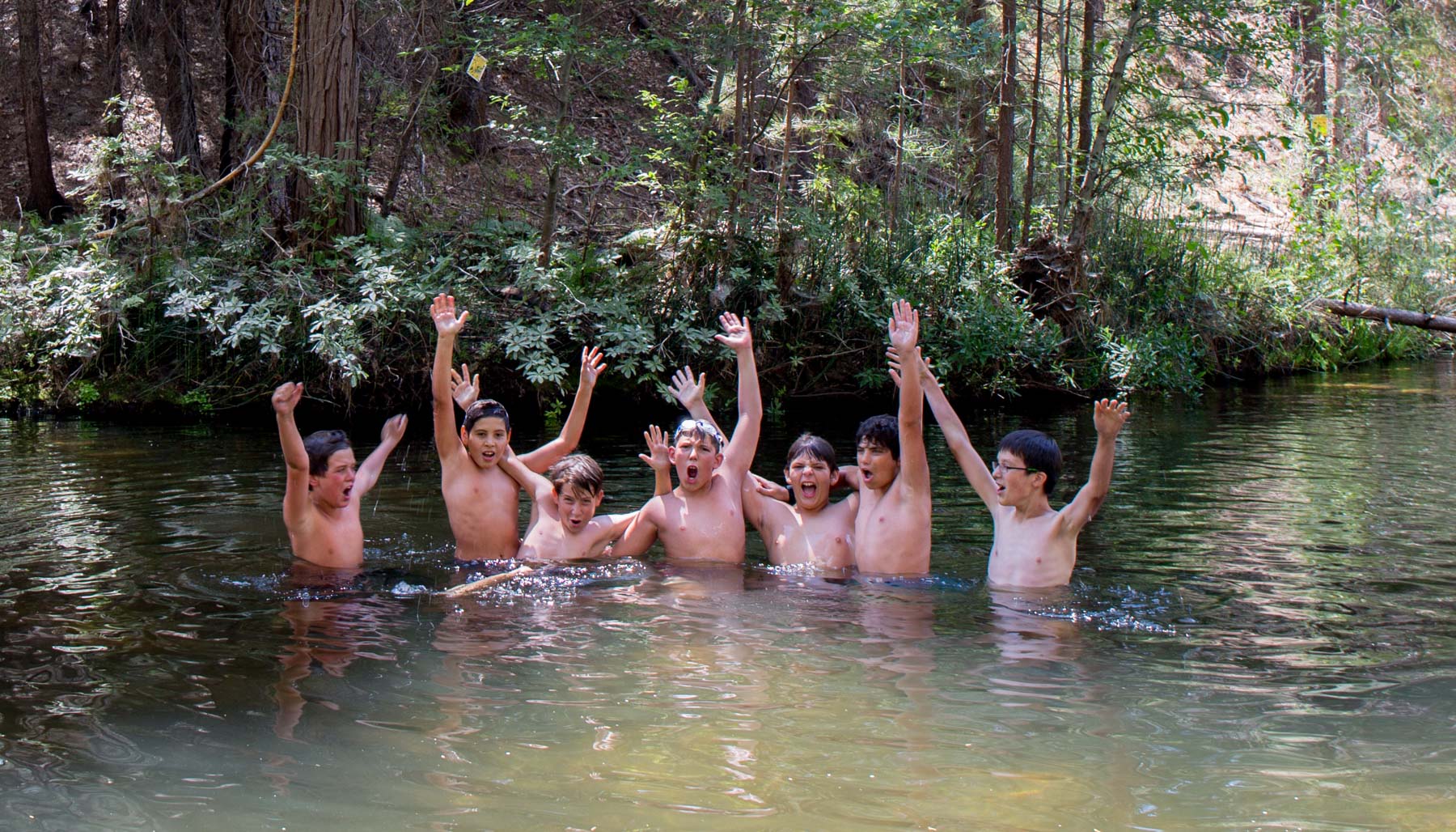 At Tawonga, we emphasize the importance of creative and artistic expression for all campers. Whether this means creating something in our Arts and Crafts studio, choreographing a dance with bunkmates, contributing to a bunk sign, singing with our Camp community or performing on stage, we strive for a summer at Camp to include opportunities for children to explore their creativity.
We often call on our surroundings for inspiration. Whether using sticks to create a natural art gallery or sitting on the bank of the river to paint postcards or standing on our stage among the trees and under the stars, inspiration is all around us.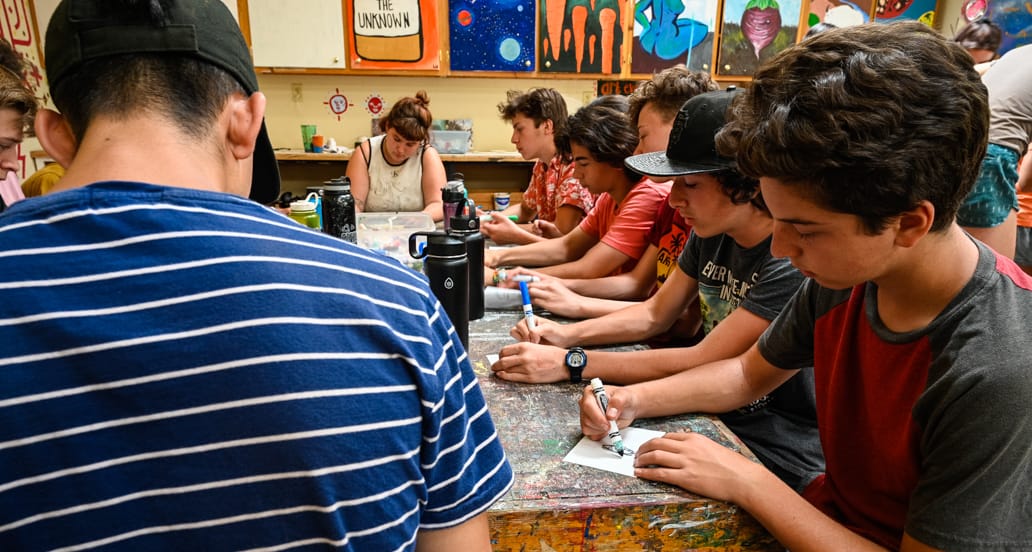 Our Arts and Crafts studio is a popular location for all. Supplies overflow from brightly colored drawers; tables feature projects accessible for campers of all comfort and art abilities, and music fills the air, ensuring creativity is always within reach.
There is no shortage of projects offered by our talented and passionate Arts and Crafts staff: tie dye, pottery, beading, friendship bracelets, painting, shrinky dinks, copper enamel, wood burning kits and more. Campers have the opportunity to participate in classic camp art projects as well as explore innovative, new projects.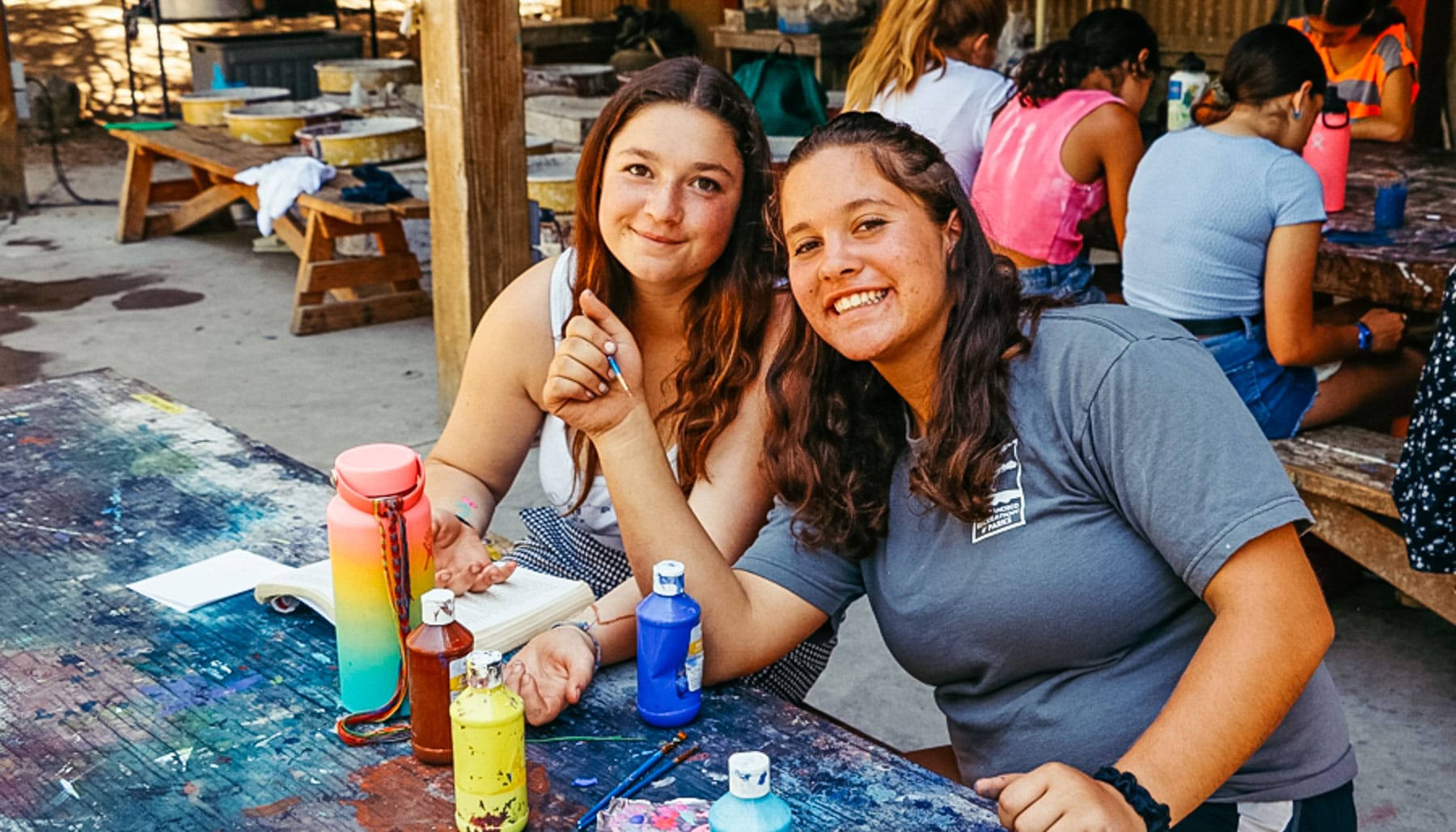 Campers love the opportunity to express themselves through movement, dance and performing arts. Our programmatic team creates unique opportunities for children to explore on stage or at various areas throughout Camp, combining music, instruction and free-form movement.
Whether participating in coordinated Jazzercise or making up and performing bunk skits, we want kids to feel free to express themselves. During our longer sessions of camp, children have the opportunity to perform in our All-Camp talent show or in the Camp play.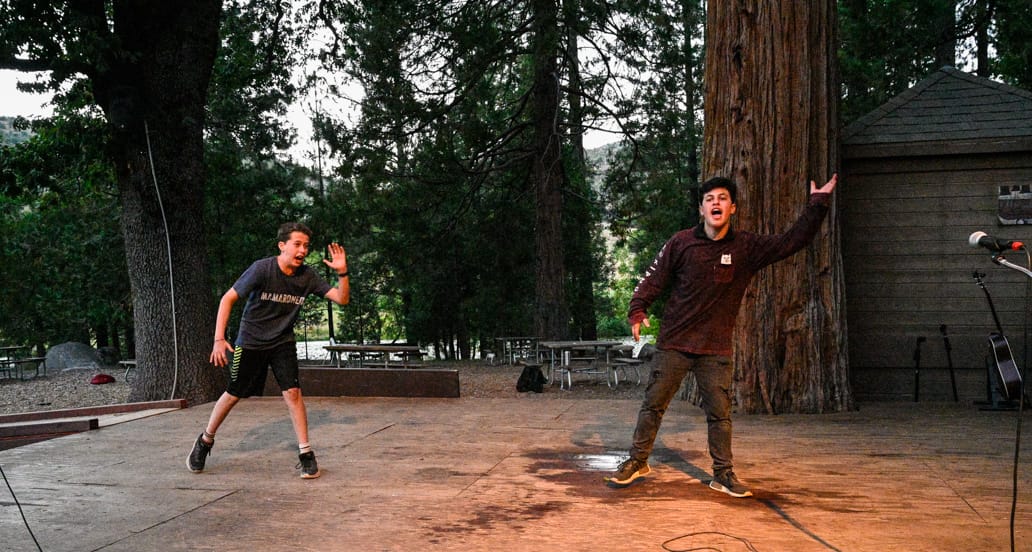 Music is a huge part of life at Camp. After breakfast and dinner each day, our talented songleaders engage the entire Camp community in a spirited song session. These song leaders also bring music into programmatic areas of Camp and teach children how to make their own songs, lead them in singing games, or provide musical accompaniment to related programs.
We maintain a musician's corner at Camp filled with guitars, drums, a grand piano, and other instruments to give campers the chance to explore their creativity through music.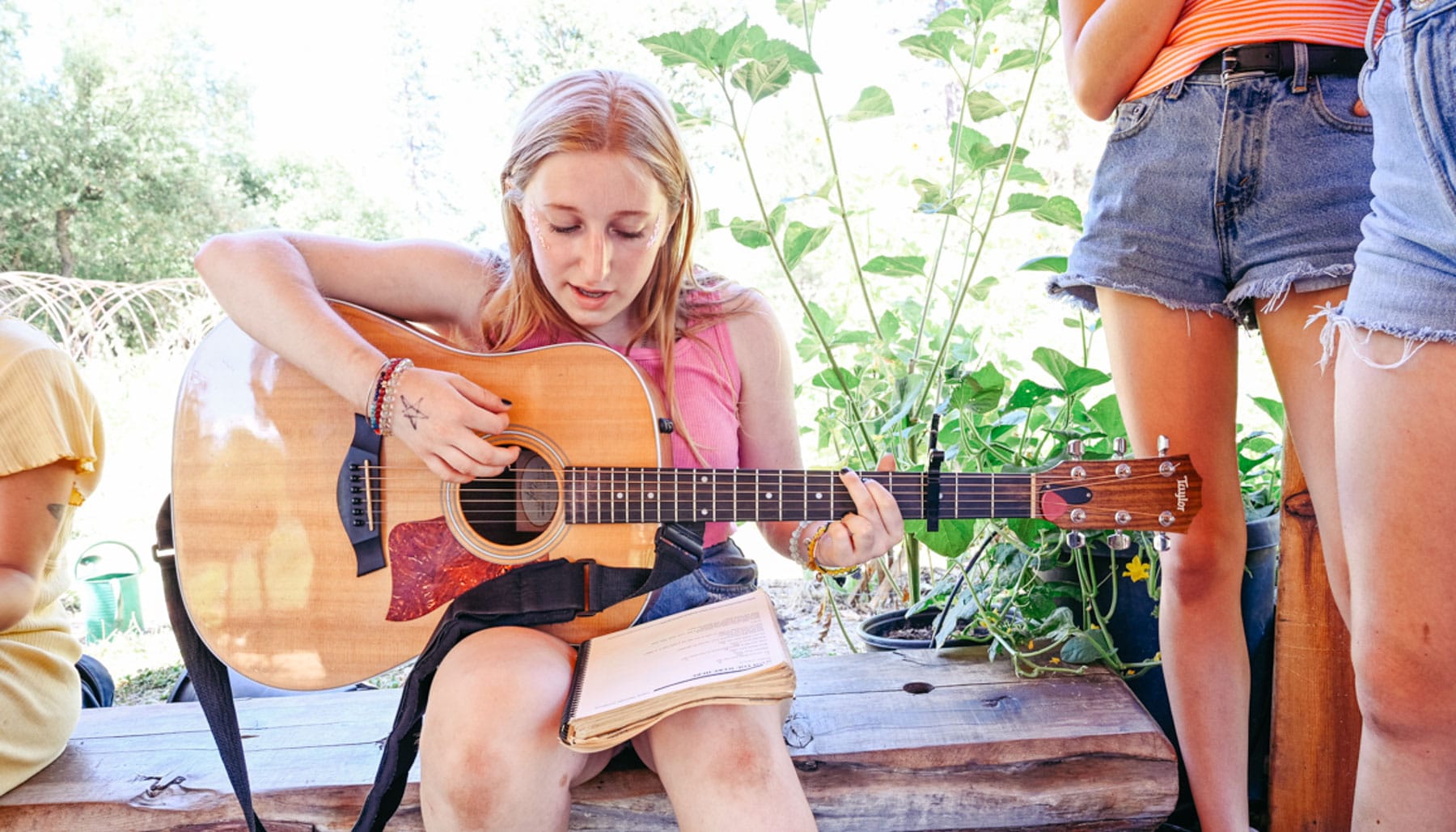 Nestled in a valley of the Stanislaus National Forest on 160 acres of pristine land bookended by mountains on one side and the Tuolumne River on the other, we utilize our incredible location, as well as our "backyard" of Yosemite National Park to give campers a one of a kind immersive nature experience. Campers spend their days among the beautiful foliage that surrounds our site, and their nights counting shooting stars that blanket the sky.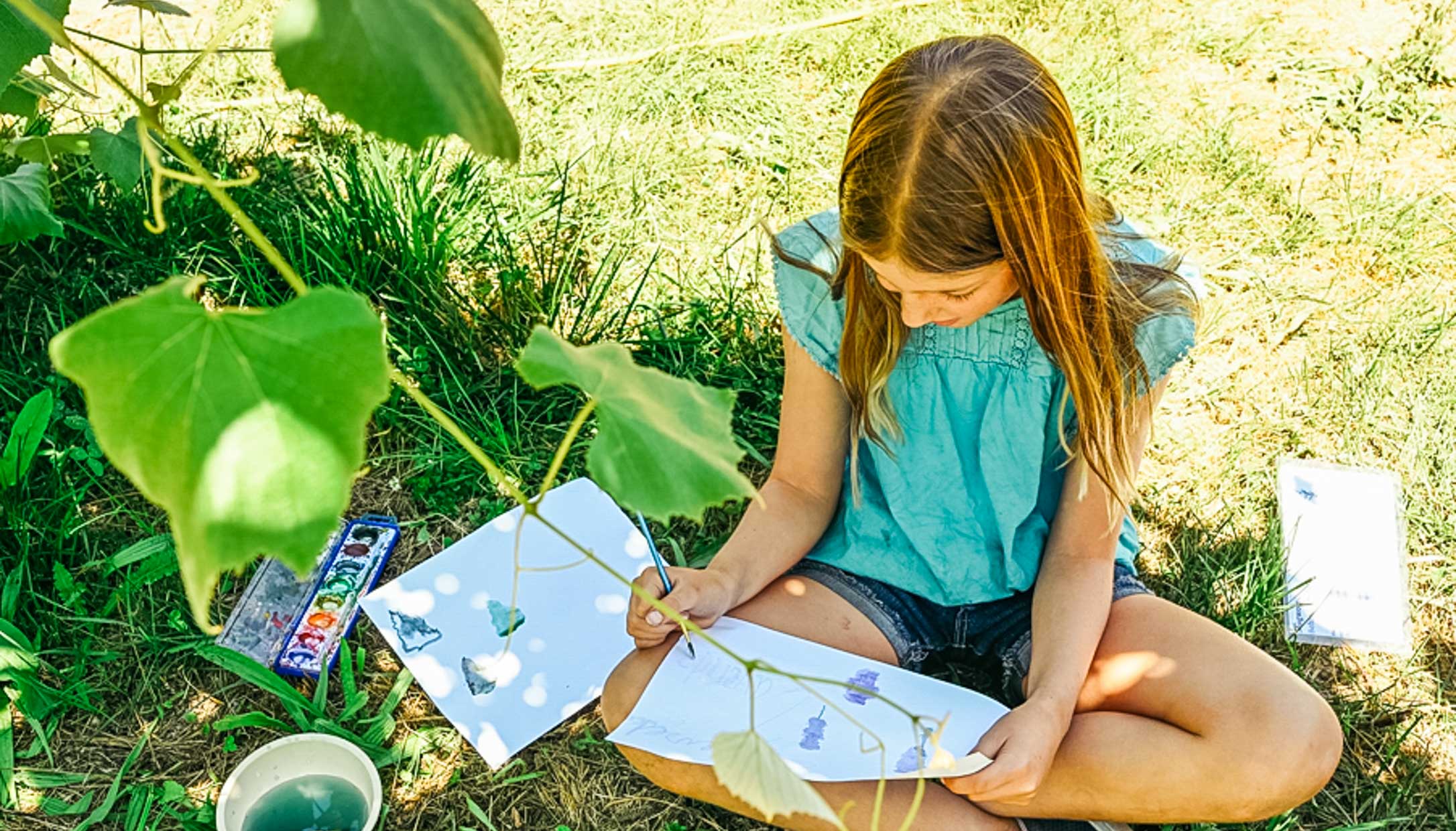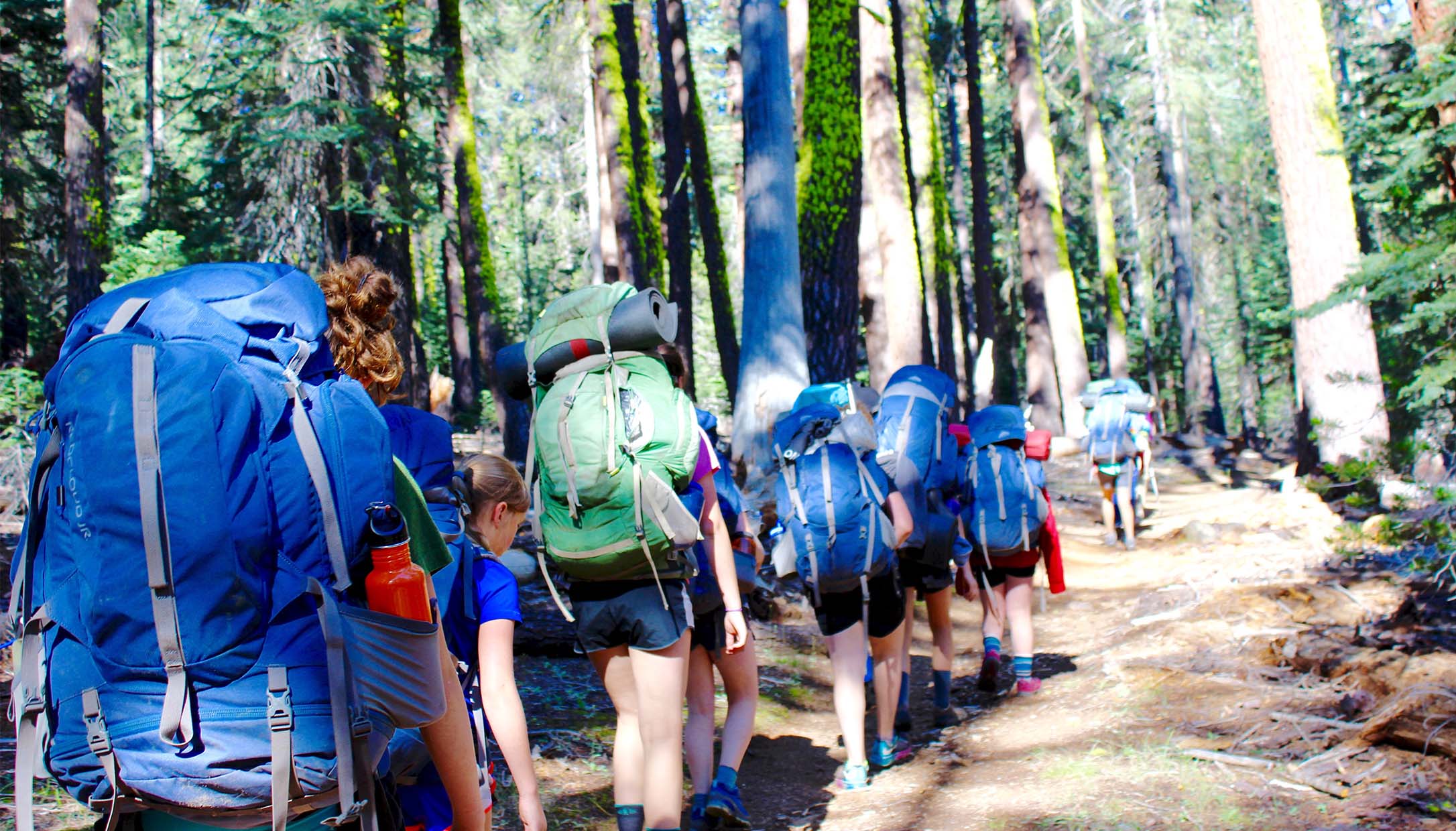 Our teva staff teach campers about their surroundings and integrate our setting into their dynamic lessons. From making homemade lip balms and salves from foliage on our site to learning about rock formations, forest life and conservation, children come home with a deeper understanding of and appreciation for the environment and their role in its conservation.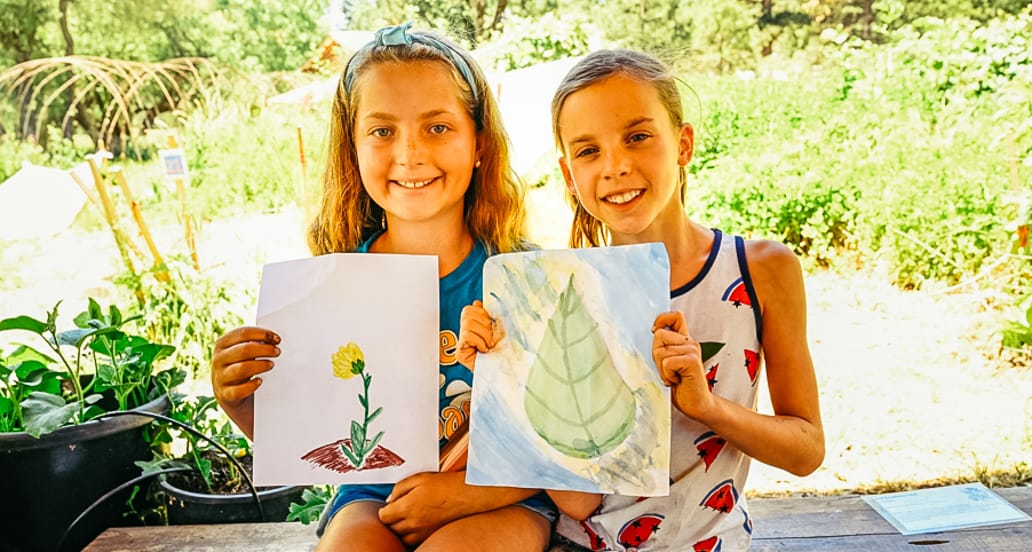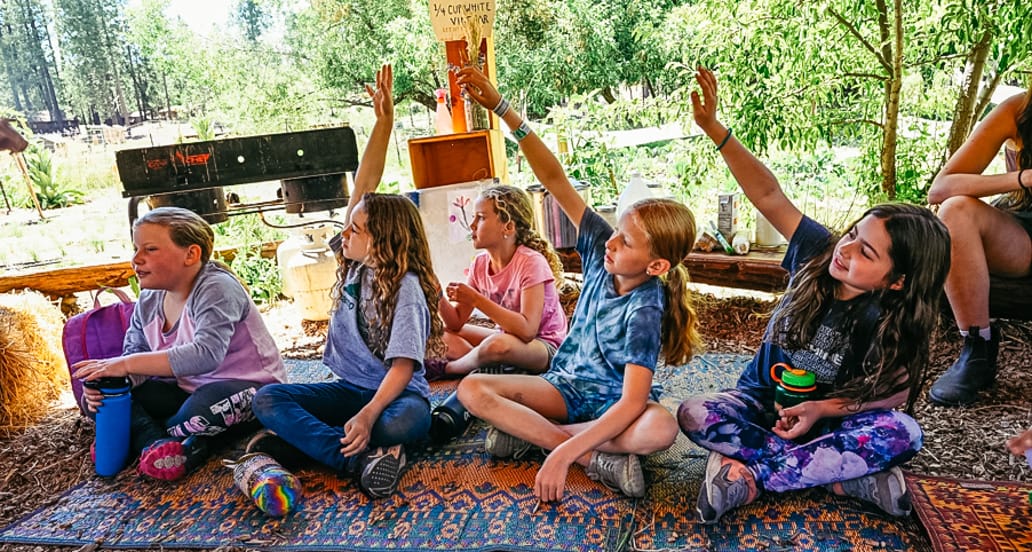 Each summer, every camper in our one week program partakes in a bunk day hike, and campers in our 2+ week programs participate in a one or two night backpacking trip into the surrounding Stanislaus National Forest or Yosemite National Park. The backpacking trip is often the highlight of campers' experiences, where the deepest bonding takes place.
Led by our highly trained and certified wilderness leaders, children learn the basics of Leave No Trace, appreciating and protecting nature and enjoying a true escape into our natural surroundings. We provide all backpacks and related gear – campers are only responsible for bringing their sleeping bags, clothes and sturdy shoes to Camp. We'll provide the rest!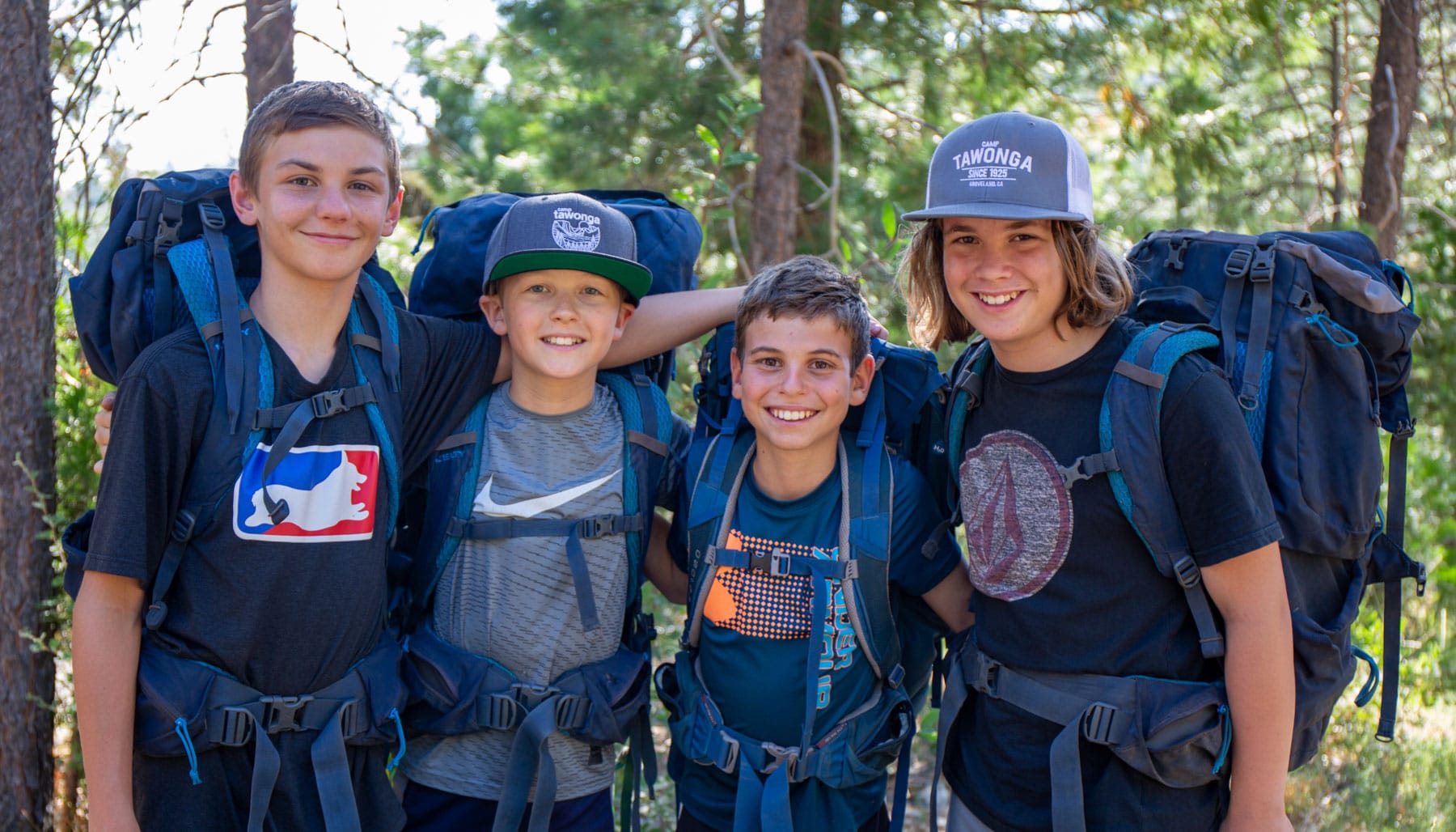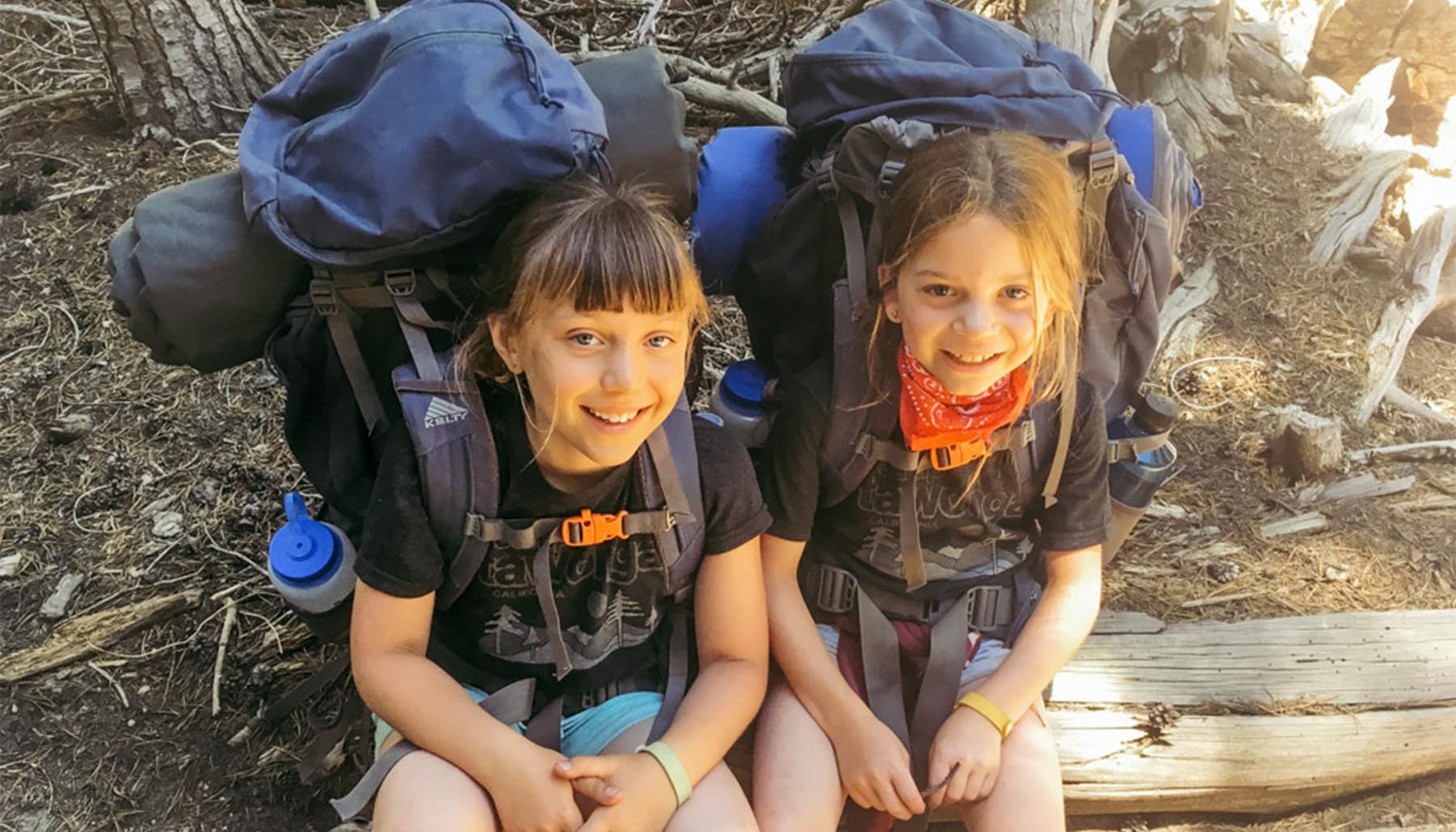 Teamwork, personal growth and fun are what our Challenge Course is all about! Campers attending sessions for two or more weeks will spend one full day on the course. With 17 different elements situated among the trees, bunks encourage each other and work together to take on these exhilarating elements individually and in partners or groups. Our highly trained challenge course staff employ the ethic of "challenge by choice," encouraging campers to push themselves into the "challenge zone," to foster individual growth.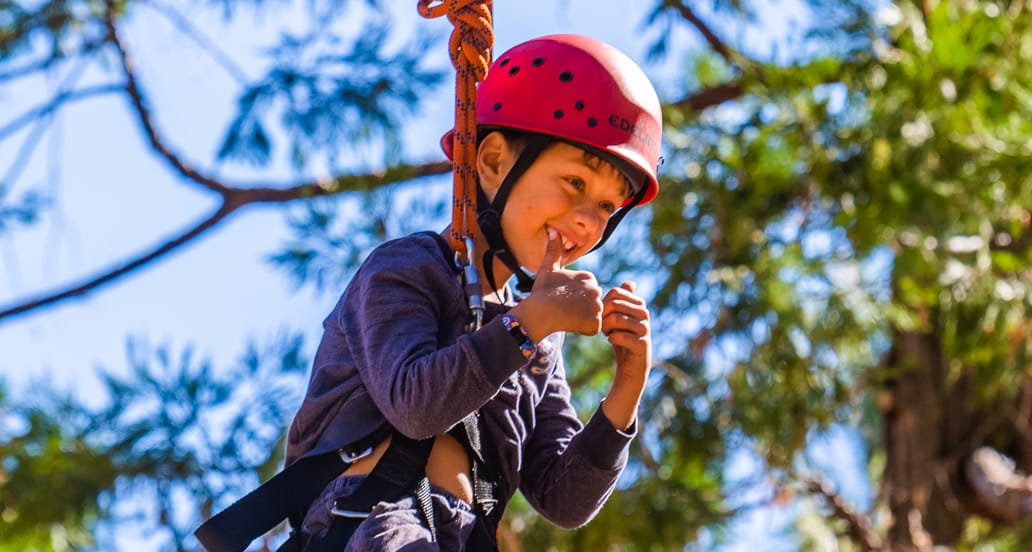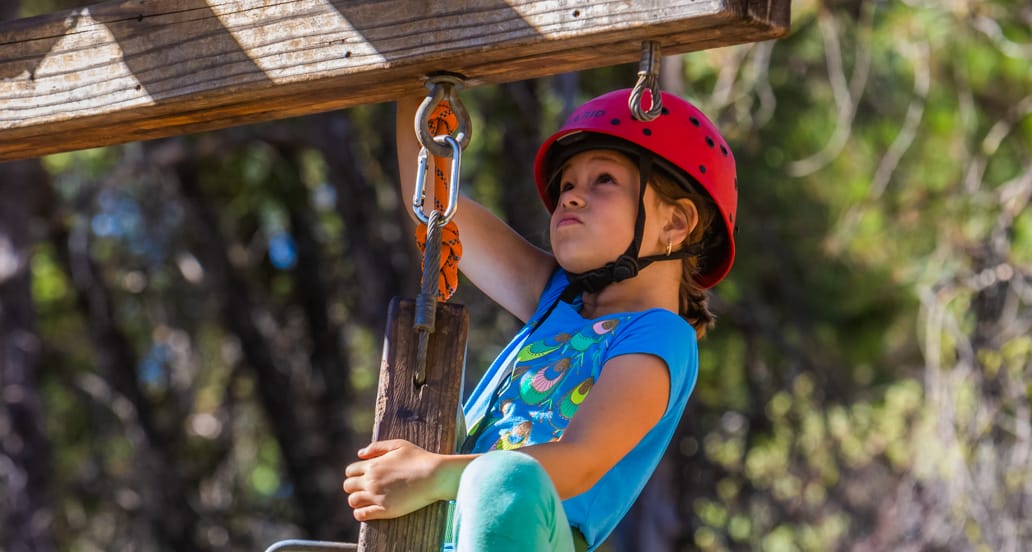 Campers come to Camp Tawonga with skills and experiences in a diverse array of sports. Our goal during summer sessions is to simultaneously give children the opportunity to participate in sports they love, explore those they've never tried and emphasize fun over competition. While we want children to feel the thrill of the game, most competitions end in a "Tawonga tie" or honor team's efforts and contributions to the greater game.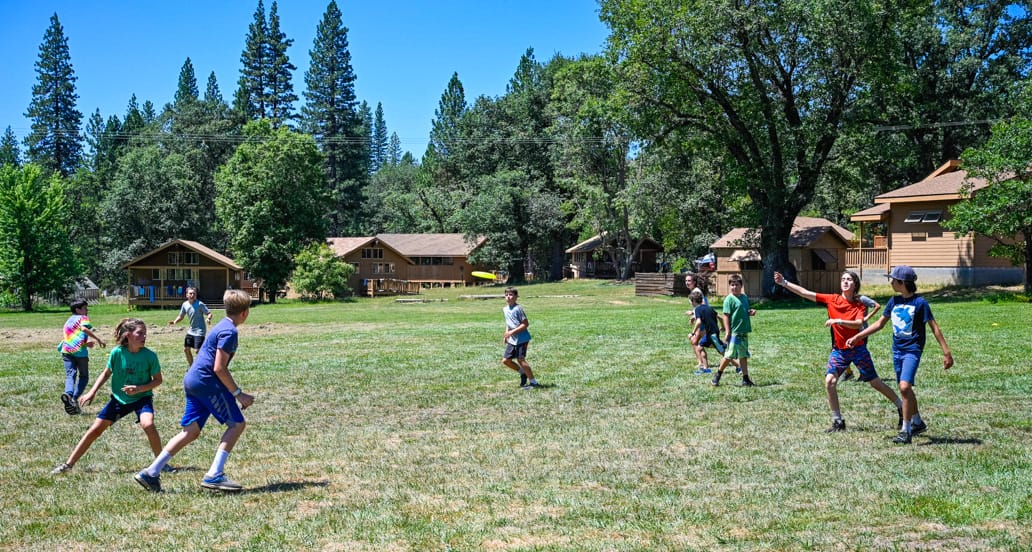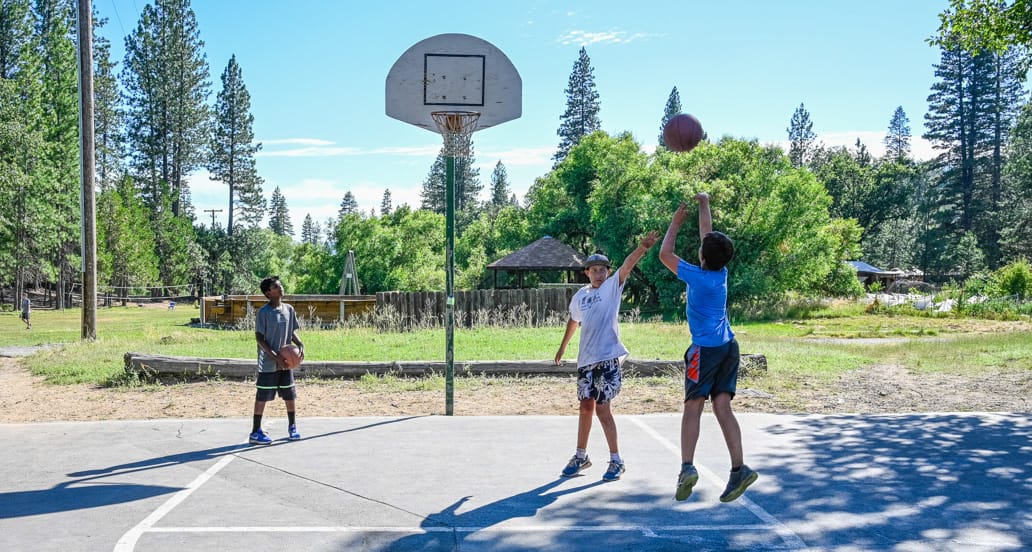 Our central sporting area of camp includes a large soccer field, baseball diamond and basketball court. Bunks may spend part of their day participating in these sports, or campers can choose to participate in "pick up" games during Floats (free-choice) time.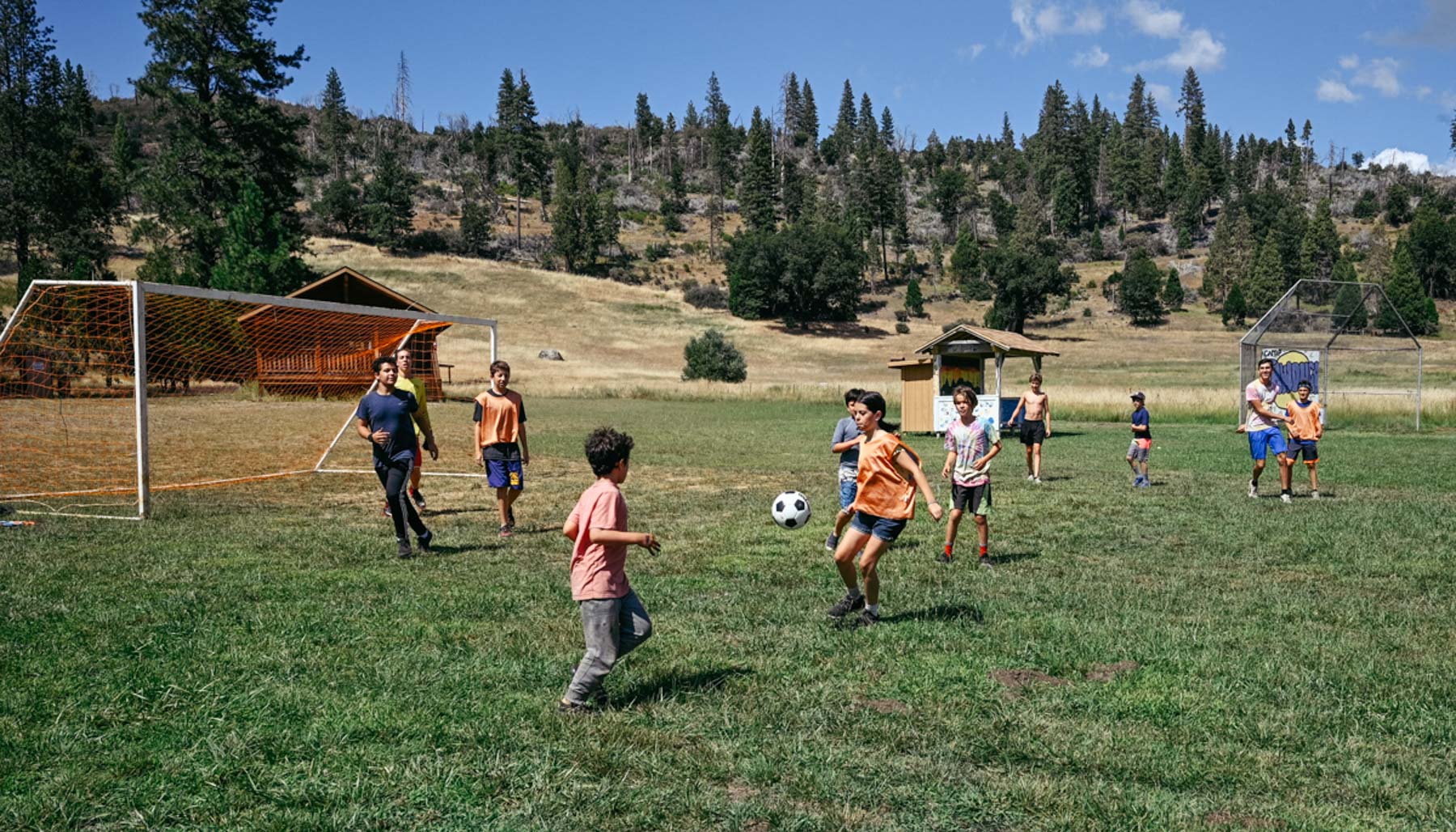 In addition to more traditional sports, we also have a large Gaga (Israeli dodge ball) pit (a favorite among campers), an archery range, climbing wall, frisbee golf course, tether ball, ping pong, and volleyball net. We encourage campers to explore sports they've never tried and focus more on learning and fun than competition and winning.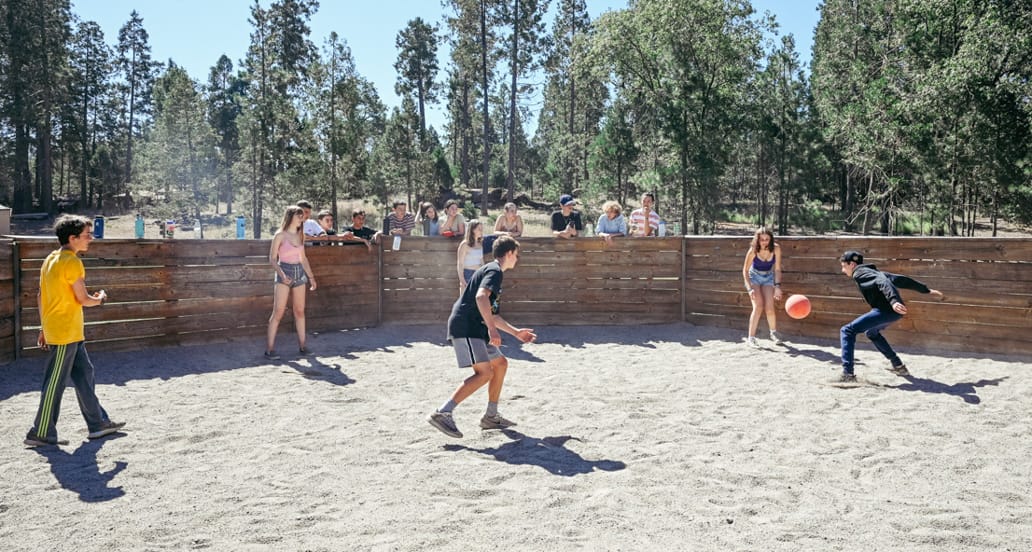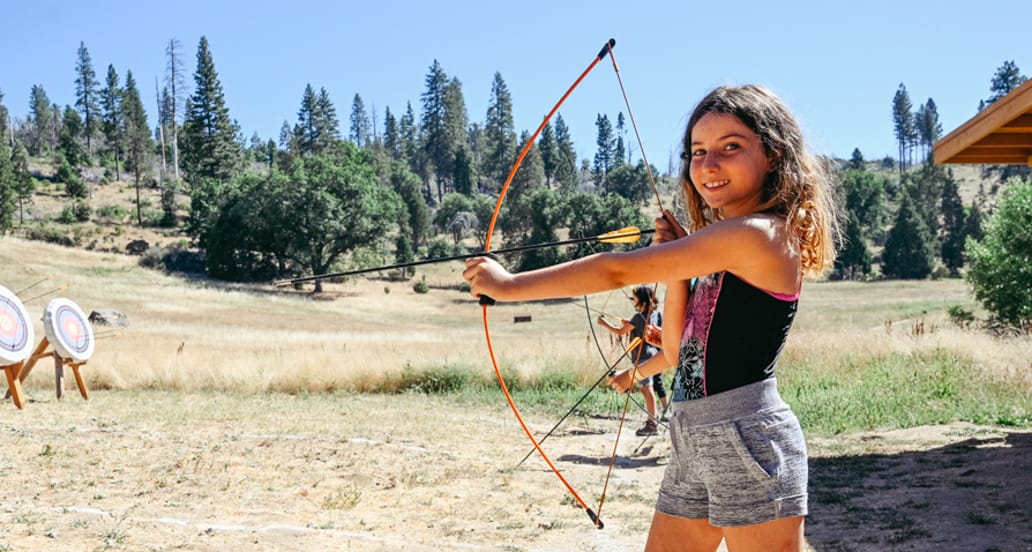 Traditionally during our 2+ week sessions, our dedicated unit head team (counselor supervisors) develops a Camp-wide activity similar to "color wars." The entire Camp community is broken into mixed age and gender teams, and each group develops a team name and cheer, and participates in large scale events like capture the flag, silly relay races, scavenger hunts and more. This is always a fun and memorable experience for campers and staff!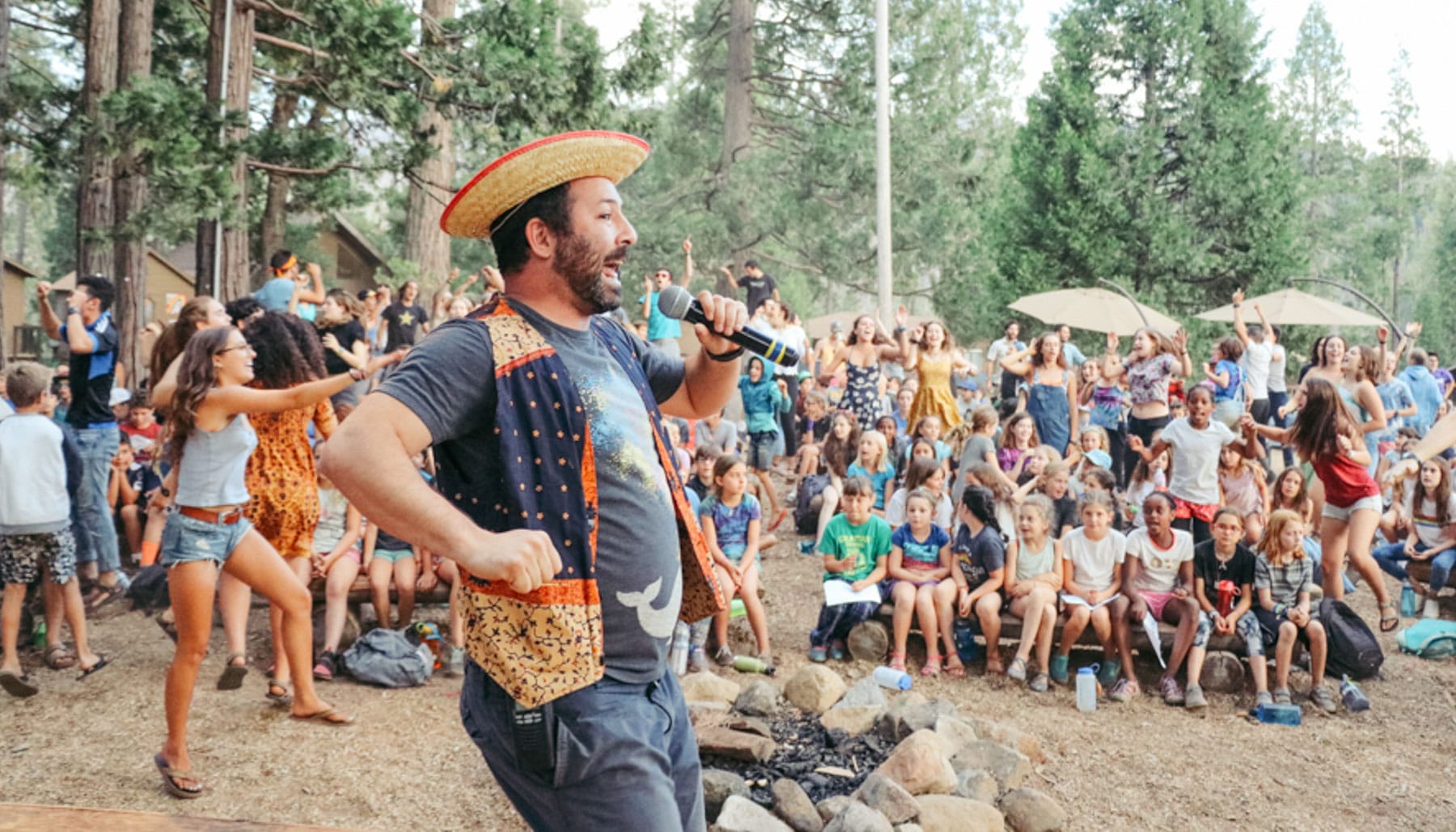 We are proud to maintain a robust farm and garden area that offer campers the opportunity to connect with the food they eat, help give back to the earth and learn about environmental sustainability. Our dedicated Garden Specialist begins the tilling and planting process in the spring, ensuring that campers have a lush environment where they can play, learn, and work. A haven for hands-on learning, our garden and farm continue to bring the richness and wonder of the natural world within reach.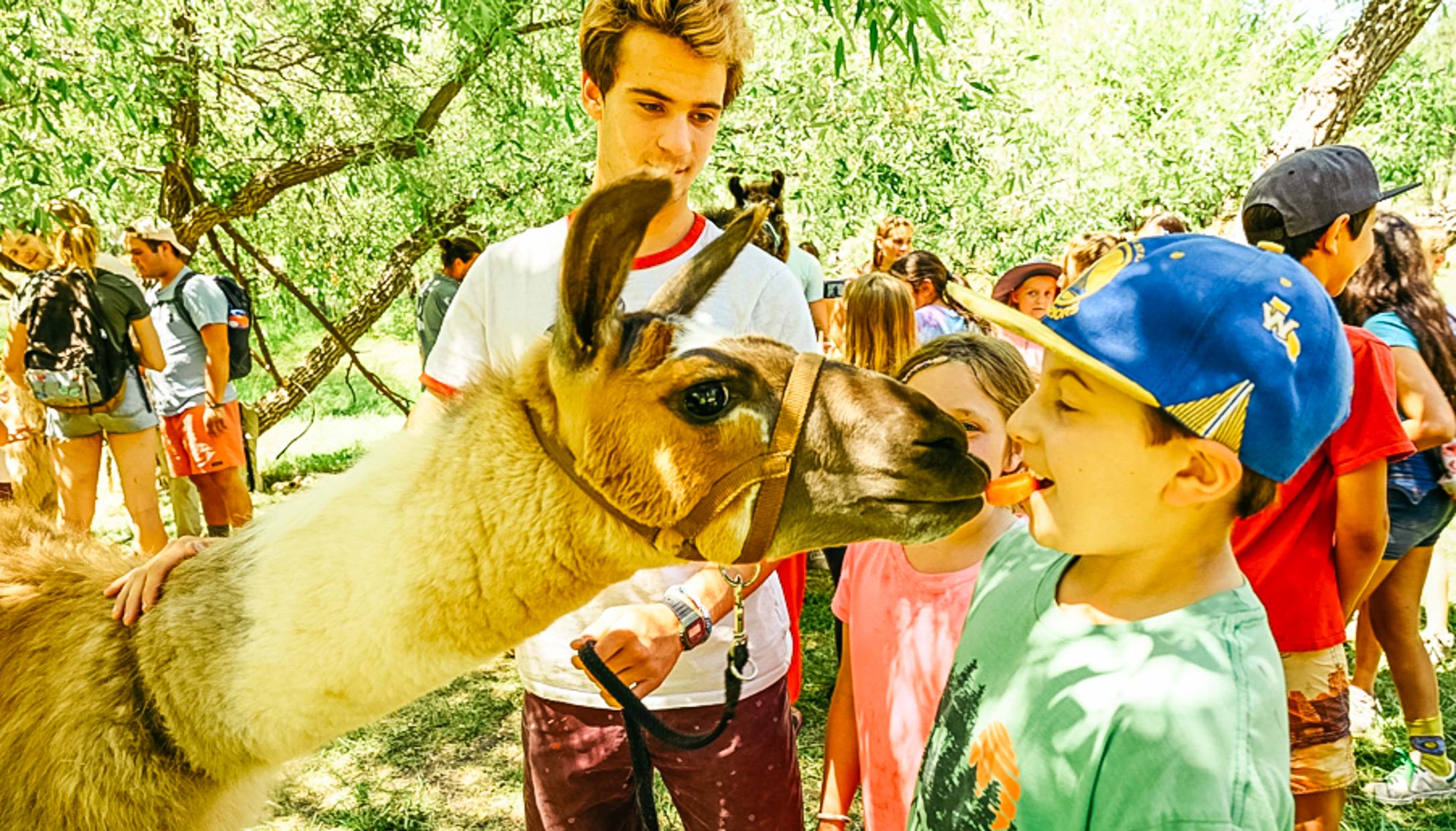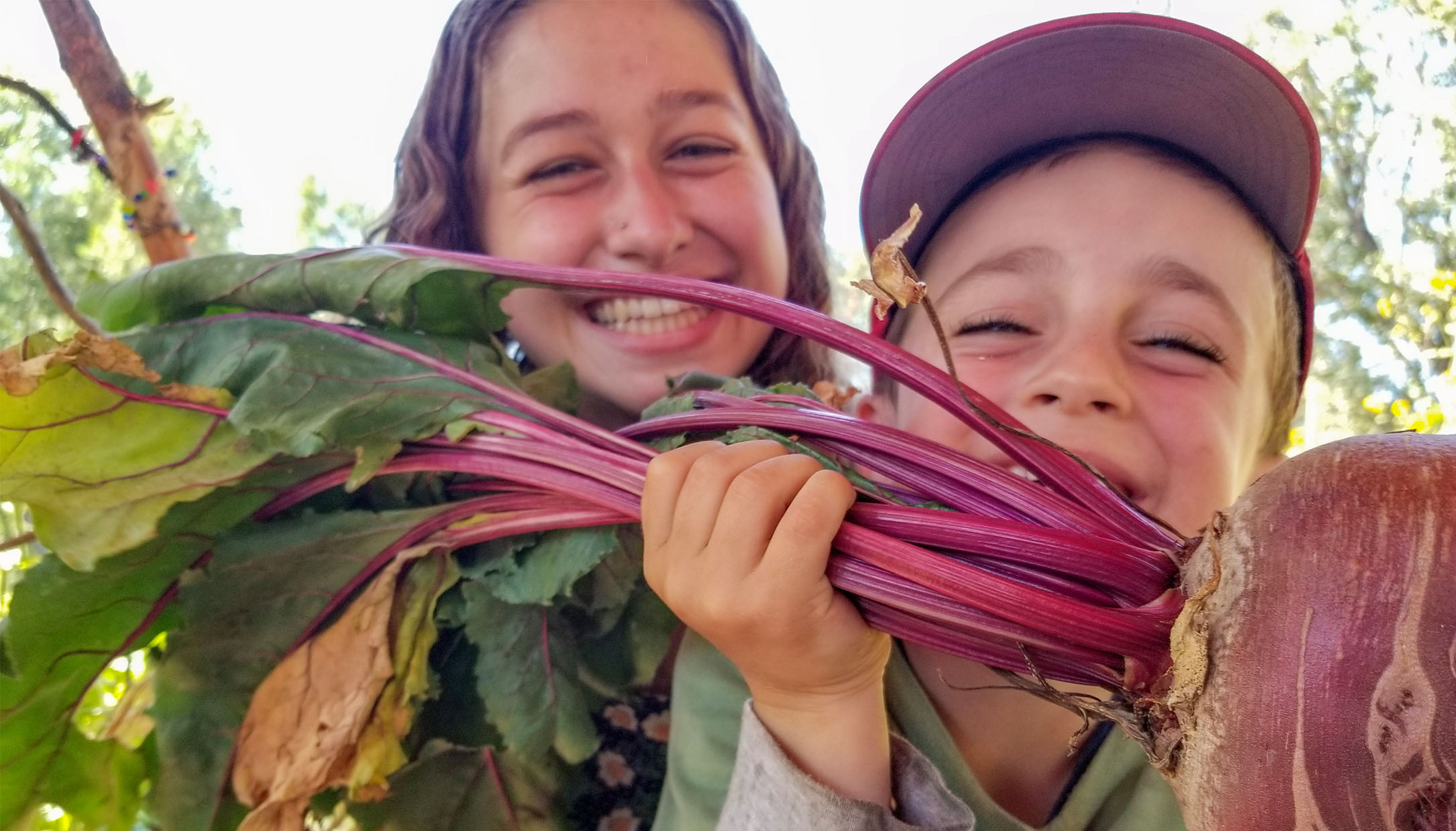 Our live, working farm gives campers a tangible place to learn about how their food is created and where it comes from. Living within our farm are egg-laying chickens, bunnies, and milking goats. Campers participate in activities learning about the animals and their contribution to the farm. One favorite activity at the farm is learning about the products the goats produce and the processes that go into obtaining them, including a live demonstration of how to make goat cheese, with a sampling session of course – yum!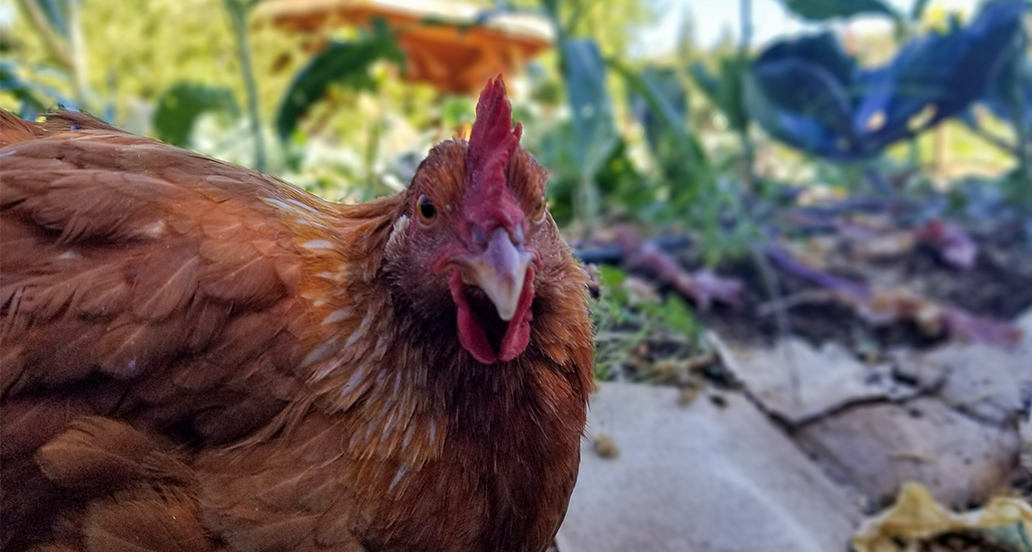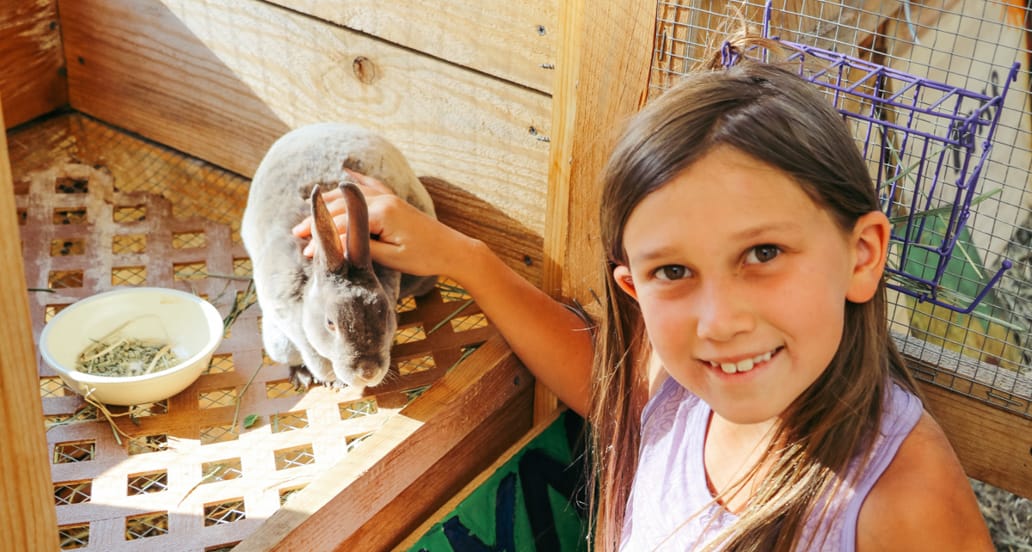 The garden is nestled in its own sunny, fertile niche within the Tawonga ecosystem, with willows to the East, the lower meadow to the South, the lake to the North and the mountain to the West. Under the shade canopy in the middle of the flower beds, campers talk about what it means to give back to the farm and garden and Camp community through Tikkun Olam – repairing the world – and how we can give back in our lives down the mountain.
Campers take on tasks like weeding, making compost, saving seeds, mulching pathways and feeding the bunnies fresh garden greens. They love a project in which they can play an important role and see the results of their efforts. We regularly witness amazing teamwork in the garden as the bunk works together to solve problems, share resources, and have fun.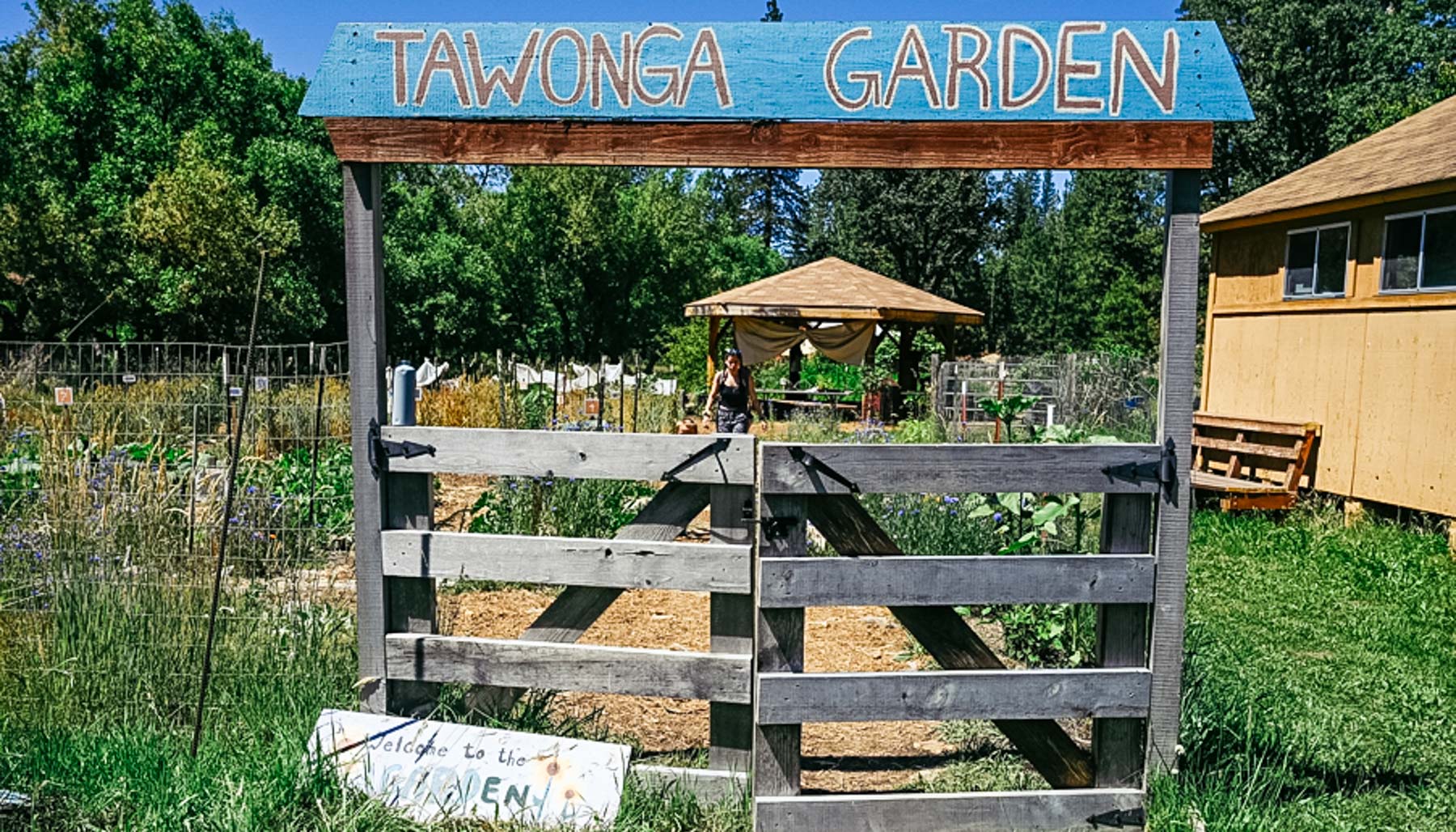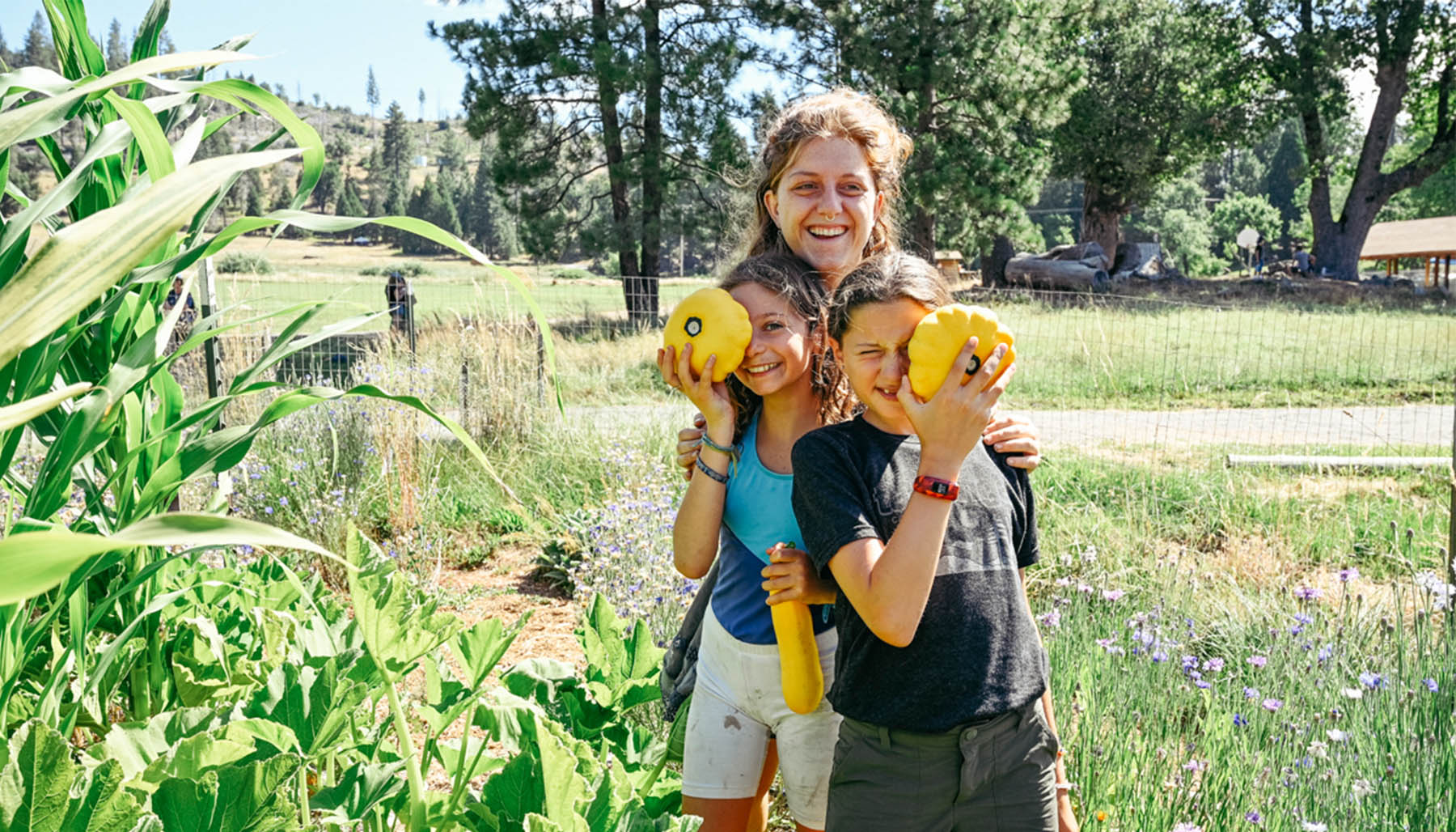 Campers love cooking (and eating) at our outdoor kitchen, tucked into the corner of our farm and garden area. Whether making homemade na'an bread or pizza in our mud-based wood burning oven, blending fresh smoothies with our hands-on bike blender, or learning to make shakshuka with eggs fresh from the farm, campers get a true taste of what it means to eat from farm to table.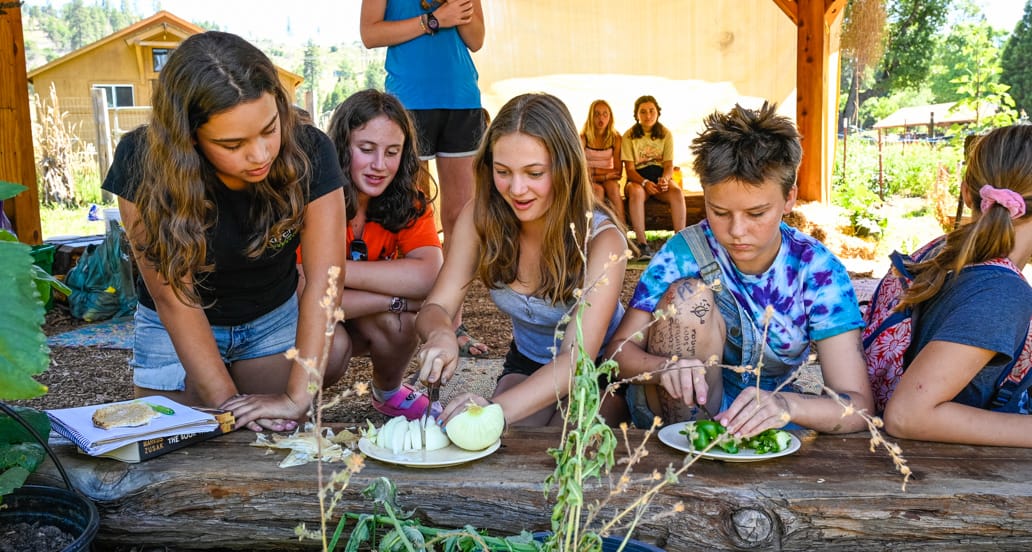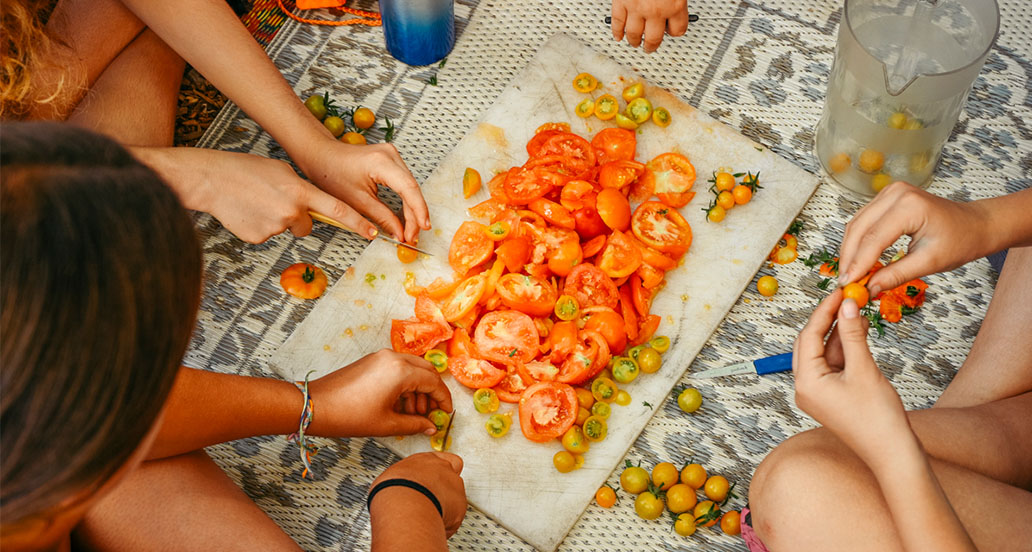 At Camp Tawonga, we believe there is no "one way" to be Jewish. Rather, we present Jewish themes and teachings in a way that enables children to discuss, question and adopt ideas and beliefs that resonate with them.
Our vibrant community is made up of children on a full spectrum of Jewish affiliation, from actively engaged in their local Jewish community to Tawonga being their only Jewish affiliation to not being Jewish. Because of the diversity of our community, we aim to provide opportunities to learn in a Jewish context in a way that honors each individuals' beliefs and comfort level.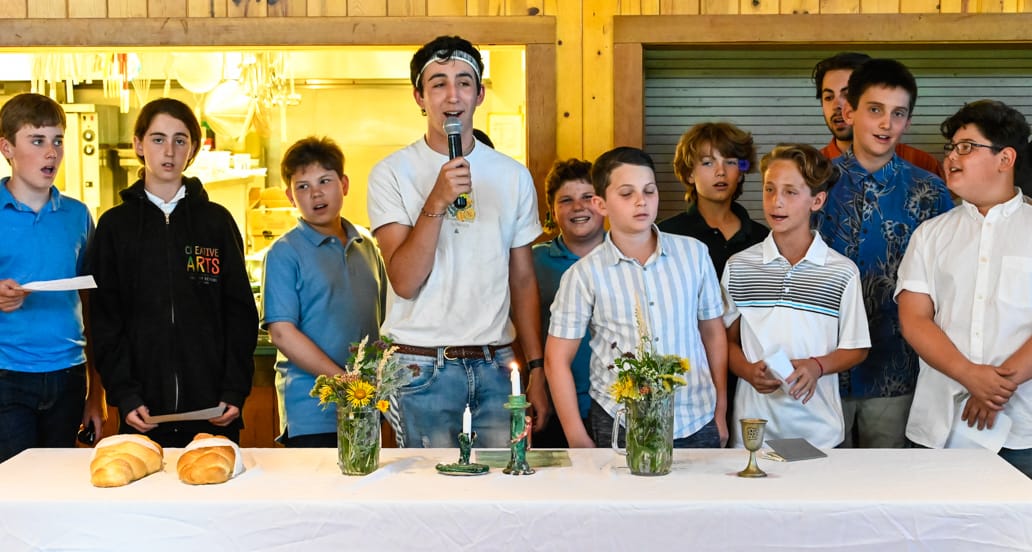 Joyous Judaism, as we say, is incorporated into daily life for campers. From saying prayers hamotzi and birkat hamazon as a symbol of gratitude before and after meals to celebrating Shabbat and engaging with Jewish themes and topics, Judaism is a vibrant facet of the Tawonga experience. Many kids express that at Camp they feel that it is "cool" to be Jewish, and for many in our community, Tawonga is a place where they discover and deepen their Jewish identity.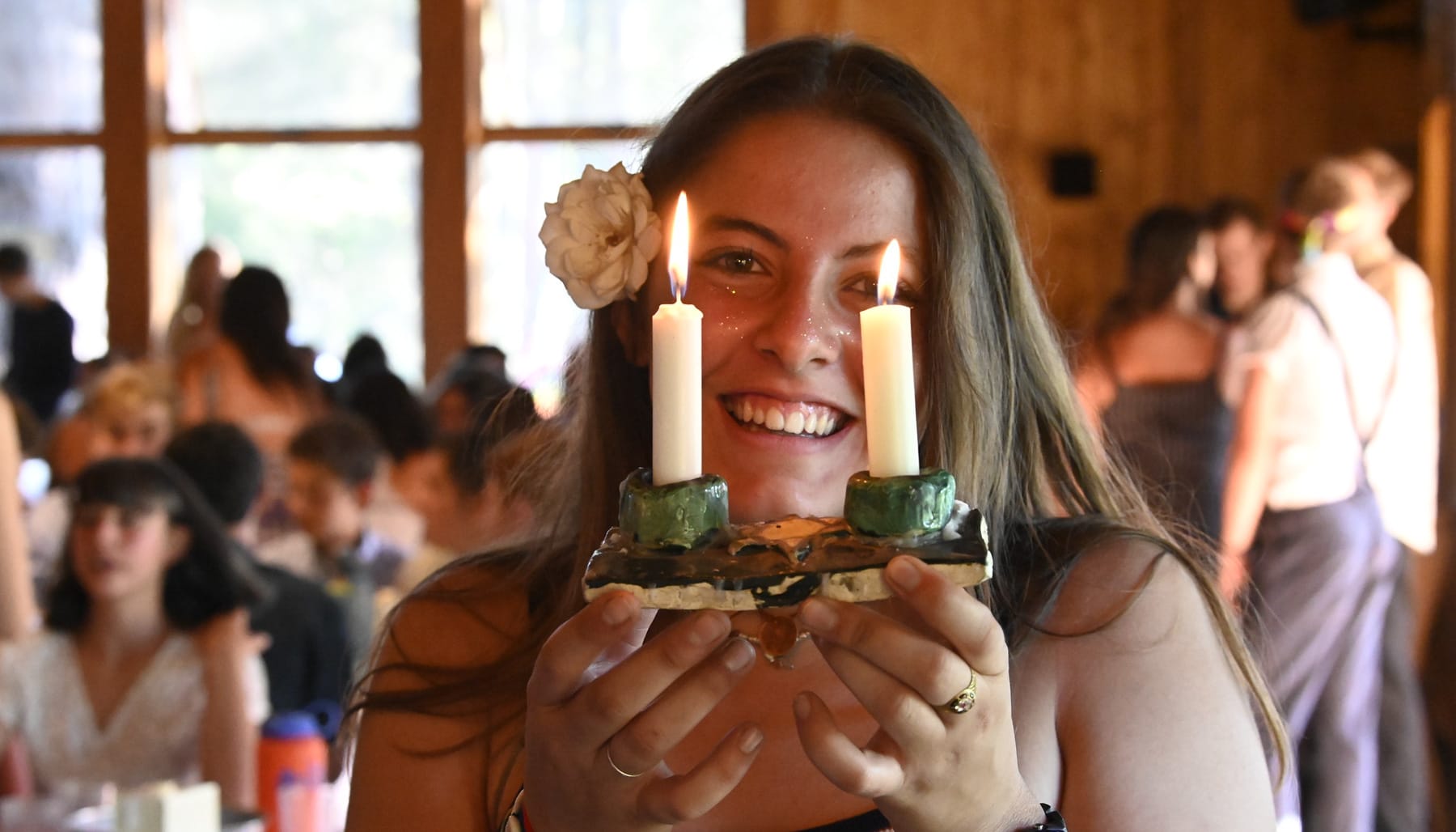 Each session, bunks participate in a fun Ruach (spirit) Hour which focuses on our Jewish theme for the summer and gives a Jewish framework to ideals by which to live.
Previous Jewish themes have included B'tzelem Elohim – the idea that we are all created in the image of God,  Lech Lecha – meaning "go forth and be a blessing," "L'dor Vador" which translates to "from generation to generation," and "Ometz Lev" or "courage of the heart." This activity also prepares campers for the Shabbat celebration in our 2+ week programs.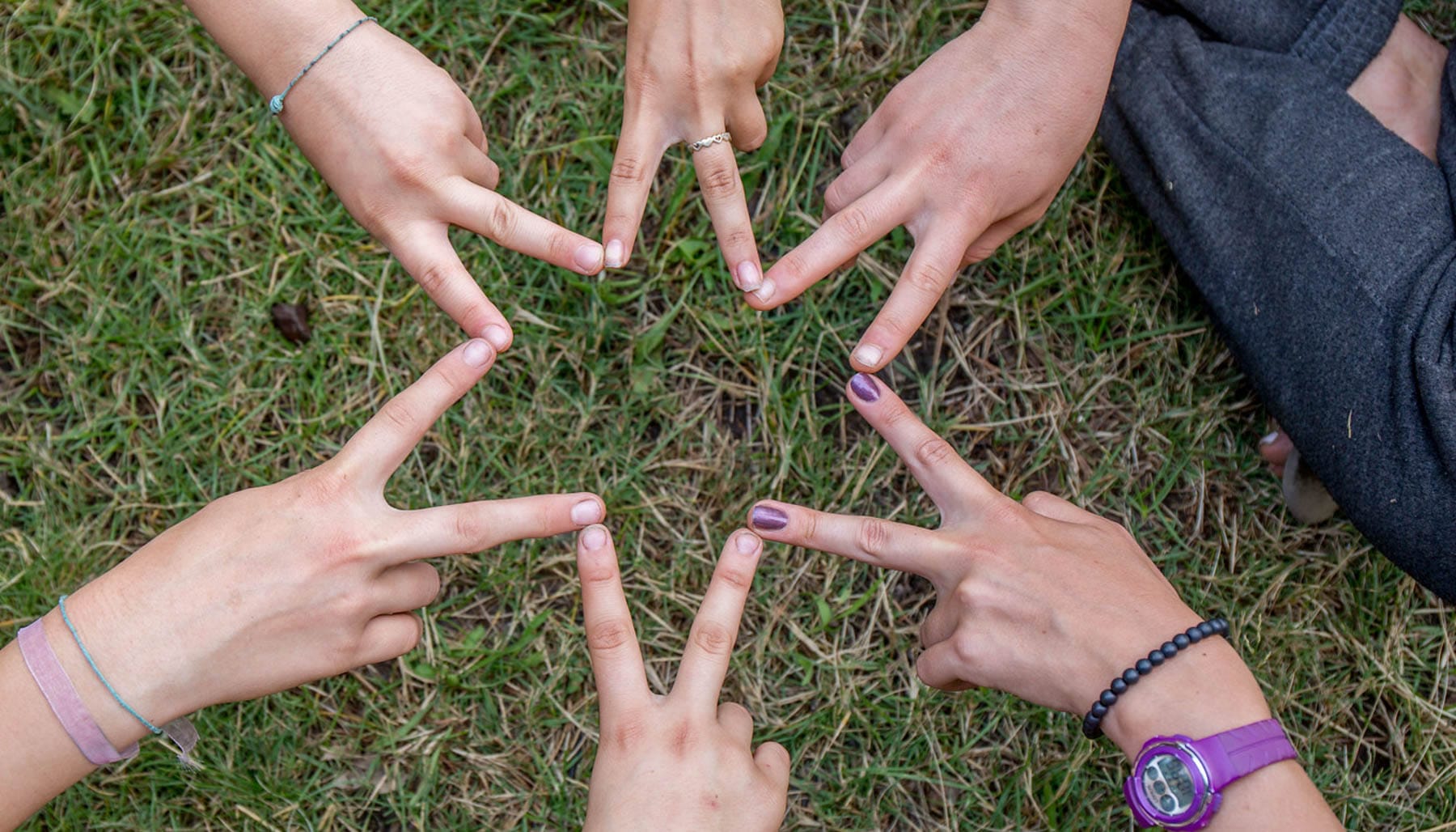 Shabbat is a time to rest, reflect and feel connected to our own personal form of Judaism and spirituality. We welcome Shabbat by cleaning up Camp, our bunks and ourselves, and then traveling around Camp in a rocking, singing parade.
The Dining Hall is transformed for Shabbat to feel extra special on Friday night. After singing harmonious communal blessings, we enjoy a delicious Shabbat dinner together and then sing and dance in our freilach, or celebration. Each Friday night, bunks collaborate on and contribute to the Kabbalat Shabbat service which gives campers ownership in their learning and prayer. Saturday mornings, our entire Camp community gathers at our Makom Shalom, or Place of Peace, for a spiritually moving, meaningful and fun Shabbat service.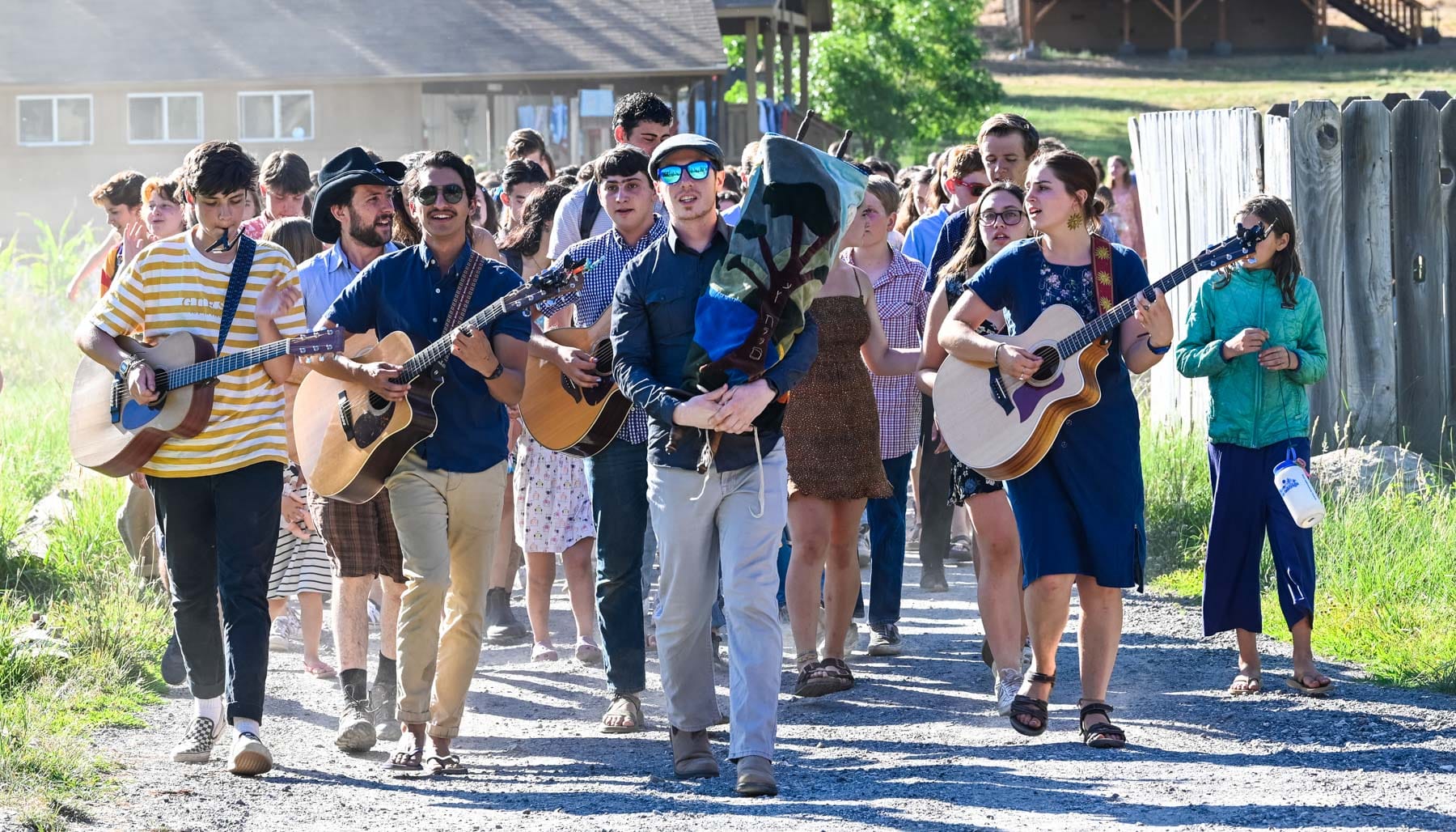 Jewish programmers dedicate time to creating new and unique programming each summer. For example, a bunk might participate in an activity called "All Jewish Holidays in One Block!" in which they celebrate every single Jewish holiday for only three minutes and then discuss what they learned and which was their favorite.
Or, programmers might take campers down to the Tuolumne river to immerse in a mikveh and write their own blessings for nature. Programmers work with each bunk, learn about their interests and custom create Jewish blocks that will resonate most with each camper.