The Cabin Experience
Cabin life at Tawonga is central to the camper experience. Rooted in a group-centered philosophy, children spend the majority of their day with their bunkmates and two counselors assigned to their bunk, traveling from meals and one activity area to the next. Campers develop deep and meaningful bonds with their bunkmates, enjoying the fun of an extended slumber party in the safe, guided environment of a cooperative community.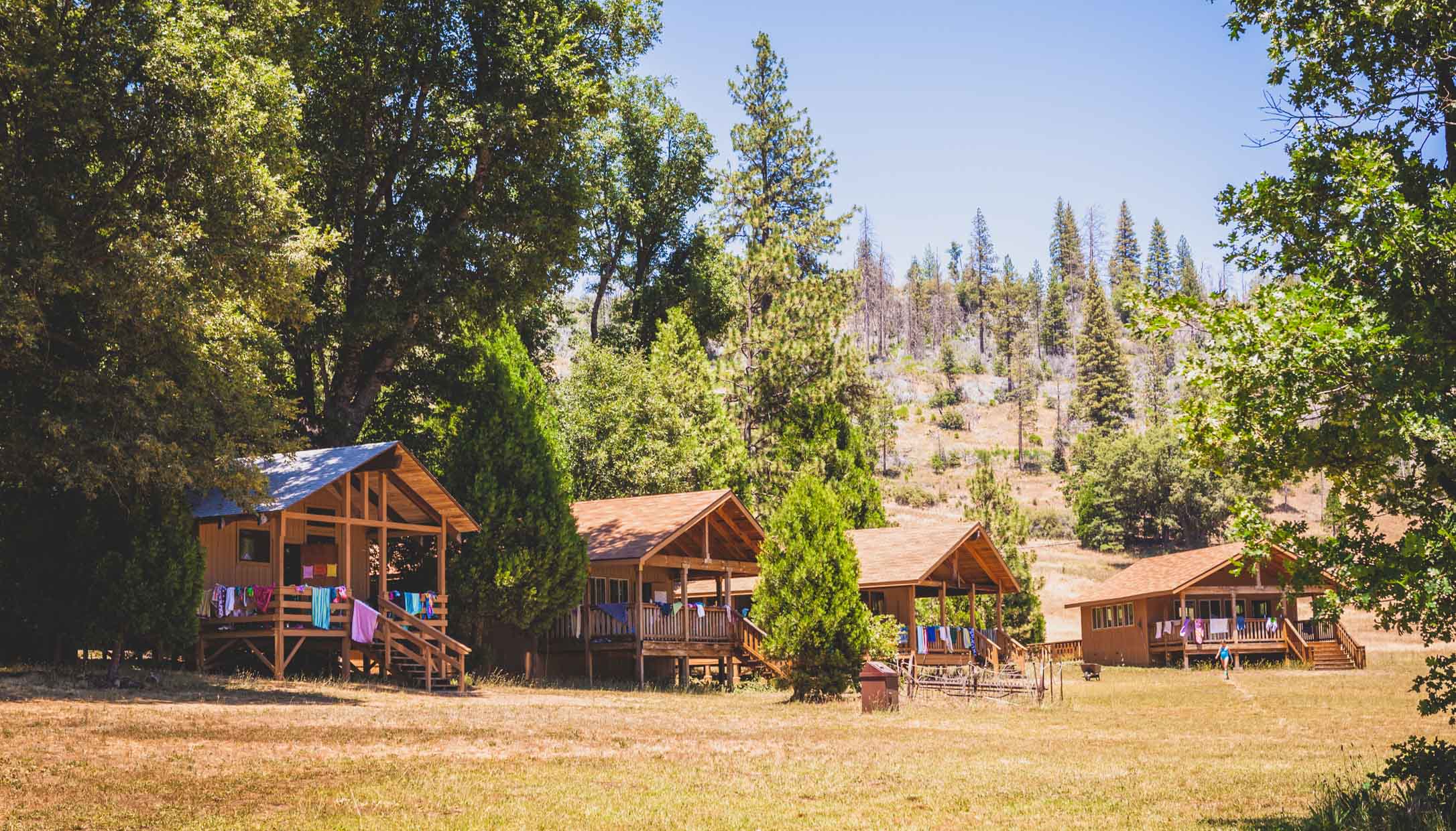 Each cabin is comprised of one large room with bunk beds throughout and small cubbies for some of the children's belongings. Each cabin has a changing area installed with a curtain – campers can choose to change in the bathroom, behind the curtain, in their sleeping bags, or in the open area of the bunk, depending on how much privacy they desire. Our cabins offer a shaded porch in the front or back of the cabin for additional communal lounging areas. Cabins are situated on both the Ridge and River sides of Camp (recently renamed from Girls and Boys sides for inclusivity), each nearby to a large bathhouse with electricity, bathrooms, showers and changing areas.
The bathhouses have assigned areas based on gender and campers and staff are welcome to use the bathhouse based on their gender identity. Each bathhouse also includes numerous private all-gender bathrooms (each with a toilet, sink and shower). These all-gender bathrooms are primarily for folks who don't feel comfortable in the gendered bathhouses.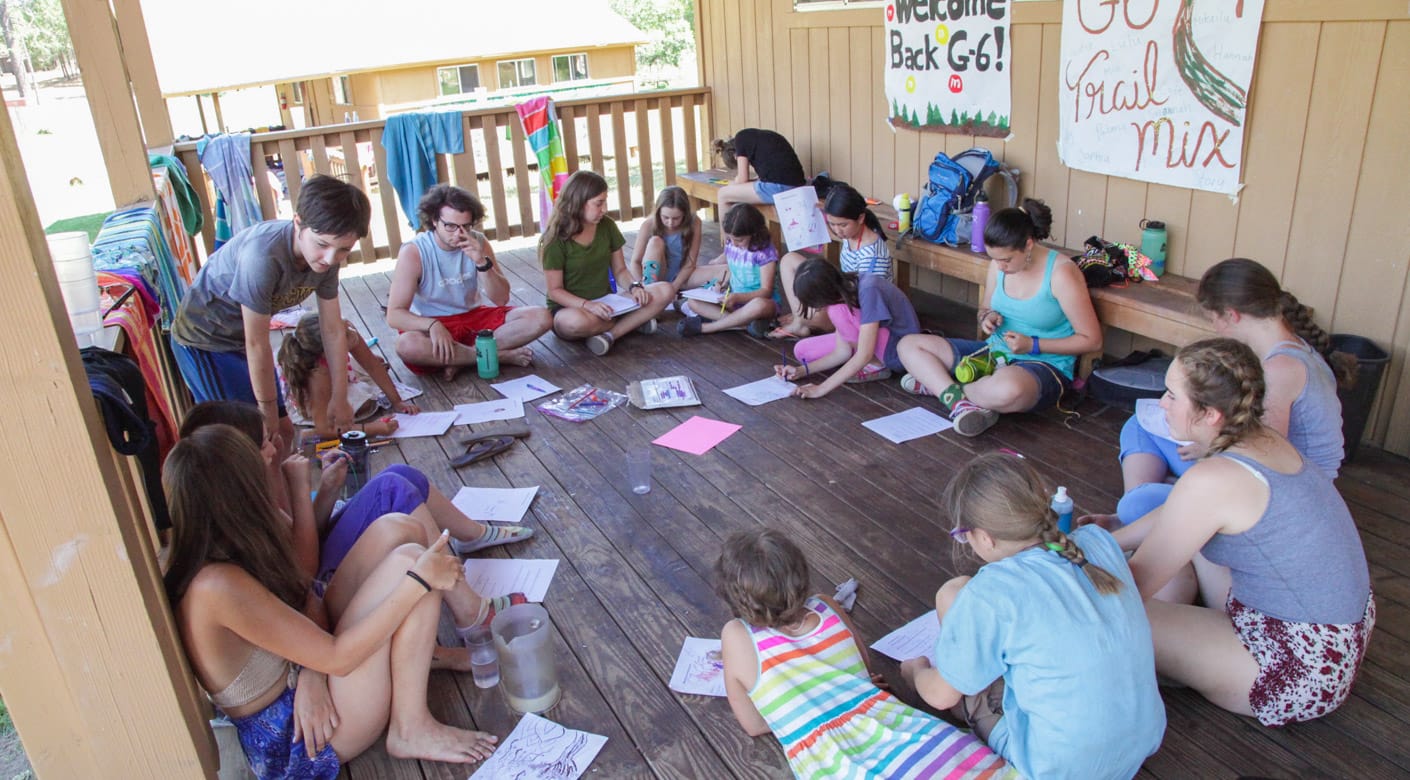 Campers spend most of their time out and about at Camp but enjoy spending time together in the cabin during the mornings, rest hour (after lunch) and at bedtime. Before the children arrive, counselors make "work wheels" for the campers to share the tasks that support their bunk community, like setting or clearing tables for meals, retrieving food from the kitchen window during meals, reminding bunkmates to apply sunscreen and drinking water (under the direction of counselors), sweeping the cabin and others.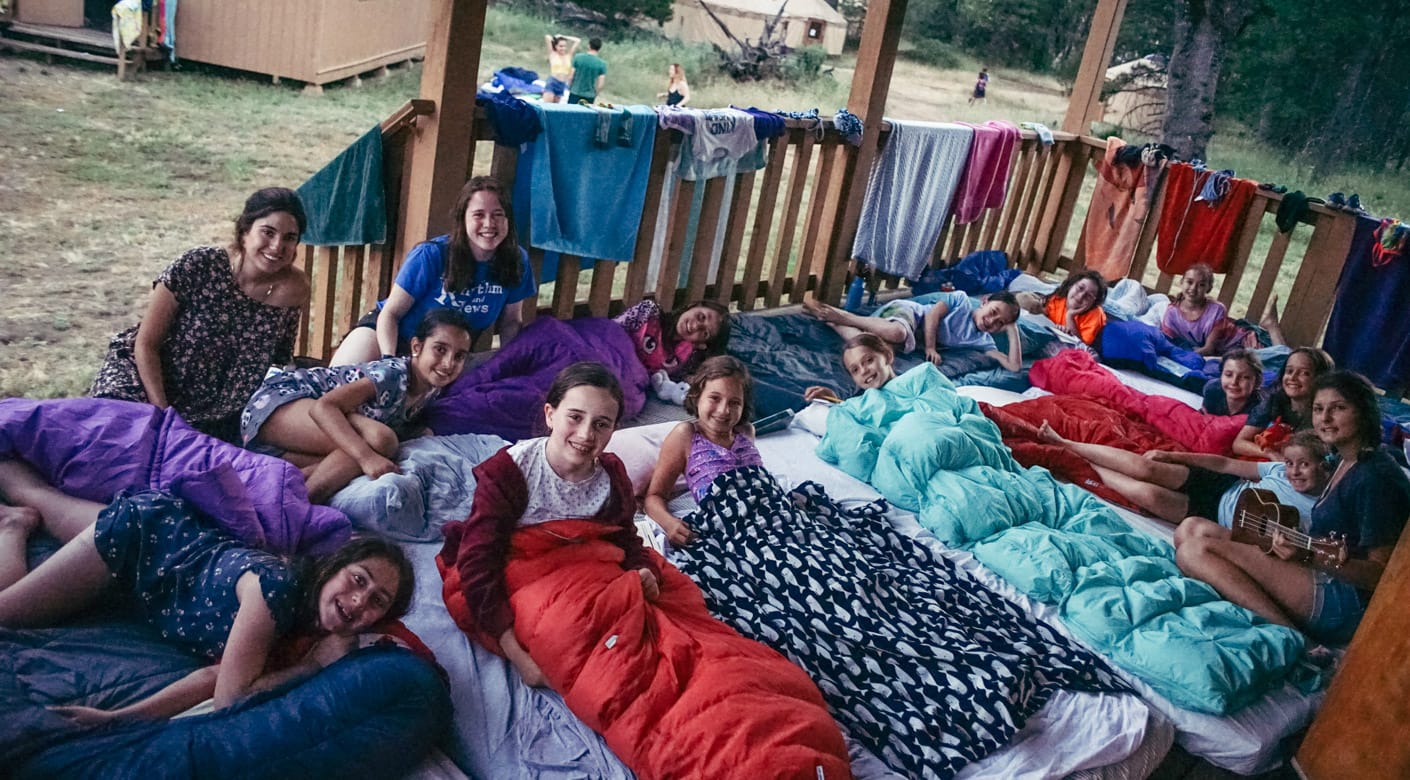 On the night campers arrive, they participate in a bunk discussion to develop their bunk's "Ten Commandments," which are the rules by which the campers agree to live and the respectful and kind ways they will treat one another. This lays the groundwork for creating a positive and cooperative bunk community.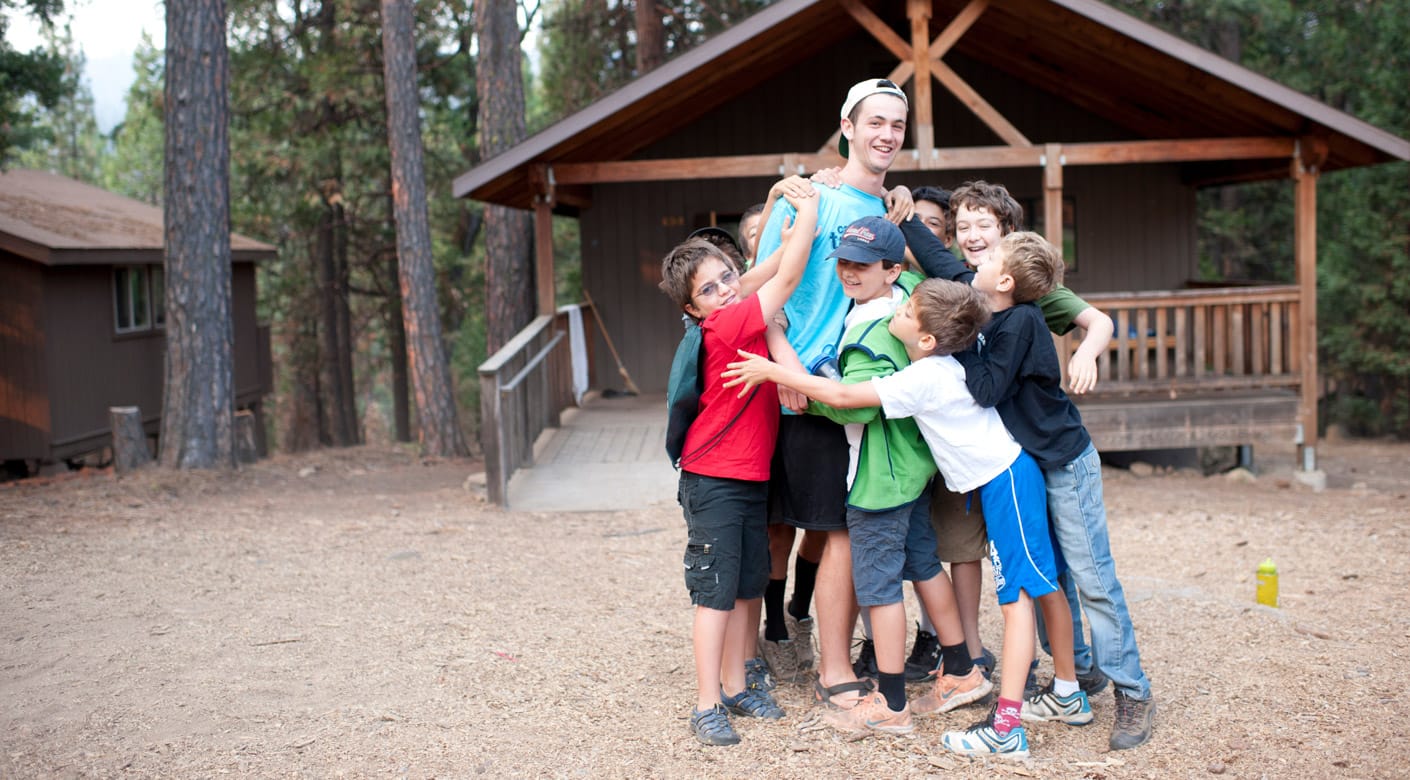 Bunking Process
The process by which campers are assigned to bunks is carefully crafted by our professional year-round staff with an emphasis on ensuring all campers within each bunk are separated by a two grade spread (eg 4th and 5th graders or 5th and 6th graders together, but rarely 4th, 5th and 6th graders together). Because we register children without quotas for any particular age and grade, there are often multiple bunks of similarly aged children in Camp, often spanning more than one unit (group of 4 bunks). Our primary goal is to ensure campers are assigned to bunks with a mix of established and new friends, returning and new campers, and a healthy age and grade range; there is no "right" or "wrong" unit for any given age group.
Bunking Requests
All campers have the opportunity to make up to three bunkmate requests, and we do our best to guarantee at least one request per camper, especially if the request is mutual. We are unable to take specific bunk number or unit requests, or negative bunkmate requests (more info below). We are unable to take unit requests and negative bunkmate requests. If you do not make a bunkmate request, we will assume that your child is open to any bunkmates in their age range. Feel free to call our office at 415.543.2267 or email info@tawonga.org if you have any questions or concerns about our bunking policy.
Negative Bunkmate Requests
We understand that you may be concerned about your child being bunked with a child with whom there is some history of difficulty, either from a past camp experience or from an interaction at home. We understand you may feel tempted to make a "negative" bunkmate request, indicating which camper you do not want in the same bunk as your child. We do not accept these requests for a few reasons:
We know that sometimes children in a school or religious school environment can behave differently than they might in a Camp setting and have found that often children with clashes in these other environments do well together at Camp. In the case of a past Camp experience, campers have a full year to grow and mature from one summer to the next.

We want to assume positive intent in campers, and provide children with an opportunity to have a clean slate at Camp, absent of issues or assumptions from home.
Because we do everything we can to honor at least one of every child's requests of those with whom they'd like to bunk, we cannot take away the request of another camper in order to appease a "negative" request. We understand that this can pose a challenge and encourage you to call us if you anticipate an issue.
We encourage you to resolve these situations prior to the start of Camp. If this is not possible, give us a call and we can talk it through with you. We cannot guarantee that the children will be placed in separate bunks, but we will work with you and your child to ensure a fun and happy time at Camp and will ensure our staff are aware of the situation to best support the campers during their program.
Enrolled families: In order to get your child the best chance of getting their bunkmate request(s), you must submit all forms when they become available by the April deadline.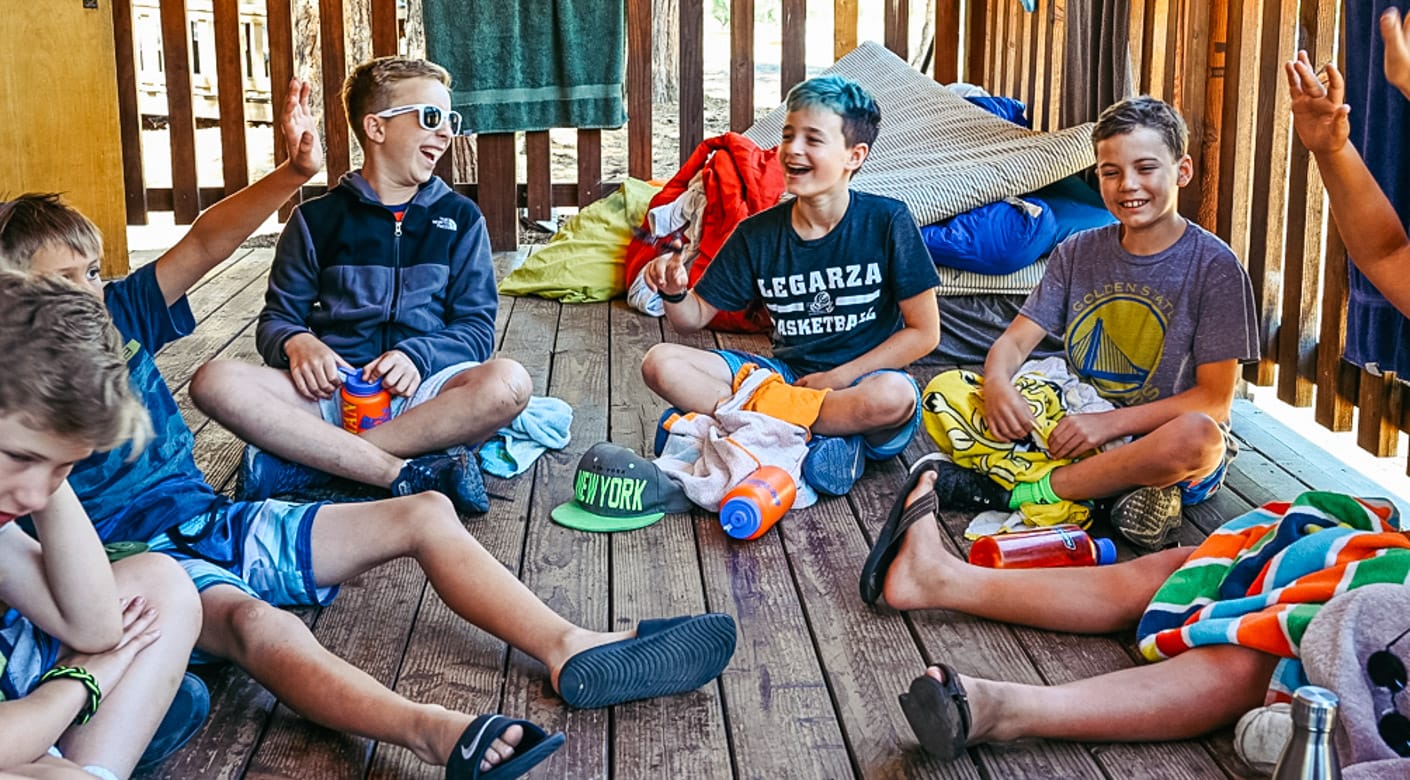 Cabin Groupings & Ensuring Inclusivity
Tawonga offers "boys" cabins, "girls" cabins, and all-gender cabin options. Tawonga welcomes children all across the gender spectrum and assigns bunks based on a variety of factors. Our goal is to ensure that every child who attends Camp is welcomed, included and celebrated. As a result of our bunking policy and our values as an organization, your child may be bunked with children with different gender identities than your child. For example, a "girls" cabin may include children who identify as girls, including trans girls, non-binary or somewhere else along the gender spectrum.
Every cabin includes children from one or two grades. We thoughtfully assign children to cabins to ensure that there's a mix of returning and new campers with opportunities for every child to make friends.
Enrolled families: In order to get your child the best chance of getting their bunkmate request(s), you must submit all forms when they become available by the April deadline.
---