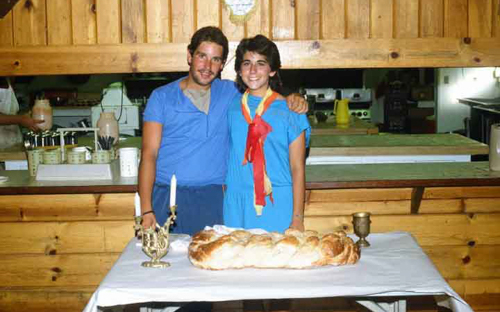 About 25 years ago, Ken Kramarz—the director of Camp Tawonga—and Norman Schlossberg (a board member) were having lunch in a Chinese restaurant. They were discussing the issues facing Camp Tawonga. At the end of the meal, Ken mentioned he was going to Sacramento to interview a young boy named David Wolfson for a campership. Ken told me that David and his sister Deborah were orphaned.
I said to Ken well if the kid is nice to have him call me to come over for Passover. The next day I called Ken to see what David was like. Ken said David was a great 15 year-old that will get the campership to Tawonga. I asked Ken to have him call us for Passover. A few days later I got a call and the voice said, "Hello, this is David Wolfson, and I understand you want to invite me and my sister to your home for Passover." I said, "Yes" and we looked forward to meeting them.
A week or so later on the first night of Passover, the doorbell rang at our Haight-Ashbury home. We all went to the door: Adrienne my wife, Linda our daughter, Jonathan our son and myself. We opened the door and there were 2 kids—a boy 15 and a girl 18—with flowers and a nervous look on their faces. Our family immediately hugged them. We took the flowers. Adrienne said, "David, you go with Jonathan to help set the table. Deborah, you go with Linda to help in the kitchen." They became part of our family 1 2 3. There were no long conversations about who they were and who we were. That would all come out later.
An hour or so later the other guests had arrived, and we all sat down for a wonderful Seder. Special attention was given to our two new friends from Sacramento with much warmth. The evening ended and "all's well that ends well." We hugged goodbye with the understanding that this was the end of an evening and the beginning of a new friendship.
David and Deborah were living in extremely difficult circumstances in a small cottage in West Sacramento. Their parents were both deceased and they had here were little to no family and just a few friends. Their father was Jewish and a Holocaust professor at U.C. Davis. Their mother was German and was a stay-at-home mom. The extended Jewish family did not like the extended German family, and vice versa. The German family did not like the Jew. Both parents died and left no money at all.
The kids supported themselves by doing odd jobs. Things were very tough. Adrienne and I proceeded to make sure they were invited to each Thanksgiving, Hanukah, Yom Kippur, Passover, etc. I arranged with Jewish Family & Children's Service for them to get a certain stipend each month. They were not to be told where the money was coming from. We did not want them to feel obligated. Both the kids became very comfortable at our home and with our family. They would bicker between themselves and Adrienne would sit in the middle. We went to David's high school graduation in Sacramento. It was a good event and we took them out for dinner. They decided to move to L.A. after graduating from Sac State and enter UCLA. They both earned degrees at UCLA waiting on tables to support themselves.
We continued to see them but now only once or twice a year. David was an aspiring actor and still is. He lived with his partner Peter Cohen a clothing designer in L.A. and became part of his family. They broke up as partners but are still friends and still work for Peter. Deborah met her future husband Alois, a Swiss lawyer in L.A. getting training at UCLA. They married and moved back to Switzerland. They live in Zurich in the exact apartment that Albertalbert Einstein lived in while working in Zurich.
We just saw Deborah and Alois a few weeks ago after a visit to Italy. They are doing well. David struggles as an actor-to-be and has a partner Tim. We last saw him a few years ago.
We hope to see him in August at a party we are having for Jonathan and his new wife Silvia. Jonathan went to Tawonga. Linda will be at the party with her boyfriend Ttom. Linda went to Tawonga as a camper and on the staff. Jonathan is a writer and conceptual artist. Linda works at Harvard in the women's studies department. Her first novel came out in November 2010. It's called "Life in Miniature." Adrienne and I both served on the Tawonga Board. Adrienne is a calligrapher and I retired as an insurance broker.
Camp Tawonga is in my will.
So that's it folks, all the news that's fit to print.
Want to Learn More?
Interested in learning more about how you can ensure a vibrant future for Camp by making a gift in your will, trust, retirement account, or life insurance policy? Contact Mollie Breger at mollie@tawonga.org to learn more.