Summer comes with all the traditions that make Tawonga feel like home away from home for campers and staff alike. One of them is the magic contained within the Camp Tawonga Songbook, and the joy of music in general. From song sessions and freilach to campfires and last night serenades, Tawonga's songbook is an iconic staple of Camp (and many Tawongans' home libraries at that). 
Below is the introduction to the newest edition of the songbook, written by Camp Director Aaron Mandel. The last songbook was released in 2009, so this is something to celebrate! Released for the first time at A Taste of Camp 2023, this edition is already a hit, holding on to classics while making way for newer voices, particularly female artists. Just like past editions, every song is accompanied by chords to play along, and in the back, musicians will also appreciate a chord guide. Enjoy!
By: Aaron Mandel, Camp Director
Just like a page of Talmud, which builds upon itself, layering conversation, history and changing opinions, our Tawonga Songbook has evolved throughout Tawonga's nearly 100 year history. The 1930 songbook contained just 42 songs; today's version has well over 200. In the 1970s, Jewish and Israeli songs joined the collection of folk and contemporary numbers. Jonathan Ferris modernized the book in 1992 to a version similar to today's.
Each subsequent edition brings in new sounds, new themes and new voices. Some songs slip away and others emerge. The comforts of tradition mix with the excitement of newness to give us our eclectic mix of melodies imbued with nature, spirit and community – the same themes present in every Tawonga experience.
"We'll sing you in, we'll sing you out" go the words of our welcome song. Music is one of the fastening threads of time at Camp. From a morning song session to a raucous freylach to a contemplative night around the campfire, music infuses meaning, feeling and connection throughout the camp experience.
Our Songbook Committee engaged with creating this new edition by asking ourselves "Who and what has been missing?" With the goal of every Tawongan seeing themselves reflected in these pages and feeling inspired, we've worked to include new voices and artists. May the songs in these pages bring you joy and connection!
This edition of the Camp Tawonga Songbook is dedicated in loving memory to Ken Kramarz z"l, Camp Tawonga's beloved former Executive Director.
One of Ken's many happy places was sitting around the campfire, singing and playing guitar. Ken taught us that the Tawonga Songbook is the "Talmud of Tawonga".
💗 Special thanks to this edition's Editor-in-Chief, Maya Abramson (former song leader), and to our Songbook Committee members: Isaac Zones (former song leader), Shiloh Atkinson (2023 song leader), Aaron Mandel, Devin Leslie (2023 song leader), Maya Abramson and Elan Lavie (2023 song leader).
🖊 Special thanks also goes to Meg Adler, Tawonga's Associate Director of Bay Area Programs, for front and back cover original artwork 
---
Campers and weekend program participants can grab a copy of the new songbook at the Canteen this season, as well as at summer session bus departures. The new edition will also be available in our online Canteen shop this fall.  Or simply enjoy them in action this summer!
---
Session Update
Almost a full week into Session 4, and we've come so far! Campers are far past ice breakers and get-to-know you activities, and now bonded with their bunks and units, each is making the most of their time at Tawonga. Having participated in Camp T Community – anti-bullying, active inclusion workshopping – our Camp community is at its strongest. When campers know they are supported and accepted by their peers, each group experience is more special and enjoyable. Many bunks have taken on the Challenge Course, and three of six units have ventured out into Yosemite for backpacking or car camping trips, demonstrating team-building skills and camaraderie. As an even stronger, more connected Camp community, Shabbat this evening will be all the more amazing with everyone back at Camp! A delicious Shabbat dinner will be followed by an extra long song session (Freilach) and unit-wide Kabbalat Shabbat services. Lots to look forward to this weekend and the rest of the session!
Check out today's Tawonga Tidbit!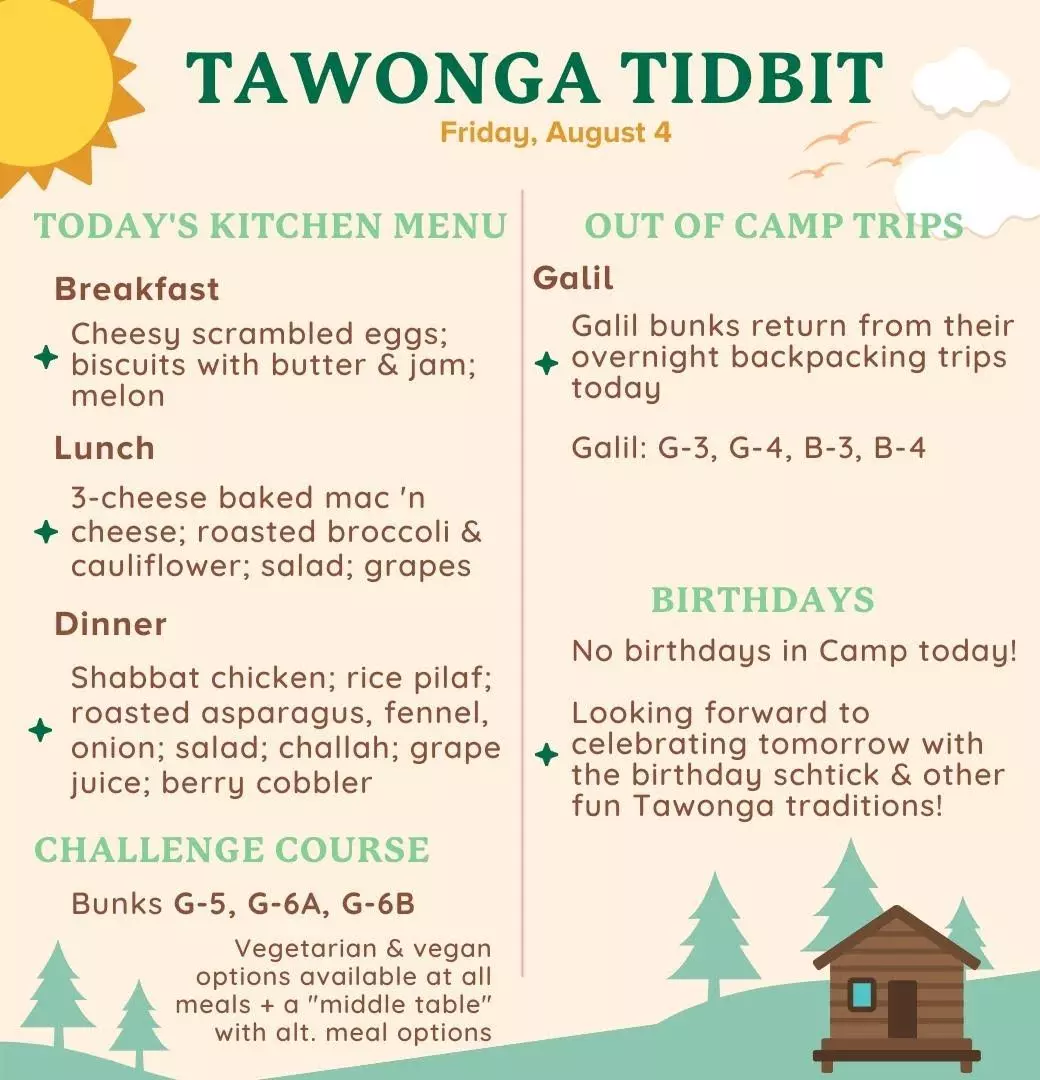 ---
Enjoy some photos of the songbook and music at Camp over the years, as well as some recent Session 4 photos!