We're mighty glad you're here, A Taste of Camp! Yesterday, staff welcomed 342 campers to our first session of the summer. It's safe to say that many people have been waiting all year for this moment! As the buses rolled down the Camp driveway, having completed their journey on those country roads, our eager staff began singing the classic Tawonga tune, "We Welcome You to Camp Tawonga, mighty glad you're here!" (You may know it well, and maybe even once sang it to campers.) 
As campers hopped off the buses and began meeting their bunkmates and counselors, the excitement was palpable. For most campers this session, this is their first sleepaway camp experience, and we are beyond thrilled to introduce them to everything Camp has to offer (a "taste," if you will). This includes classic camp activities with their bunk (12 campers and 2 counselors) like arts and crafts, cooking in the garden, swimming, campfires, boating, archery, s'mores and more. We make sure all campers have an opportunity to rotate through our most popular program areas.
As counselors led campers through get-to-know-you activities and games — like Simon Says, Rhythm Master and Poison Dart Frog, to name a few — you could see the nerves begin to melt away, making way for excitement and giddiness. 
Next up, bunks got situated in their cabins, which these campers will call home until Friday. As a group-centered Camp, Tawonga bunks sleep, play and eat together – just about everything! Together, campers crafted the 10 commandments by which their bunk will live – key to achieving the cooperative community central to our mission – commandments like making sure no one is left out, and that all voices are heard. Campers also follow a work wheel each day for bunk harmony, sharing tasks like sunblock reminders, "hopping" for the table at meals and more.  
Once campers settled in, they enjoyed their first meal together in our outdoor dining pavilion, following the Hamotzi, the Hebrew blessing we chant before meals. The evening concluded with an epic all-Camp song session on the lawn followed by rousing opening campfires where campers met speciality departments and introduced themselves bunk by bunk with silly skits and bunk cheers. Like all Tawonga campfires, we closed with the classic song, "Friends, Friends, Friends" followed by "Shalom Chaverim." 
This morning, campers visited popular spots around Camp during cabin "floats" to get familiar with our activities and grounds. (Did you know that Tawonga is situated on 160-acres nestled in the trees of the Stanislaus National Forest?) The afternoon was filled with fun programming, from improv exercises and sculpting clay figures at A&C to ice cream socials and getting "gnarly" – a popular, silly and messy activity where campers let loose! 
We can already see the campers finding their footing as they begin to form bonds with their bunkmates on Day 2. So much more fun is in store this week, and we can't wait to see these campers hit their stride!
P.S. If you haven't subscribed to Tawonga's blog yet, you can do so here to catch a glimpse of the magic! (In case you missed it, here's our post on staff training week.) You can expect to see a few blog posts a week this summer. Parents of campers, in addition, can see updates in the Campanion app.
---
Check out a peek into Camp with the Tawonga Tidbit!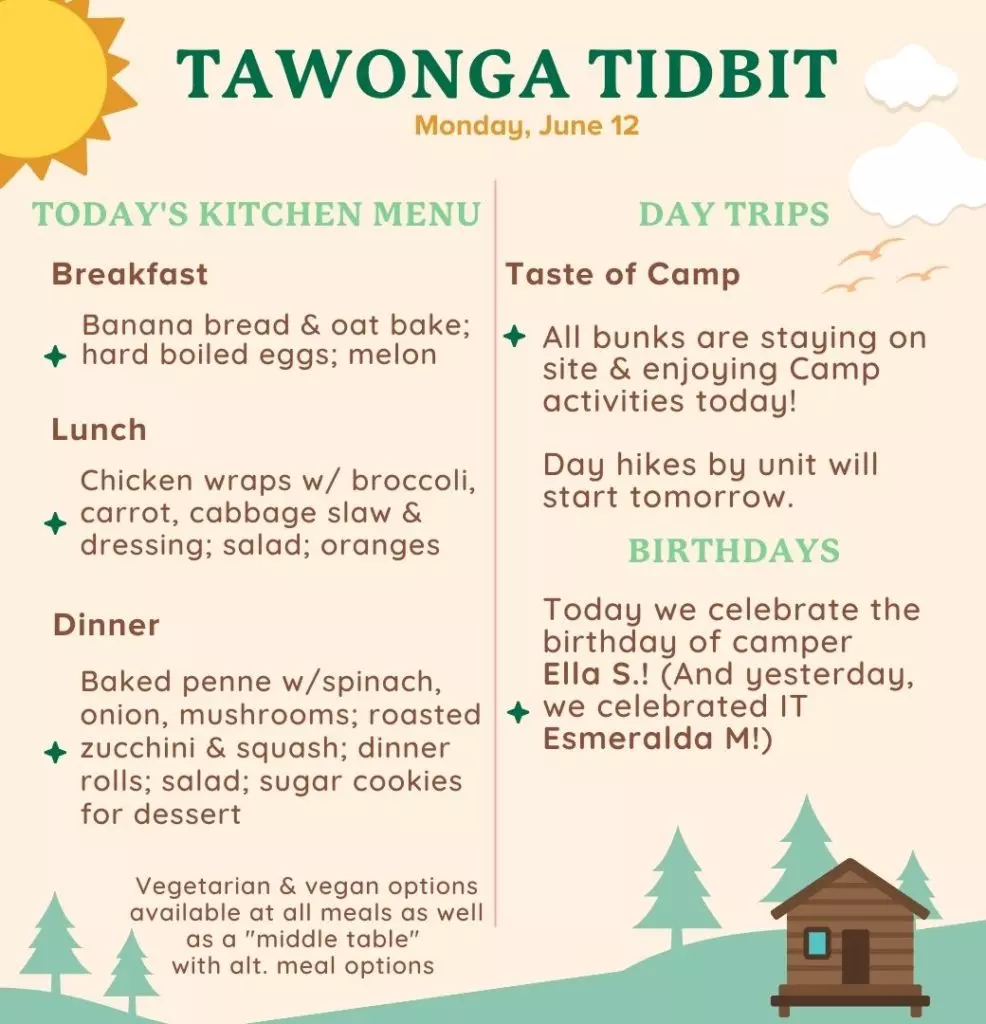 A Taste of Camp Photos
Enjoy some photos from the first few days of A Taste of Camp!