Every day is Earth Day, but at Tawonga, we like to go the extra mile to show our appreciation for nature with our very own Earth Day! A few times each summer, our community comes together to celebrate the environment with this activity-filled program. Campers enjoy tasty treats, live music, an opportunity to flex their creative skills and plenty of fun games!
Last night, Session 2's Tawonga Earth Day featured a variety of stations, including fire building, clay Earth bead making, pine needle tea, dolmas, a watermelon seed spitting contest, mural painting in the gaga pit, tree love notes, yoga, a tag game and natural bug spray. So many options! Earth Tones 2.0 – a staff band – closed out the night with a rocking set. 
A concert at Tawonga is always the place to be. From some classic Jack Johnson to The Beatles and Tom Petty, the Earth Tones brought the house down! With arms around each other as the sun set behind the Moadone stage, Session 2 experienced a beautiful mid-session moment. Now that campers have had more than a week to cement connections with nature and each other, this Earth Day felt extra special.
The Hebrew phrase tikkun olam or "repairing the world" is a key rung of Tawonga's mission. There is a Jewish philosophy that when the world was created, it broke and shattered into millions of pieces, and that it is our responsibility to put it back together. Earth Day helps inform campers of their environmental impact in fun and creative ways, encouraging them to "put the world back together" in any way they can.
As a mid-session reflection point, Earth Day also marks the progression to full camp adjustment. Many campers have now taken on the challenge course, had the opportunity to backpack in the neighboring wilderness and explored Teva (nature) blocks in the garden. It is so touching to see campers fully embrace Tawonga's partnership with nature through all of our intentional programming. We're looking forward to many more special moments ahead this session!
---
Check out today's Tawonga Tidbit!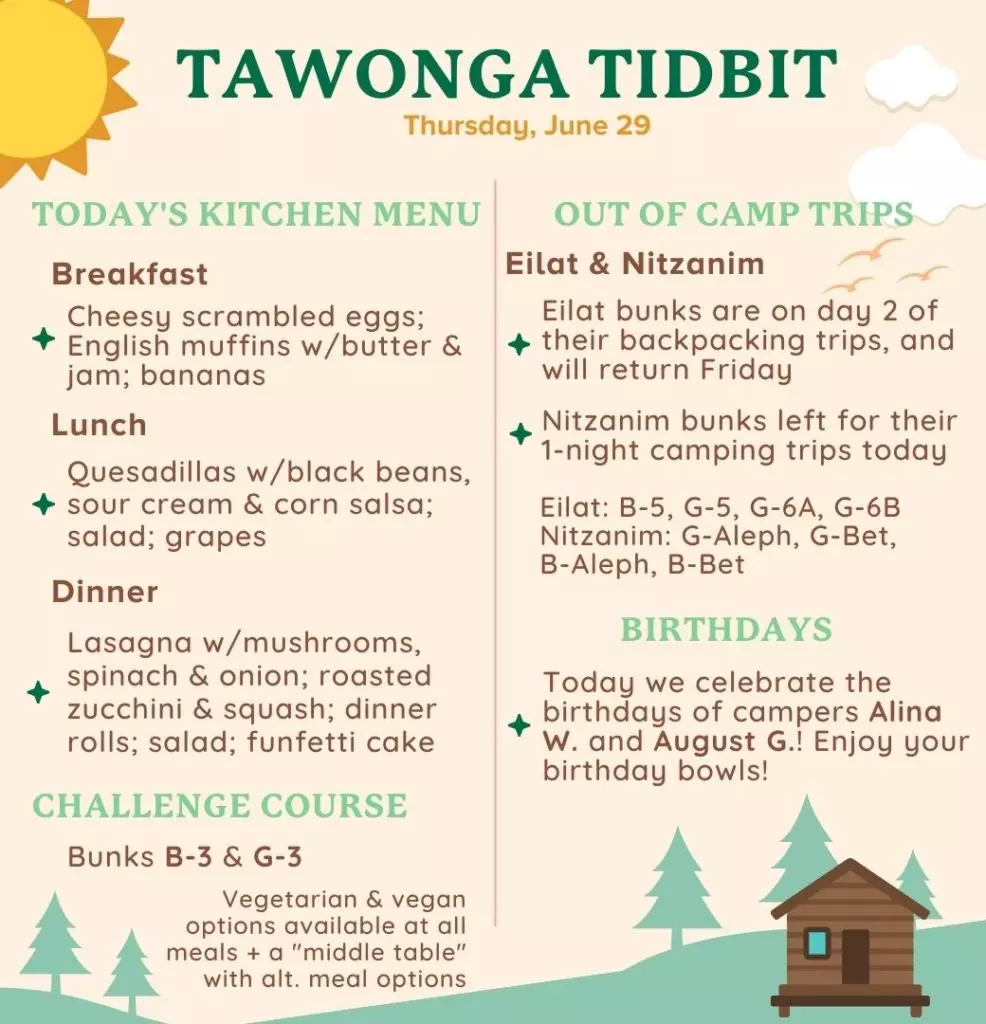 ---
Below, enjoy photos from Earth Day and the last few days of Session 2!