Our Mission
We believe that a loving, inclusive Jewish community gives children a chance to gain self-confidence, explore their spirituality and discover the truest versions of themselves.
The result? More compassion, acceptance of others and a desire to repair our world – that's our mission.
Since 1925, Tawonga's four-part mission has fostered high self-esteem, enduring community, tikkun olam and positive Jewish identity. Our mission guides everything we do – from the programs we facilitate to the way we lead campers, train staff and champion inclusion.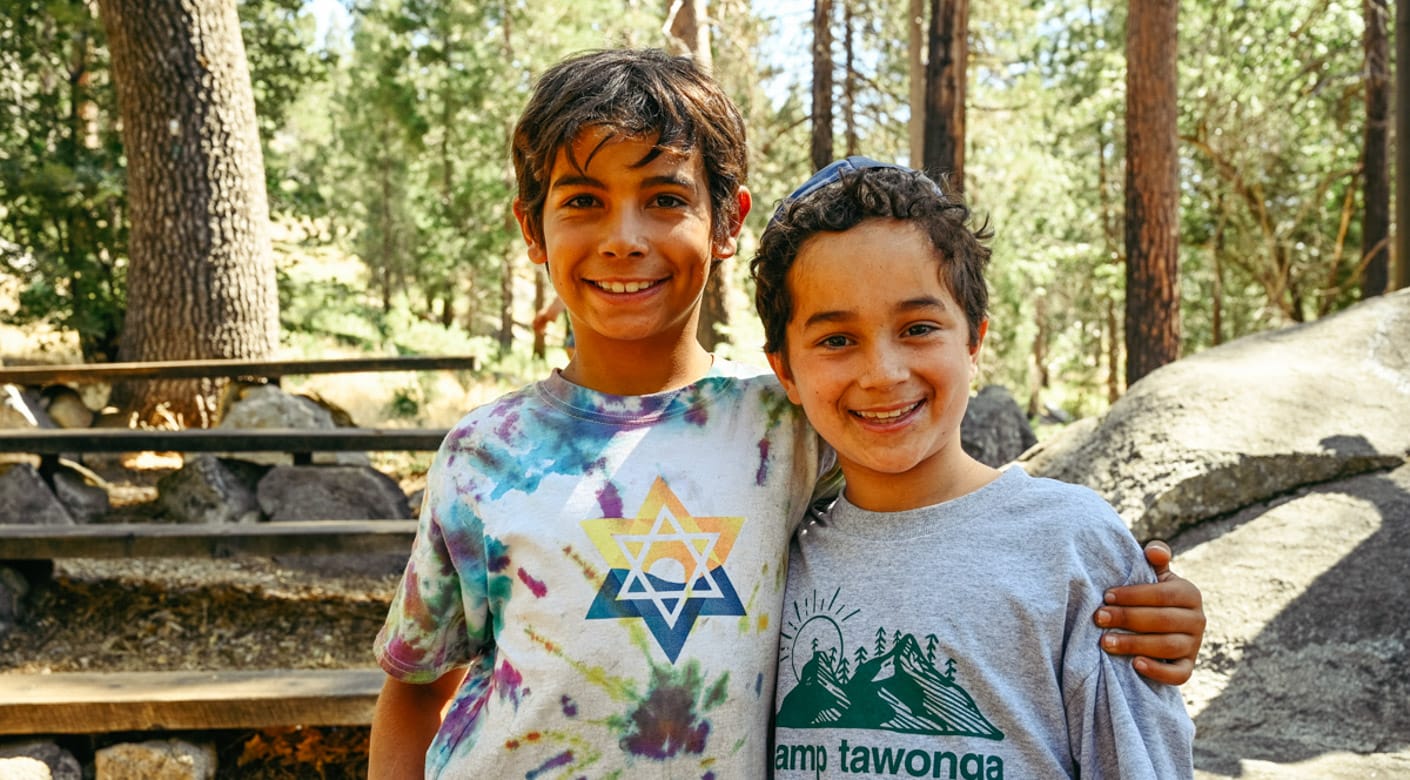 At Tawonga, we embrace differences, learn from each other and welcome everyone. Today, we are more committed than ever to ensuring radical inclusion by addressing and resolving blind spots related to gender and race.
A Deeper Look at Our Four-Part Mission
1) Fostering positive self-image and self-esteem

At Tawonga, the children always come first. Our entire staff is trained to focus on the unique needs, attributes and personalities of each child – and our nurturing environment cultivates transformative personal growth. We understand that sleep-away camp is full of challenges, especially for first-time campers. Each triumph – a new friendship, a backpacking trip, a swim in the river – builds independence, resilience and self-esteem. Parents often tell us that their children return home buoyed with more self-confidence.
2) Creating a cooperative community

Living together and sharing responsibilities in a loving community environment prepares children to become their best adult selves. At Tawonga, that means campers contribute to the well-being of our shared space, participate in consensus-based decision making and learn the value of compromise. It also means that Tawonga counselors are kid specialists – empowered to prioritize the quality of the group dynamic over any activity.
3) Tikkun Olam – A partnership with nature

In Hebrew, Tikkun Olam means "repairing the world." At Tawonga, our interpretation of Tikkun Olam focuses on an appreciation of nature. Children unplug literally and figuratively beneath the trees, along the river and under the stars. They explore the outdoors on our rustic campsite and in the backcountry of Yosemite with experienced wilderness leaders. These immersive, tech-free experiences in nature bring the urgency of protecting the environment and our world to the fore. Our campers leave Tawonga as stewards of the earth.
4) Spirituality and positive Jewish identity

Tawonga encourages campers to find their own spiritual paths – however they affiliate with Judaism.
From epic Shabbat celebrations to spirited song sessions, we incorporate Jewish values, culture and ritual into the camp experience. Campers learn firsthand that working together enriches our relationships and repairs the world. They go home feeling that it's "cool" to be Jewish and excited to continue their Jewish journey.