Tawonga Alumni have ample opportunities to connect with each other throughout the year through hosted Camp Tawonga events, reunions and programs. Read below and check our events page here on what's coming up!
Part of the work of our Young Alumni Board is to help Tawonga to better engage with our alums, planning amazing gatherings so our alums stay engaged with each other and with Tawonga – no matter how long it's been since they've been up to Camp.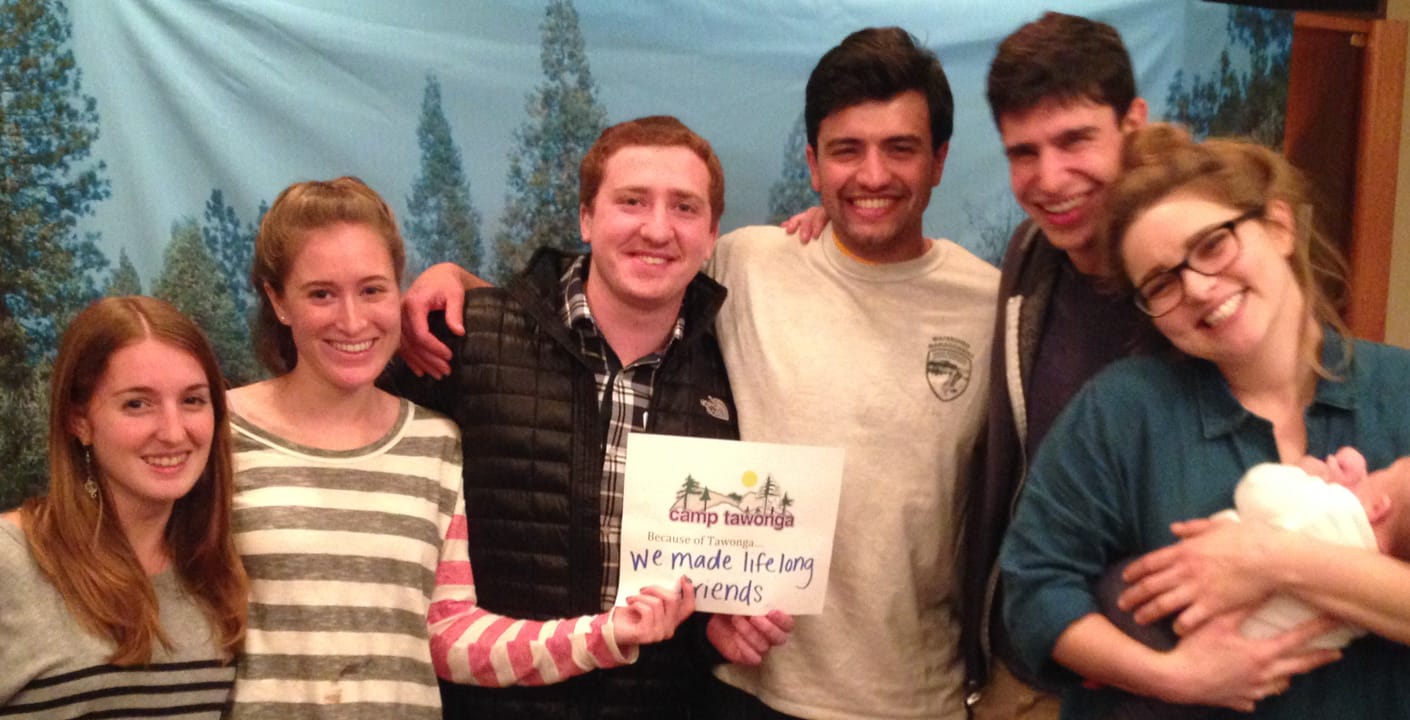 Annual Social Justice Seder

For the last three years, dozens of Tawonga alumni have gathered for a social justice-themed seder during Passover at Wise Sons Jewish Delicatessen in San Francisco's Mission District.
Participants recite the age-old story of the Israelites' exodus from Egypt while reflecting on current social justice issues. The grassroots group, Tawongans Organizing for Racial Justice (TORJ) has helped to plan and lead this seder. Our passionate young alumni remind us that nobody is free until everybody is free – and that there's still so much work to do.
Alumni Spring Service Weekend

For the last three years, young alumni joined together at Camp on a March weekend to replenish the land and connect with each other and that Tawonga spirit. They have reforested throughout Camp's property, replenishing areas scorched by the Rim Fire and replacing trees lost to bark beetles and drought. Alums have planted dozens of pine trees, as well as fruit trees in the garden's orchard. These efforts will continue as long as needed.
Tawonga@Home Shabbat

Nearly 100 Tawonga alums gathered in 10 cities across the country for the first-ever Tawonga@Home Alumni Shabbat in November 2018.
A broad swath of Tawongans and their friends gathered for a memorable evening of Jewish community, reuniting and, of course, really good food. Shabbat@Home has been successful over multiple dates in 2019 and 2020, with plans underway for continuing this innovative tradition.
Down the Mountain Programs

Several of Tawonga's Down the Mountain programs are geared for our entire community, including the 20s-30s crew. Our alums particularly love flocking to Tawonga's annual Erev Rosh Hashanah Celebration.
Working Tawonga Programs

A great way for alums to stay connected to Camp is to work for Tawonga! Whether joining for a summer, a Family Camp Weekend, a b'nai mitzvah Program retreat or a Tot Shabbat, alums are always encouraged to come and help staff a Tawonga program. If interested, please email Kiyomi at kiyomi@tawonga.org.
Online Connections
Aside from events, alums can also stay connected to each other online:
Young Alumni Facebook Group
In 2016, Tawonga's young alumni launched their own, highly active Facebook group. More than 700 members across the country frequently connect, post job opportunities and share resources. Join the conversation!
Tawonga Community LinkedIn Group
Join our new Tawonga Community LinkedIn group! This is a place for the entire Tawonga community (staff and camper alumni, camper and family camp parents, Board and Board alumni) to network and connect about career, professional and volunteer opportunities.