We welcome you to Camp Tawonga, Session 4! On Sunday, buses rode up "country roads," and our spirited staff lined the path, singing in the new group of campers and welcoming them to their home for the next two weeks. 
A highlight of the afternoon was bunk assignments, where campers met their cabin-mates and learned their bunk themes. As with every new session, bunk counselors choose a theme for their cabin, ranging from goofy to clever to random. Some favorites from this session include: G-Aleph Oil (olive oil), B-6 River Styx and B-5, 7, 5 Syllables in a Haiku. 
The bunk is at the core of the Tawonga camper experience and central to our group-centered philosophy. It's not just a homeroom or place to sleep at the end of the day. Quite the contrary, almost every moment of every day is spent together with twelve campers and two bunk counselors. It's like a slumber party – for an entire session! 
From meals to activities of all kinds, to the backpacking trip and challenge course, that core group sticks together. They learn, grow, play and bond during their time at Camp. This facilitates an incredibly transformative and powerful sense of community where kids not only learn important values like consensus decision making and communal living, but also make lifelong friendships. 
For many older campers and staff members, the friendships and connections made within the bunk have lasted years, sometimes decades, and continue to be important relationships even when not at Camp. 
The group-centered approach that we employ stems from the second rung of our mission: creating a cooperative community. Campers learn how to make compromises, be empathic to each other's needs and truly cooperate and work together as they go through each day. Utilizing chore charts and work wheels, campers take ownership and work together to clean the cabin, get more food, clear the table or remind others to put on sunscreen. 
Through collaboration and cooperation, kids learn how to support one another and live communally. This often even spills over into their return home. Many parents report that upon their camper's return, their child is more apt to help set the table, bring in groceries, or help with younger siblings — all things to look forward to in the coming weeks!
Amidst all of the cooperation, there is tons of fun to be had! With two weeks, this session is long enough to try everything at Camp – ideal for our mix of returners and new Tawongans. They will celebrate Shabbat, backpack or car camp in Yosemite and try out activities across our many program spaces. 
With 323 campers this session, these campers bring with them a variety of interests, and luckily, we have something for everyone. Whether shooting arrows at archery, rock hopping in the Tuolumne River, making kombucha in the garden or singing karaoke, campers get to try a range of activities. 
Having spent a few days at Camp, getting settled in and learning the ropes, Session 4 campers already have highlights to share, with their eyes set on festivities to come this session!
Ben B., B-8: "I'm excited for tonight, the silent disco! Also, dodgeball games are really fun." 
Silent discos are a unit-wide activity that obviously includes awesome tunes and plenty of dancing, but also some sweet treats and hang-out time.
Elliot B., B-4: "My favorite part of camp so far is the food! My favorite meal is Shepard's Pie, but I like all of it."
Our amazing Kitchen Staff prepares delicious and nutritious food to fuel campers and staff alike as they go about their action-packed days. Read more about our food and kitchen staff on this blog post!
Amalia, G-Bet: "I'm looking forward to the ice cream social, where you get to eat ice cream and hang out with other bunks."
Marlo, G-4: "We did tie-dye, friendship bracelets and a lot of fun activities in the pool, and now I'm looking forward to the backpacking trip! It's really fun to go hiking, and usually we get to go swimming."
You heard it here first, reporting from Camp Tawonga! 
As units travel in and out of Camp this week on backpacking and car camping trips, we look forward to having everyone back on Friday for Shabbat. Thanks for tuning in!
---
Check out today's Tawonga Tidbit!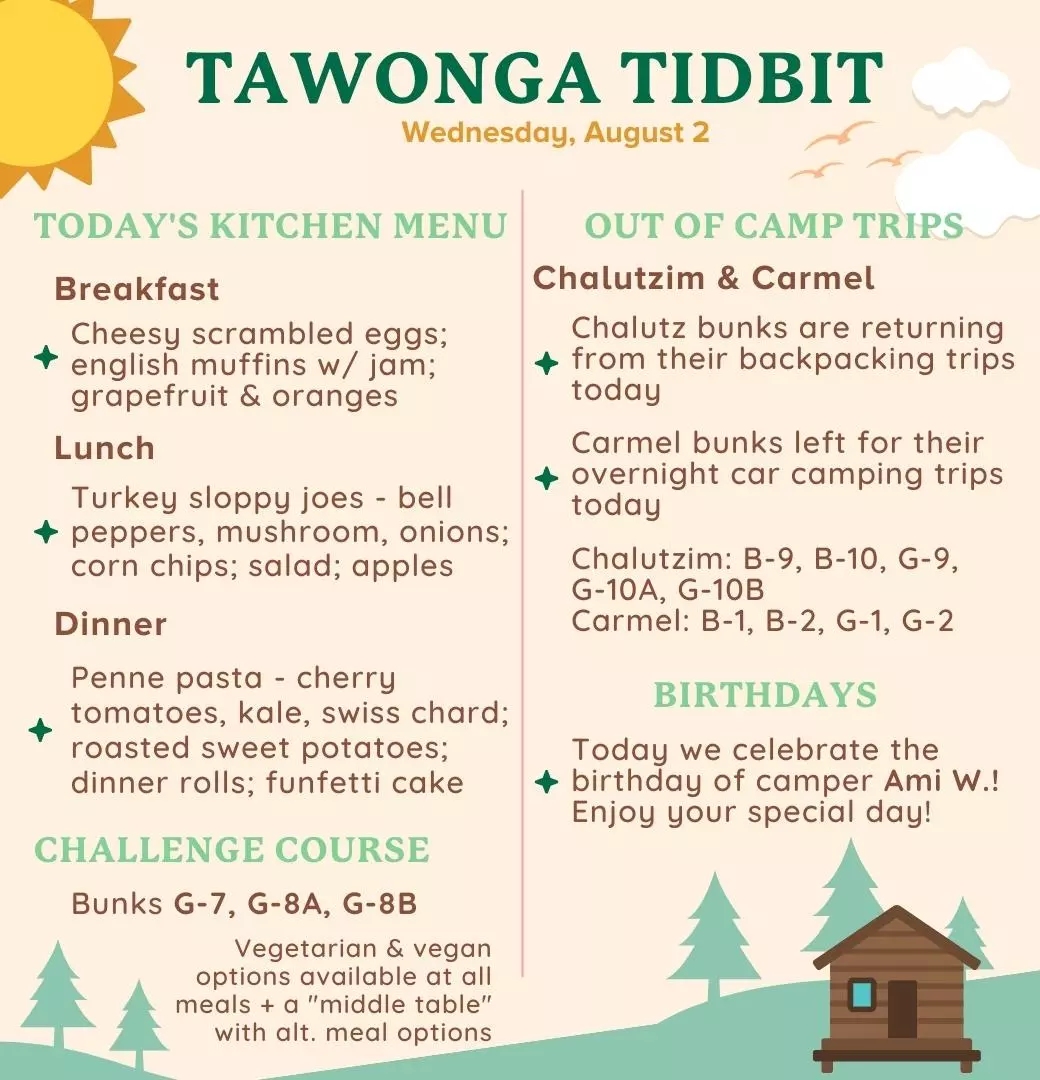 ---
Below, enjoy photos from the past few days of camp!