From Monotone to the Moon: How A Song Leader Found His Voice – An Audio Story
By: Aaron Mandel
We're trying something new this summer, assuming you all may be tired of zoom calls and screen time. Enter Tawonga Radio! Here's our first story for you: Elan Lavie was a camp song leader who didn't quite know how to sing. Through sheer determination and inspired by the natural world, he found his voice and brought a bunk of 12-year-old boys closer together in the process.  Listen (or read) below! 
Well I'd like to visit the moon

On a rocketship high in the air

Yes I'd like to visit the moon

But I don't think I'd like to live there

So I'd like to look down at the earth from above

I would miss all the people and places I love

So although I might like it for one afternoon

I don't wanna live on the moon
I hadn't expected to feel silent tears streaming down my cheek in the dim light of a grassy field, surrounded by a group of 12-year-old boys, but there I was.
It was getting past dusk on an early August evening at Tawonga. Elan, the Song Leader and astronomy enthusiast, had been trying to work out a time for me to come to one of his "Songs and Stars" activities but as Harry Chapin sings "the job's a hassle and the kids have the flu…" so it had taken all summer.
Elan had enthusiastically lobbied me in the months leading up to camp to buy a telescope for Tawonga so kids could gaze into the mystery of the cosmos under his advanced amateur tutelage. Despite some effort on my part, this proposal didn't take flight. Elan was undeterred and let me know via email that he'd borrowed a friend's telescope and would be bringing it to Camp. And that it would be nice if I could arrange for some sort of shed or shelter to be built for it. 
Elan has never let what other people would consider "reality" get in the way of his dreams and visions. 
Two years prior to this, Elan told me he'd be applying to be a Song Leader at Tawonga. He'd been a fine Counselor, Wilderness Leader and Assistant Unit Head, but this was a role I had never thought of him for. I'd never heard him sing or play guitar. He assured me he was taking it seriously, had put himself through many programs, classes and workshops with more to come and that this was his dream. He applied and auditioned and had learned guitar at a totally functional level for summer camp song leader and his singing was hit or miss. 
His commitment to learning, though, was like nothing I've ever seen. We attended a "Song Leader Boot Camp" conference together, we sat on Skype every Friday while I listened to him croak through camp songs, improving bit by bit each week. And then he worked that first summer and did a great job. Certain days were a bit of Russian Roulette as to whether he'd start on key, but "his smile never dimmed.."
Elan shared with me his "Singing Story" essay where he wrote about his childhood camp nickname of "Monotone" and the gentle ribbing he got from his mom about all his talents in life, singing not being one of them. He went on to write about his lifelong love of music and his commitment to learning it and getting better. He concludes powerfully with his mom, in the last year of her life, realizing music's importance to him and financially supporting his lessons, even posthumously. 
With all this nestled somewhere in the folds of my mind, I approached the far reaches of the field, near the dugout I had offered as shelter for his telescope. Elan was tuning his guitar as the bunk of B-4 tore wildly across the field as only a sugar-charged pack of 12 year-olds can. They screeched into our midst and Elan used the subtle and all powerful camp item of a guitar strapped 'round his neck to gesture them into a seated position in a semicircle in front of him.
Then Elan, this man not afraid of childhood whimsy and magic, began strumming chords and singing the song "I Don't Want To Live on the Moon" from "Sesame Street" without a hint of irony or cynicism.
One or two verses in, the power of camp and the darkening night sky had rendered seemingly un-wrangleable pre-teens into a calm state of wonder, reflection and most amazingly, silence.
After they'd fallen under his spell, Elan went verse by verse through the kitschy camp classic "Stars in the Sky" and asked the children to think about and share what they thought the song meant. 
He guided them to the realization that it was perhaps all about them, right there in that moment as children at overnight camp. After that, he deployed his friend's telescope, which happened to have an incredible lens and a GPS remote, and everyone ooh'd and aah'd their way through the line staring at Saturn's rings, Jupiter's Big Red Spot and the craters on the Moon. 
We went away when we were very young

To find the person that we would become

To find the person that was hidden somewhere inside

What we discovered there, it still holds true

The friends you make become a part of you

The friends you make will each return to you like the tide

Stars in the sky, stars in the sky

To bring the summer right back to me

Tell me you'll try, tell me you'll try

To think about me whenever you see those

Stars in the sky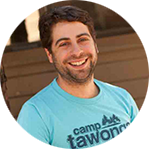 Aaron Mandel is our Associate Director. Fun fact: 2020 would have been Aaron's 19th summer working at Tawonga!