How One Camper Nailed Her College Essay with a Tawonga Reflection
By: Lena Mitchell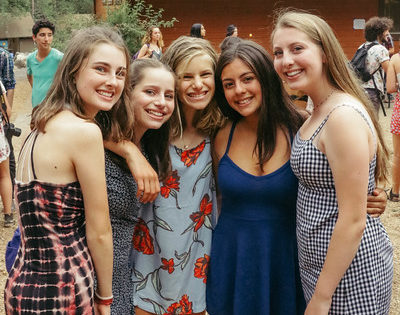 Lena Mitchell is a 17-year-old high school student at Lowell in San Francisco. She attended Tawonga as a camper for six years. Below is her college essay, the prompt for which asked to describe a unique community and its significance. 
Attending Jewish private school for the first nine years of my life, I have always been surrounded by Judaism. But even with rabbis at my fingertips and a bat mitzvah under my belt, Judaism never really called to me. My deep appreciation for Judaism was born in the mountains of Yosemite National Park.
Tawonga is a Jewish summer camp that helped me discover what Judaism means to me. In fourth grade, for the first time, I piled onto a bus heading towards the mountains. Since that first day, I have gone back for six summers.
In accordance with Judaism, Friday nights were the beginning of Shabbat, a sacred day of rest. In the Summer of 2016, I was experiencing my last Shabbat as a camper and I waited for my favorite song, "The Sabbath Prayer." Its melody creates a contrast between deep voices and the higher harmony. Its power creates a tangible sense of community and belonging. This song created a connection for me between Shabbat and an overwhelming feeling of being home. 
The next day my whole unit headed over to the willow trees, a shady serene space next to the garden to talk. Tawonga had taught us that Jews are people of the book, honoring and telling stories. Prior to Tawonga, I viewed conversation mainly as a vehicle for communication. At Tawonga I began to look at conversation as a shared environment. This way of interacting with others helped me gain a deeper understanding of diverse opinions. The simple, safe space of the willows allowed me to discover others' ideas as well as form my own opinions. 
As we sat and talked, some making friendship bracelets and others drawing henna, we shared intimate parts of our lives and had reflective conversations. We talked about the death of a loved one, the new world of high school and questioned society and the status quo. This time was sacred, allowing me to feel fully present. It was there under the willows that I found my Jewish identity. 
Tawonga creates a home for every camper. In the same way Camp emphasizes personal growth, communication and questioning, Tawonga also emphasizes bringing home our feelings, values and community. Some of my camp friends live in Oakland or Berkeley, others in LA or even Texas. Even with this distance, we make an effort to be in each other's lives. This past summer I drove with a friend to LA, on my way to meet eight other Tawongans. We arrived on Shabbat and decided to Facetime a group of campers. The call ended up being 18 kids and it only took a few minutes before someone mentioned "The Sabbath Prayer." As we sang, even with our voices off-key, the ritual was achingly familiar. It had been two years since my last Shabbat at Camp, yet the words were still embedded in my heart.
This community will forever live inside of me. It has taught me lessons about who I am and what I value in life, but it also has given me the best sense of Jewish self. The warmth of the dining hall during the Sabbath prayer gave me my first taste of Jewish belonging. The willow trees created an environment where I felt free to express my ideas, listen to others, and navigate how I view  the world. This "storytelling" engaged me in active listening, instilling a love of questioning. Connecting with my camp friends is the way I ground myself and recharge, they are also a part of my Jewish support system. Tawonga is a safe community, and most importantly, a direct link to my Jewish and spiritual side.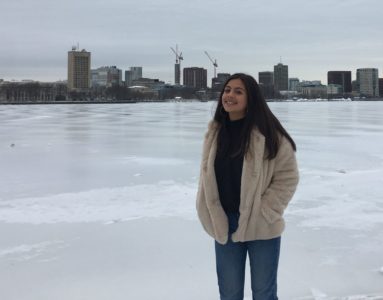 Lena is a senior at Lowell High School and loves to study Psychology and History. When not in school she loves hiking with friends, walking her dog in Golden Gate Park and eating good food. While she loves everything about Tawonga, her favorite parts of the summer are laying under the willows during floats, tie-dye and going on the backpacking trips.