L'dor Vador: The Kids Are Alright
By: Sue Reinhold
It is hard to remember, given how far we have come, that queer people were not so long ago seen as the antithesis of 'family values.' When I was a young queer adult, we were often excluded from family relationships, even though we all (obviously!) came from families and we were increasingly figuring out how to have novel types of families of our own. In those days, one hardly ever put 'queer' and 'family' in the same sentence.
So, when Camp Tawonga – and, full disclosure, my wife, Deborah Newbrun – started Keshet LGBTQ Family Camp at Camp Tawonga in 1997, it was an early contributor to a broad movement that changed the world in a way that extends to this very day.
I brought my young kids to Keshet in the early aughts, and they grew up as Tawonga summer and Keshet family campers. Every year, this weekend was so important to them: it was the one time all year that their 'queer family' – culturally, still a bit of an oxymoron –  was in the majority, and when it didn't have to be explained. And, of course, the kids bonded with friends who had similar joys and struggles (cue jokes about exactly how many Jewish moms do you have?), and got to look up to their counselor role models. We adults didn't have it too bad either – I forged a deep new connection to Judaism at Keshet Camp, in a beautiful Jewish queer space, and identified an opportunity for learning and community that sustains me to this day.
So after a two-year hiatus due to the pandemic, it was bliss to be back in the Keshet LGBTQ Family Camp community last weekend! It gave me pause to reflect on all these years of growth and opportunity. A generation later, some of the same very important things are still happening at Keshet: it's a relaxed family environment, where no one has to explain their family in quite the same way as they do everywhere else. I saw sparks of learning that may have changed someone's understanding of Judaism forever – time will tell. I watched a younger camper positively transfixed on the mentoring words of their older counselor. The Youth Panel continued to share its annual wisdom about growing up in an LGBTQ-headed household with the whole Keshet community. And, of course, more than a few of us shed tears during services, as we prayed together in one of the most beautiful spaces imaginable, and listened to a wonderful 'drash by Meg Adler about how the Torah commands us to be ourselves.
And, Keshet has changed and grown as our community has changed and grown: it is more racially diverse than before. Trans and gender-expansive kids attend Keshet with their straight cisgender parents. There are more gay dads coming with their kids than ever. There are a good number of non-binary campers and staff. As the world changes, Keshet changes too.
The next generation is coming on strong. I can't wait to learn what more they have to teach us.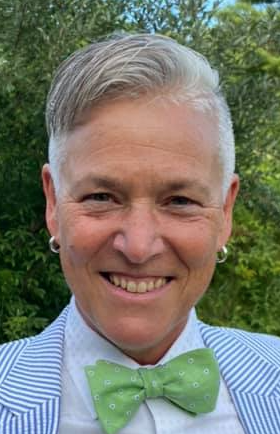 Sue Reinhold is a longtime Keshet and Tawonga mom. She is married to Deborah Newbrun, our Director Emeritus who founded Keshet LGBTQ Family Camp 23 years ago and still co-directs and leads workshops for the program each summer.
---
A Glimpse into Keshet, past and present!