Note to our blog subscribers: The below post published on Tuesday, June 28, but the email notification was delayed by one day. Apologies for the inconvenience!
---
Tawonga is in full swing here at Session 2! Today we want to share some highlights from the session so far and give a glimpse into our Specialists and Counselors In-Training program.
Shabbat
Over the weekend, we celebrated our inaugural Shabbat of the season with the campers – a first for many of them. The energy was high, from our Shabbat Stroll to Freilach (our extended Shabbat evening song session) to Kabbalat Shabbat Services and Torah Services Saturday morning. Our campers represent a range of Jewish affiliation, from those who celebrate Shabbat every week to those who have never said the Motzi before coming to Camp. Shabbat is a beautiful way for campers to connect to Judaism in ways that feel fun, festive and meaningful. 
Camper Favorites
Campers are also loving the Challenge Course this session, and their support of one another is on full display as they encourage each other to navigate both the low and high elements of the ropes course. 
Another fan favorite at Camp is "Getting Gnarly" – kids get covered in mud, paint and lilypads as a fun, messy way to express themselves. They especially love covering their counselors and programmers in the muck!
A favorite from the kitchen? Spaghetti with red sauce gets cheers every time. 
And lastly, without fail, when bunks come back to Camp from their adventures in the wilderness – whether day hikes or camping trips, they return triumphant and more bonded, with huge smiles on their faces.
SCITs
A special aspect of Tawonga that both Session 2 and A Taste of Camp campers get to experience is our Specialists and Counselors In-Training, aka our SCITs! This group of rising high school seniors are closing out their third week at Tawonga and are an enthusiastic, talented group, almost all of whom attended Tawonga as younger campers.
Our SCIT program is a selective leadership offering that gives teens the opportunity to explore Tawonga's approach to working with kids while developing their own leadership styles. After teens age out of their traditional camper years, many find this program to be an invaluable personal and professional growth opportunity. Being an SCIT is also a great stepping stone to eventually becoming a member of the Tawonga staff.
The ITs spent their first week getting to know their leaders, learning how to work with kids in "the Tawonga way" and of course having a ton of fun bonding together as a group. They followed up the week by rafting together on the American River with our Wilderness Leaders! 
This week, the SCITs have been working hard and having a blast supporting our younger campers. Many have expressed that as campers themselves growing up, their lives were positively impacted by Tawonga, and that this experience is so meaningful because they can now pay it forward by supporting this new generation of campers. L'dor vador! 
Thankfully we don't have to say good bye to our SCITs or to our Session 2 campers yet because there is so much more to experience – including our Haifa backpacking trips, the much anticipated carnival and our closing campfire on the last night of the session.
Enjoy the Tawonga Tidbit (from Tuesday) and some photos below!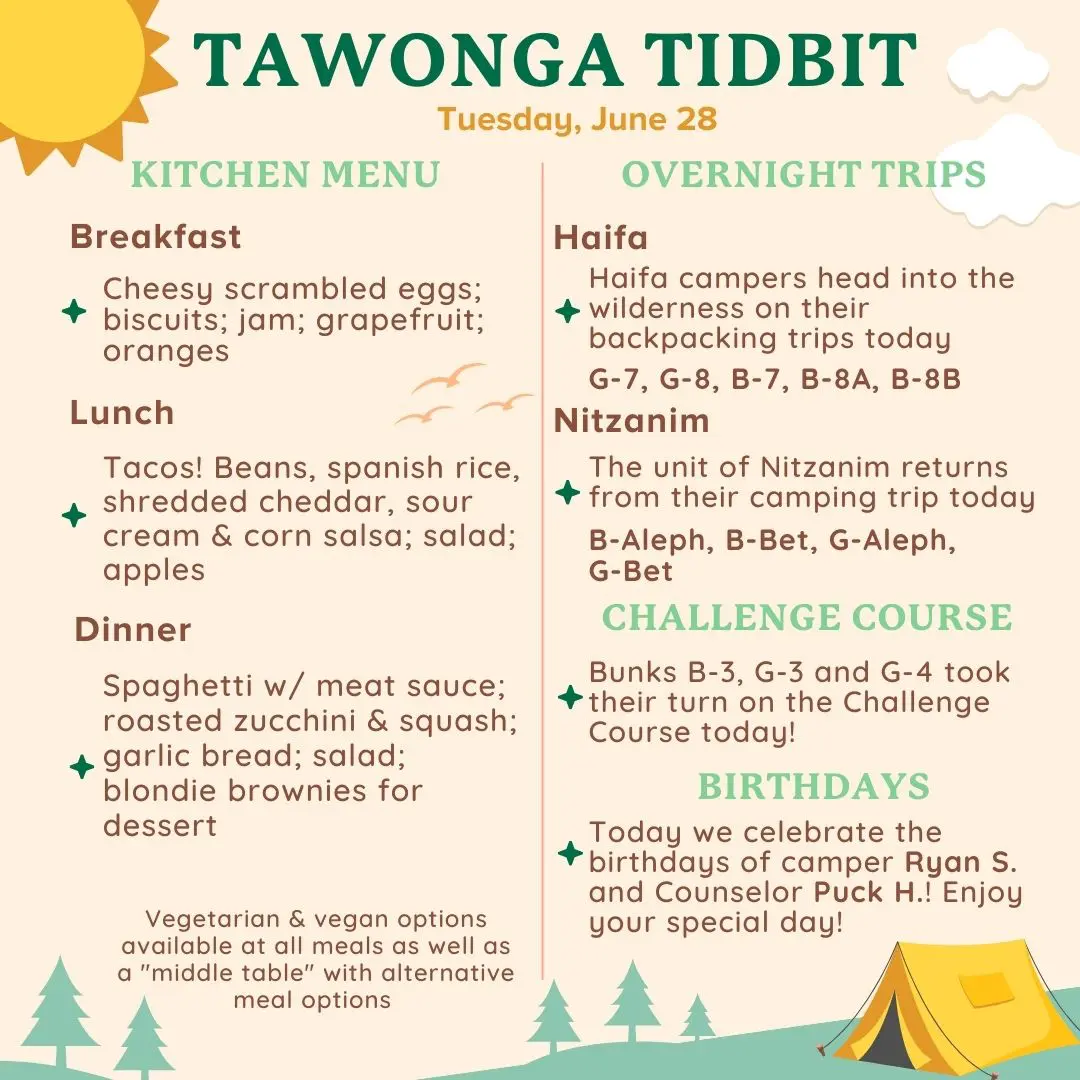 ---
Enjoy photos below from the SCIT rafting trip and the last few days of Session 2!