The end of a session is always bittersweet. On one hand, friendships are at their strongest, and epic Camp classics like Carnival and the all-Camp production, are in the spotlight. But with three weeks in the rearview mirror, campers can't help but wonder, where'd all the time go? 
The answer lies in special memories of song session sing-alongs, feeling on top of the world on the high elements at the Challenge Course and embracing the funky parts of Camp – from gnarly to spooky Legends of Camp Tawonga blocks to a Moogim (Moo Chugim) where campers hiked up to see the cows around property. 
Today, many campers participated in the long-time Tawonga tradition of plaque-making. The painted wooden plaques are a physical representation of campers' time together over the session, often including inside jokes from the bunk, funny quotes and symbols – and of course, everyone's signatures. 
With multiple weeks spent bonding together, campers are more than ready at this point in the session to get creative and personal with their plaques. A time capsule of sorts, plaques line the walls of every Tawonga cabin, and some even end up in the Dining Hall. When these campers come back to Camp in future summers, they'll surely have a fun time tracking down their plaque from this summer!
While our younger campers have been enjoying some rest and relaxation, Tawonga has been doing important work behind the scenes. Read on to learn about Tawonga's work honoring the history of the land:
Spotlight on Our Land Gathering
By: Myla Marks, Senior Director
Tawonga held our second annual Land Gathering earlier this week during Session 3, learning ancestral Miwok traditions with our Miwok neighbors and sharing our own Jewish traditions. 
Over 70 people attended, including our Teen Leadership Institute (TLI) campers, who were engaged in multiple days of giving back at Camp doing fire risk reduction Forest Tikkuns, trail building, participating in the Land Gathering and learning about the history of the land and the Miwok with our Teva naturalists.
The morning started off with reflections and making nupa (acorn soup) with Jennifer Bates in the ancestral way – in baskets with basalt lava rocks heated in the fire. We discussed how different cultures and faiths pass on traditions, shared stories about eating in community and learned the traditional way to process and pound black oak acorns into acorn flour. We pounded the acorns in archeological mortars that can be found all over Tawonga, using a mortar found also onsite. 
In the afternoon, Carson Bates demonstrated making dogbane cordage. Dogbane is a plant that grows along the Middle Fork of the Tuolumne, also known as Indian Hemp, and is used by native peoples across North America for many purposes, including making cordage. TLI campers made bracelets and anklets and were surprised by the strength of the plant fibers.
We closed with takeaways from the day, including feelings of hope for the future. After hearing what people and especially our teens shared, I am confident we are continuing to move with positive kavanah, or intention, toward right relationships with the land as temporary stewards, informed by traditional ecological knowledge and rooted in tikkun o'lam.
PS If you haven't yet, please read Tawonga's land essay.
---
Myla Marks is Tawonga's Senior Director. A camper and summer staff alum, Myla is a  life-long Tawongan and currently oversees the organization's wilderness and nature programs, forestry and land stewardship work, and key capital construction projects. 
---
Check out today's Tawonga Tidbit!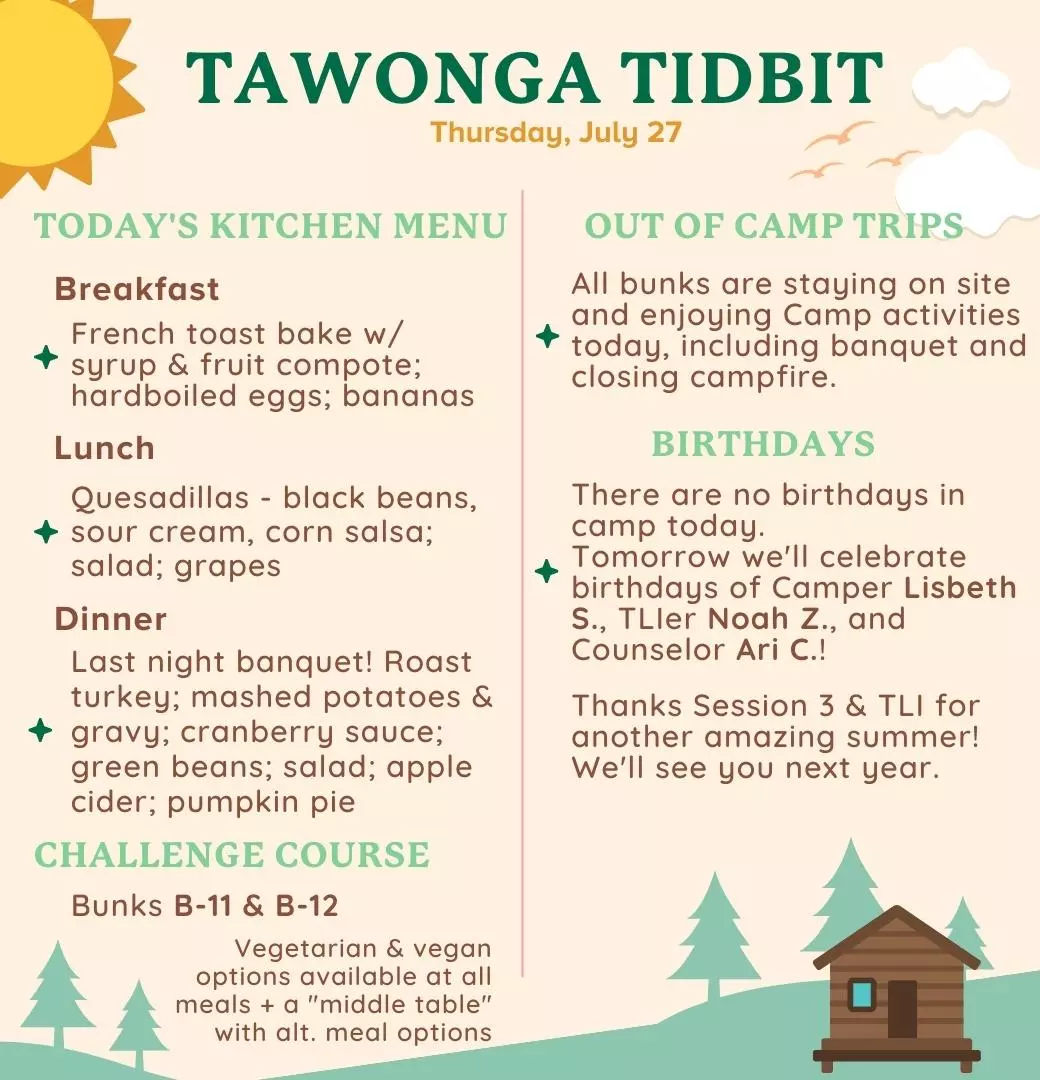 ---
Photos From Land Gathering & Last Few Days of Session 3