This past spring, for the second year in a row, Associate Director Kiyomi Gelber led Tawonga's JEDI Fellowship program for 15 young Tawongans (JEDI stands for justice, equity, diversity and inclusion). Focused on racial equity and justice within a Jewish context, this professional development program guides fellows to reflect, learn and build skills to develop a race equity lens to bring to their lives and work at Tawonga and beyond. Five of the fellowship participants are members of our summer staff, serving as Summer JEDI Fellows. Together, they work at Camp to keep JEDI related topics top-of-mind for our community and to help shape Tawonga's culture.
Committed to advancing the pursuit of racial justice at all levels of our organization, Tawonga's JEDI initiative launched in 2019 and continues to be a top priority for the agency today. 
JEDI Staff Spotlight: Frannie Mejia and Luisa Santana-Farias
Today, we're excited to spotlight Assistant Unit Head and Summer JEDI Fellow Frannie Mejia as well as Assistant Unit Head Luisa Santana-Farias, who is also leading JEDI work at Tawonga this summer.
Tell me about your time at Tawonga
Frannie: I was a camper from 2012-2016, and also did the SCIT program.  As a kid, I think Tawonga was a really special and transformative experience for me because it gave me a place where I could be myself and challenge myself in lots of different ways. Ever since I was a camper, I knew that being on staff was something I wanted to do in my life. This is my second summer on staff. Last year I was a counselor and this summer I am an Assistant Unit Head. It feels very full circle that I get to be back here on staff after being a camper for so many years. 
Luisa: I came to Camp for the first time as a camper in 2012. My brother-in-law, Isaac Zones, was the song leader and brought me along with my sister, Jay, and we had the best summer of our lives. My older sister Jay returned to work in the kitchen in 2014, but it would take me six years to come to Camp to work for the first time in 2018. And for the last few years I've worked for Tawonga as an assistant educator in the B'nai Mitzvah Program. 
What keeps you coming back?
F: The people and being in this beautiful and loving community are what keep me coming back every year. The connections and friendships I've made with people here are such a blessing and a gift that I am forever grateful for. Something about the friendships you make at Camp is just different than in the real world, and that connection feels really special and precious to me. All of the joyous moments I have here with friends down at the river, watching the sunset, and stargazing, are what keep me coming back.  
L: I love the person I am when I'm at Tawonga. I'm genuinely happy and the friendships I've made here have shaped me into the person I am today. I also love working with young people. I hope to be a high school teacher in the future, and Tawonga has taught me so much about how to interact more intentionally with young people. 
Favorite classic Tawonga activity
F: Copper Enamel!
L: I absolutely love song session! Dancing and singing loudly at the top of my lungs with hundreds of other people is my favorite thing to do. 
Please share about the POC (People of Color) lunches. What happens at them, and what do you think they provide for staff and kids?
F: At the POC lunches, we go around and share our names, pronouns and anything we want to share about our racial and or ethnic identity. We all eat lunch together and talk about our days, how it's going at Camp, and sometimes we have special activities.. I think these lunches provide a safe space for campers and staff of color to connect and be in community with each other. In a predominately white space, it's really important for POC to connect with each other, and know that we're all here to support one another. 
L: At POC lunches staff and kids come together and get to know each other and about each other's background and life experience. I think these lunches provide a safe space to be yourself completely without having to filter your feelings or thoughts.  
Please share about your experiences as Latinx leaders at Tawonga.
F: Being in any predominantly white space as a person of color has its challenges, but I feel really good about the work I've done to help Camp in their efforts related to JEDI work. This summer I helped write and lead anti-racism counselor trainings and also revamp Camp T Community (the anti-bullying program for campers) to include anti-racism training where kids learned how to be actively anti-racist, including how to not commit microaggressions. It feels very empowering to be a leader at Camp who people can come to if they have questions about this work. 
L: My experience has been both challenging and rewarding, and I don't think I could have done this summer without Frannie. We have really supported each other and pushed each other to make sure that all of our kids feel safe and always feel like they have someone to connect with. 
Please share about the friendship you share at Tawonga 
F: Luisa and I met last year when she drove me up for the Jewish Families of Color Family Camp Weekend. We really connected that weekend and then got to work together this last year as assistant teachers for Tawonga's B'nai Mitzvah Program, but we didn't get really close until this summer. It feels really special and comforting to have a Chicana friend that I can lean on here. I feel like it was written in the stars that we became friends because it's been the biggest blessing and gift to have her in my life this summer. She's been my biggest support system and I feel so grateful that I have this friendship that I know will last a lifetime. 
L: Frannie and I both met for the first time when we drove up to a fall family camp together. On that drive up, we had three hours to get to know each other before we got to Camp, and immediately clicked. Frannie then also became an assistant educator for the TBM program so we got to see each other and develop our friendship that way as well. But it really wasn't until this summer that our friendship deepened. We connected over our love for cooking Mexican food (mainly Frannie cooking and me cleaning) and The Kardashians. I love being in the dining pavilion and making eye contact with Frannie and just feeling at ease. I truly am grateful for our friendship.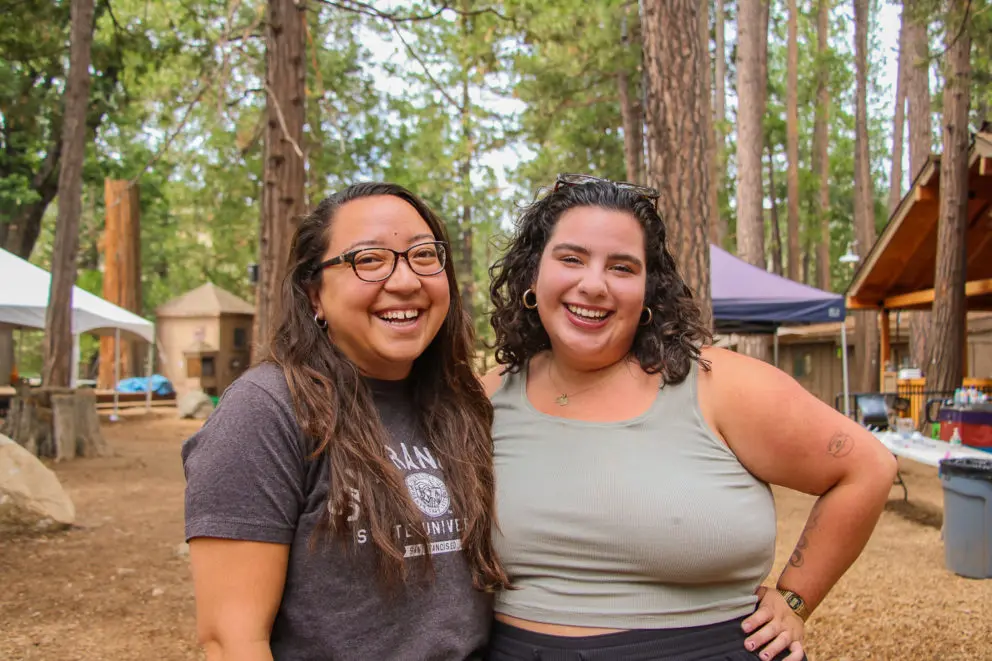 We are so grateful for the incredible leadership of Frannie and Luisa – thank you for all you do for Tawonga! In case you missed our last staff spotlight on counselor Xavier Asprer, check it out here. 
---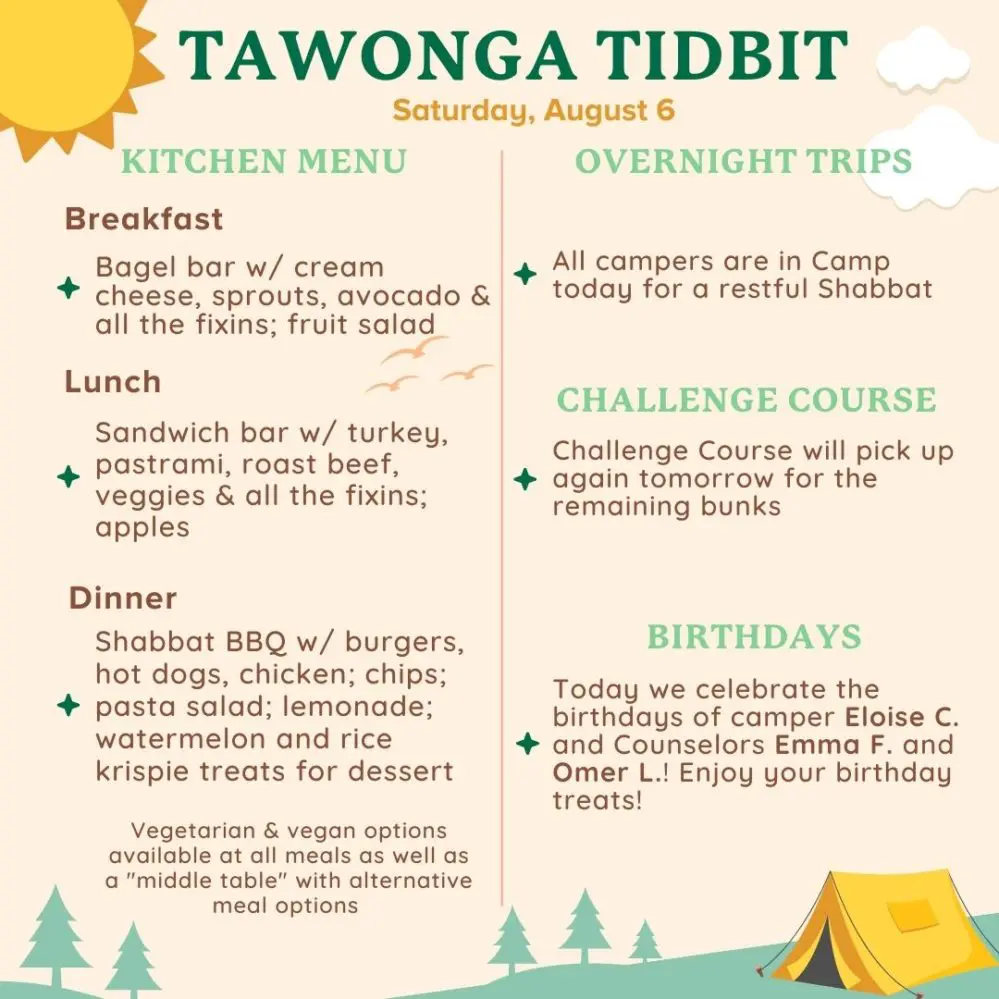 ---
Enjoy photo highlights from Session 4 below!
Session 4 Update
It's hard to believe we only have a handful of days left with these Session 4 campers! They've had an amazing time so far, and this week has been no exception, with Earth Eve on Wednesday standing out as a big highlight.
During this all-Camp program, units took turns visiting the Moadone and Garden for a range of activities and installations – all centered around education and appreciation of the natural world. There was a DIY natural bug spray station where campers could experiment with tea tree and eucalyptus oils as insect repellent, a slackline where campers could try their hand (or feet) at walking the line with a buddy, pine needle tea in the Garden, nature mandala drawing in the sand of the Gaga pit and live music performed by our very own staff band, The Earth Tones. Campers love this opportunity to engage in conversations about the environment and experience new ways of appreciating and protecting its beauty. As one camper said, the experience can be "life-changing".
We also have an eventful couple of days coming up before the end of the session, with the camper talent show tonight followed by the camper production and all-Camp carnival tomorrow evening. This session the all-camp production, titled "The Witchonga Witch Trials", has been written by our drama specialist in collaboration with the campers, and we're all excited to see it come alive onstage!
As the end of the session draws near, campers are making the most of their time with friends laughing, crafting, swimming and much much more. The sight of bunks roaming across the sports fields or running around covered in mud (for a Gnarly block, of course) brings us such joy, and we're so grateful we get to enjoy the remaining session with these wonderful campers.