Greetings from day three of Session 2, where campers are off to a beautiful beginning!! 
Yesterday afternoon, campers gathered with other bunks in their units to play fun get-to-know-you games, show off their bunk cheers and spend quality time with their unit heads. These blocks help to foster a sense of camaraderie within the units. Bunk bonding is central to the Tawonga experience – but unit bonding comes in at a close second!
Later on after a delicious dinner of spaghetti and roasted veggies, campers took part in a time-honored Tawonga tradition, thanking the hard-working staff behind the scenes with shouts of, "We want the Kitchen Staff" echoing through the Dining Pavilion, along with cheers and (COVID-safe) elbow bumps.
As the sun began to set on the main lawn, campers rushed eagerly to the nightly song session led by our talented songleaders. Campers were in for a treat as our Counselors In-Training did an exemplary job with the choreography, showing younger campers all the dance moves to songs like "Let It Be" and "MTA". Some songs are best sung standing in a circle of friends with arms around one another, and it's always so special to share these moments with campers and counselors alike. 
Next up was a tradition that takes place on the second night of Tawonga sessions: our Gender Campfires. All campers could make the choice of joining one of three campfires: one for female-identifying individuals, another for those male-identifying, and one for those who identify as non-binary. 
These spaces are an opportunity to foster community outside of the bunks or units, and to celebrate the diversity in gender expressions present within our camper and staff communities. The intention is to create a safe and welcoming setting for campers to discuss any issues that they may experience as a result of their gender identity, and work together as a group to address bullying, cliques, stigmatization and more.

Starting today, the campers began their bunk programming in earnest, with bunks participating in "blocks" (activities) together through the afternoon. All campers had the chance to weigh in on what activities they were most excited to join, which the counselors then took into account to create the bunk schedule.  
Looking forward into the week, campers are especially excited to dip in the Tuolumne River (that runs through our property), head out on their backpacking trips, explore the Challenge Course, paddle boat on the lake, "Get Gnarly" and get crafty at A&C (just to name a few). 
Thanks for tuning in, and check out the "Tawonga Tidbit" below for some more fun Camp facts from the day. 
P.S. We'll be posting to the blog about twice a week this summer for all Tawonga fans to catch a glimpse of the magic. Parents and guardians of campers are accessing additional photos and updates through a private portal.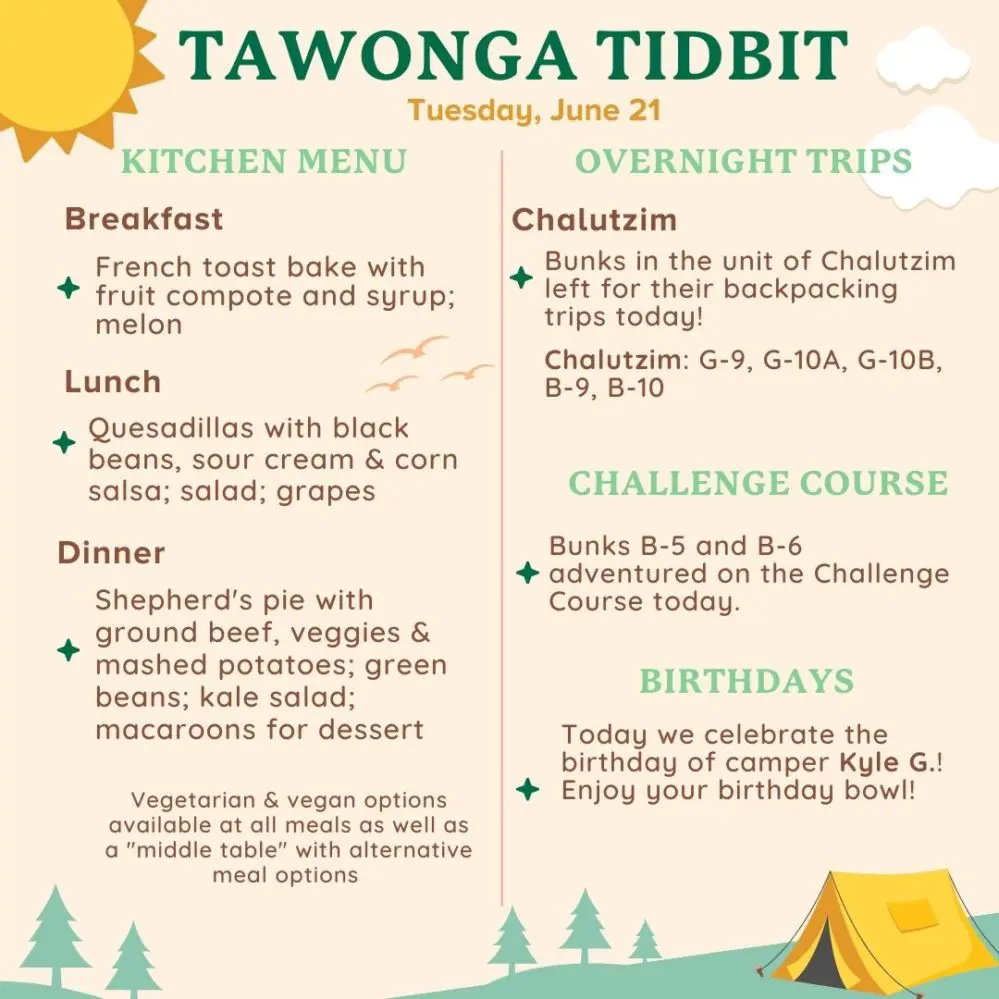 ---
Photos from Session 2 so far