"A Day In The Life" At Camp Tawonga
A typical day at Camp Tawonga is designed by the cabin group along with their counselors. This means that every child has the opportunity to try new activities and to revisit old favorites too. No two bunks have the same schedule, and all campers have days packed with fun, bonding and adventure!
For A Taste of Camp, our amazing counselors design a well-balanced schedule to provide a taste of the most popular activities at Camp. For our longer sessions (2, 3 and 4), bunks of campers help to design their schedule of activities. For all sessions, cabins experience Camp together as a unit, which is an integral part of our mission-based and group-focused philosophy of building a cooperative community.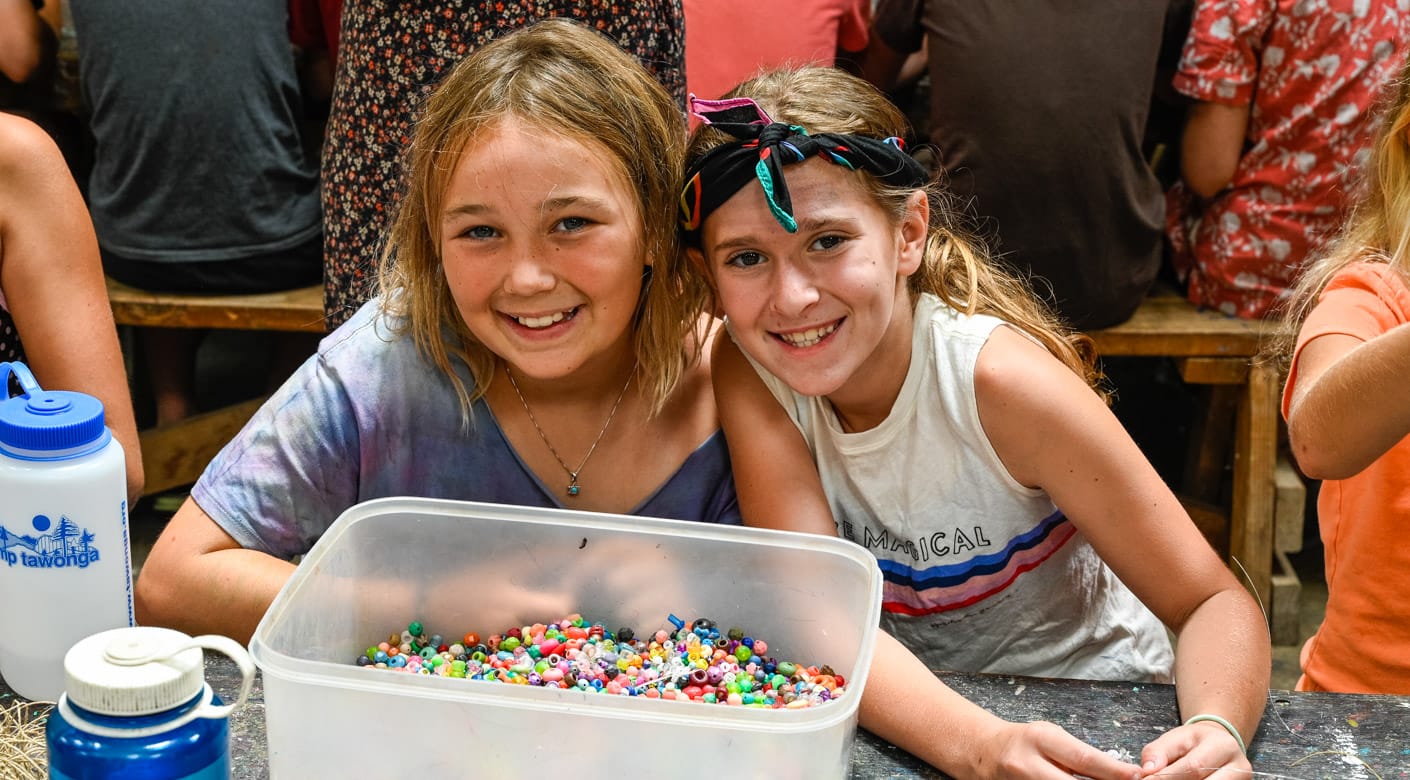 | Time | What | Description |
| --- | --- | --- |
| 7:15AM | Boker Tov - Good morning campers! | The wake up bell rings, and campers roll out of their sleeping bags and get ready for a fantastic day! They start the morning by brushing their teeth, grabbing hats, slathering on sunscreen and filling water bottles before heading out the door. |
| 8:00AM | Breakfast | Campers and counselors gather around their breakfast table, say the hamotzi, and dig into a wholesome family-style meal, followed by a rousing song session. |
| 9:30AM | Cabin Activities | As a cabin group, campers participate in activities such as arts & crafts, basketball, archery and cooking in the garden. |
| 12:30PM | Lunch | Our delicious fresh food menu typically includes parent-pleasers with a good balance of protein, vegetables and fresh fruit as well as classic kid favorites like mac 'n' cheese and pizza. |
| 1:30PM | Rest Hour | A great time to rest, write letters, read, or play cards with bunkmates. |
| 2:30PM | More Cabin Activities | Campers enjoy more mellow activities during the warmer part of the day, such as paddle boating, making friendship bracelets on the riverbank, playing ping-pong or Israeli dancing in the shade-covered gazebo. |
| 4:00PM | Free Swim | Based on their swim assessment, campers are encouraged to take a dip in our Olympic-sized pool. Our lifeguards facilitate fun swimming opportunities including water polo, "mad milers" lap counting, water aerobics and more. |
| 6:00PM | Dinner | At Tawonga, we say "Food is king!" Your child will never go hungry with our delicious, nutritious meals and healthy alternatives that meet most dietary needs. Dinner is followed by another exciting song session. |
| 7:30PM | Floats | Campers have the opportunity to individually choose which activities to explore around Camp. Specialists lead programming like drama games, Frisbee golf, boating on the lake and candle-making. |
| 8:30PM | Night Time Activities | From campfires and storytelling to star gazing, s'mores and talent shows – now we're camping! |
| 9:30PM | Sweet Dreams – Lilah tov | Counselors bring closure to the day by leading a bedtime ritual like asking campers to share the best part of their day. Younger bunks may read a chapter of a book each night, and teenagers may discuss a topic of importance to them. |
| 10:00PM | Lights Out! | Campers have a big day tomorrow. Some days at Camp include extra special things, like theme days, backpacking (or day trips during A Taste of Camp) and the challenge course during longer sessions. (Note that younger campers have a slightly earlier bedtime.*) |
*A Taste of Camp campers follow an earlier evening schedule. From 8:15pm to 8:30pm, campers join an all-Camp Hashkiveinu (a prayer for restful sleep), gathering to hear a story and listen to music before heading off to bed.
---