Teen Leadership Institute
Community Building, Leadership Development and Outdoor Adventures
When
July 9 – 28, 2023
The adventures begins in Portland, Oregon and ends at Tawonga!
Who
Rising 11th graders (current 10th graders)
Program Overview
Teen Leadership Institute (TLI) is the perfect way to spend the summer before 11th grade! At a time when teens are preparing for important and rigorous school year ahead, this unique summer program gives teens the opportunity to go on an epic adventure while exploring what it means to be a leader, build a community, and contribute to the world around them. TLI brings the mission of Tawonga to life with an emphasis on tikkun olam (repairing the world). Teens will spend two weeks traveling from Portland, Oregon to the Sierra Mountains, culminating with a fun week on site at Camp Tawonga. Whether a seasoned Tawongan ready to begin the journey from camper to TLI to Specialist/Counselor In-Training to staff, or brand new to Tawonga, this program will create lifelong friendships, memories, and skills in beautiful settings along the Northwest and Sierras.
Program highlights include:
Outdoor adventures
Leadership development in identity, communication, and problem-solving
Service projects focused on climate change and land stewardship
Two weeks of travel and adventure; one week of traditional Tawonga activities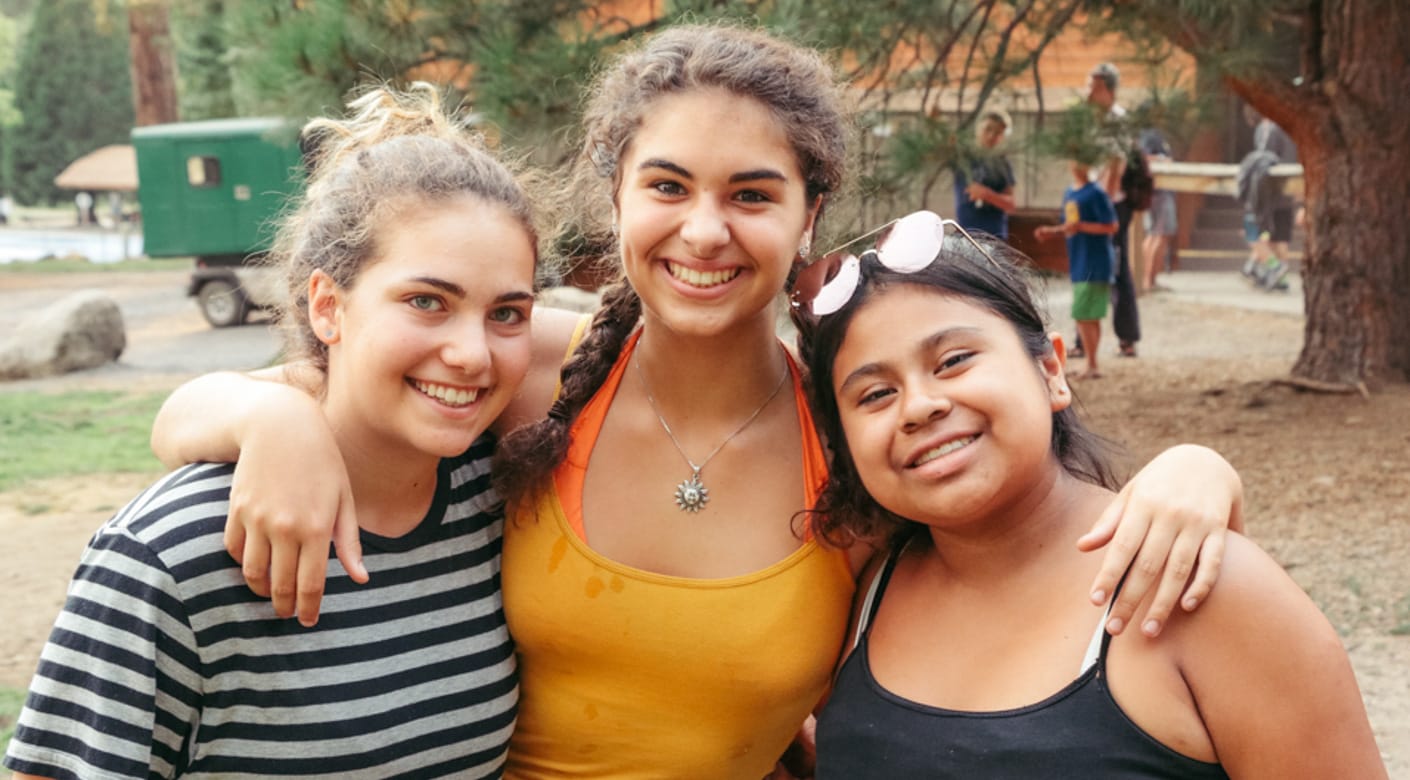 More Details About the Program
Our work together in the TLI program is collaborative, inspiring and challenging. Participants should be ready for thoughtful conversations, teamwork and community building. Every day is a combination of leadership curriculum, community building, bonding and fun adventures.
Week One: Oregon Experience
Teens Fly into Portland on Sunday, July 9th
Activities will be a combination of expectation setting and community building, adventures like kayaking and ocean swimming, leadership curriculum about identity and community building.
Week Two: Sierra Mountains including the East Side: Mammoth, Bishop, Mono Lake
Drive South, adventures along the way
Activities include continued leadership training, adding new skills and training around restorative justice and communication, Shabbat under the stars, visiting lakes and other adventures in the Eastern Sierras.
Week Three: Tawonga Village
Arrive at Tawonga!
Activities include Tuolumne River time,  service projects around land stewardship and climate change, arts and crafts, Shabbat, and an exploration of how to bring the leadership learnings home.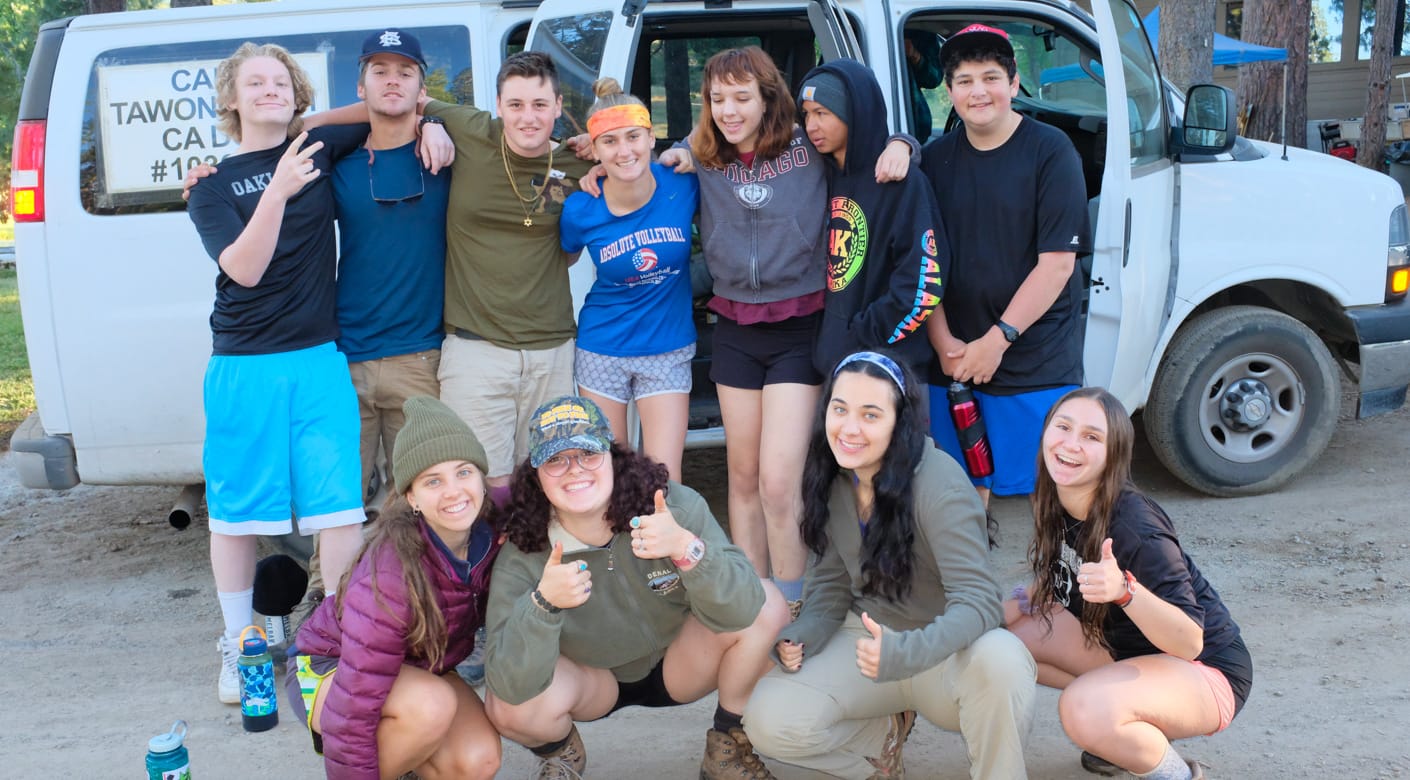 Why are you changing the structure of TLI? How did you decide to make it a travel program?

Teen Leadership Institute (TLI) is a bridge between the traditional Tawonga camper experience and 12th grade staff in-training program. We have found that a rising 11th grade program positioned solely at Camp is not sufficiently differentiated from the camper experience. This unique program will enable teens to take the Tawonga mission on the road and then return to Camp to give back as leaders. Tawonga's values will be infused into TLI from the first moment of the program until campers get on the bus to head home. The format of TLI now differentiates more fully between the camper experience, when the mission is being created for campers by staff, and the SCIT experience, where teens help create the mission for campers.
How is this program different from a quest?

This program is geared toward older teens and combines elements of travel, adventure and leadership. While the travel component of TLI looks similar to a quest because it's on the road for the first two weeks, it includes an extensive leadership curriculum for part of each day plus fun and community focused projects and adventures. This format is more similar to how we have successfully done teen programs, historically, through our Teen Service Learning model.
Does my teen need to complete an application to participate in TLI?

No, there is no application or interview process for TLI. However, teens and an adult from their household will be required to attend an expectation setting Town Hall in May.
What does an average day look like?

The average day on TLI will be about a third of the day doing community building and bonding, a third of the day engaging in leadership development training and a third of the day participating in exploration and adventures.
Is there an opportunity to gain service hours through participation in TLI?

Yes, TLI campers will complete between 16-20 service hours over the course of TLI. Tawonga is happy to provide documentation of the completion of those hours at the close of the program.
How will Tawonga accommodate all genders?

We will consider all gender lodging options, based on interest. Some lodging for teen programs will be all gender for all teens, such as our group campgrounds with close adult supervision.
Will Tawonga maintain the tech-free policy during TLI?

Yes. The program will be tech-free. No cell phones will be allowed during this program.
How will staff oversight work for this program? How will you create and maintain behavior expectations?

We will have amazing and experienced staff leading this program! They will travel with the teens and live with them in community over the three weeks they are together, and will be in regular communication with our at-camp directors. The staff will receive additional training on teen mental health, building community and the leadership curriculum. The staff will do daily check-ins with the teens and have close supervision of the group.
Teens will be expected to sign a behavior agreement prior to participating in TLI, and all teens and their families will be required to attend a Town Hall prior to the program that will outline behavior expectations and consequences. During the first week of the program, we will engage in community and individual expectation setting. Once expectations are set, we will expect teens to fully uphold our community agreements, and will follow strict behavior guidelines and consequences in response to behavior outside of our agreements.
How will teens access the Rainbow Lounge (therapist support) while on the road?

Campers will have the opportunity to have one to two phone calls with a camp therapist or their own at-home therapist while on the road. The Rainbow Lounge will also be available to teens, once they arrive at Camp for the last eight days of the program. If a teen needs an exception for more regular support, we can consider this in an individual conversation with your family. The staff traveling with the teens will have training in teen mental health and skills to support on a day to day basis.
How will the group travel?

Teens will be on a group flight, accompanied by Tawonga staff, from the Bay Area to Portland. They will then drive from Portland to Camp, stopping at sites, continuing their learning and participating in activities along the way.
What are TLI accommodations?

Lodging for the TLI teens and staff will be a combination of group campgrounds, retreat centers and cabins in the new Tawonga Village.
Will there be a backpacking trip during TLI?

No. Teens will have many other fun outdoor adventures but there is not a backpacking component of this program.
Teen Testimonials
I love Tawonga and loved being a camper, and this program was the perfect next step.Aliza Louis
TLI was an amazing, eye-opening experience that I'm so glad I applied for. It was so educational and super fun at the same time.Mariah Fisher
I loved being able to give back to the place I love so much.Puck Hartsough
I will recommend TLI to everyone who is a year younger than me. Literally everyone.Travis (Eli) Lane
This was a fantastic experience that made me realize how much I want to keep returning to Camp T.Jeremiah Haumeder
Check Out TLI on the Blog
Read how TLI teens gave back to Tawonga by "tikkuning" (repairing) an area of Camp called the Freedom Forest.
COVID-19, Health & Safety
In order to prioritize the health and safety of our campers, staff, and entire Tawonga community, we will be making some changes to our 2023 programs and Camp practices. Expect 2023 FAQs shortly.
Questions?
Please contact Senior Director Myla Marks if you have questions about the program: myla@tawonga.org or 415.543.2267.
---
Camp Tawonga is grateful to the supporters of our Teen Programs: