"We both attribute so much of who we are… to Camp Tawonga."Jessica Colvin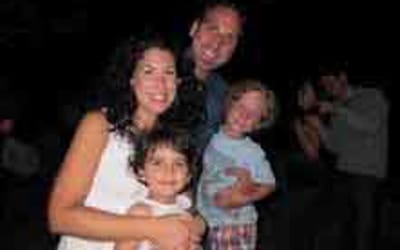 My husband Matt and I met at Camp Tawonga during Summer 2000. Matt had been working there for 3 summers prior- it was my first summer at Tawonga. I was head of Arts & Crafts and Matt was a supervisor in the kitchen. That summer and our times at Tawonga have transformed so many parts of our lives! We both attribute so much of who we are, as individuals and as a couple, to Camp Tawonga. The natural beauty surrounding Tawonga, right outside of Yosemite, was so meaningful to us that we gave our oldest son the English name Lev River, after the incredible Tuolumne River that runs through the camp. We have also been connected to a wonderful Jewish community in the Bay Area because of our time at Camp Tawonga. Over the years, Matt and I have stayed connected to camp and I am currently serving my 6th and final year on the Board of Directors this year! I feel so honored to serve on the board and have been moved by the many ways Camp Tawonga helps children and young adults form strong bonds with their Jewish world and nature.
Camp Tawonga is a very special place to our family. We have spent the past 4 summers together at Fall Family Camp weekend, and our boys are eager to become campers! Our oldest son, Lev, will start with Taste of Camp in Summer 2014! It is a place where our children feel safe and free to explore, play, and create.
Camp Tawonga has been a part of our immediate and extended family for decades. Matt's wonderful and beloved great uncle, Ken Colvin, z"l, developed the concept of "No Child Denied" at Camp Tawonga. It has been both Matt and my honor to share his vision by securing the Tawonga legacy.
Want to Learn More?
Interested in learning more about how you can ensure a vibrant future for Camp by making a gift in your will, trust, retirement account, or life insurance policy? Contact Mollie Breger at mollie@tawonga.org to learn more.