"Because of Tawonga, my Judaism is forever linked to dancing, singing, nature, excitement, community and family."

Jordan Gill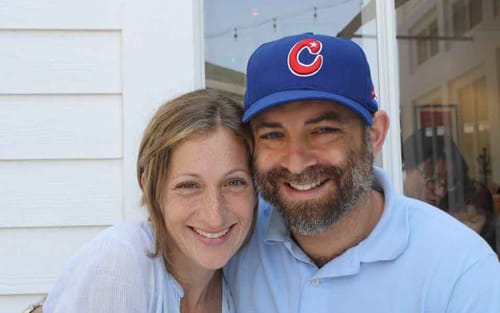 Camp Tawonga was my last hope. I had tried two other camps and had returned with bug bites and tales of boredom – not the friends and fond memories that my parents had promised. My first summer at Tawonga, I was late due to the chicken pox. I sat my bunk's table in the dining hall and had the already established social dynamics of the bunk and the unit explained to me in detail. That first night – the food, the songs, the faces – I was hooked. I went back five years as a camper and nine years as staff.
The experiences I had at Camp Tawonga made me a better, kinder, more empathetic, and patient person. The values that I learned, and that I had the chance to impart to my campers, and that I later had the opportunity to watch my campers hand down to campers of their own, are values that have made me a better friend, husband and father. Because of Tawonga, my Judaism is forever linked to dancing, singing, nature, excitement, community and family.
My third year on staff, the most beautiful woman I had ever seen walked off the large, red bus that brought most of the new staff up to camp. Shira and I were married in 2006, and our wedding was saturated with Tawonga, including the bridal party and the Rabbi. The chuppah fronted French doors that looked out on sloping grass hills giving way to a dense tree line. We sang and danced, and when the DJ ended his set, we gathered in the center of the dance floor and continued to sing, arm in arm.
We have two incredible daughters, Chloe and Emilie. As sure as I am that they will both be brilliant and talented and that they will know they are loved every day of their lives, I know that one day they will feel the cold waters of the middle fork of the Tuolumne rushing past their legs, and that they will lay out under the stars at Stone Couch and be awed by the sheer number of twinkling lights, like their mother's freckles, uncountable.
I will take them to the busses and stand there waving until they are out of sight, no matter how embarrassed they are. I will iron name tags on their clothing knowing full well that it will not all come home. And each summer, when I pick them up, I will schlep their bags to the car while they hug their friends and cry. I will ask how their session was, but they will not be able to find all of the words because they are too busy starting the countdown to the next summer.
Want to Learn More?
Interested in learning more about how you can ensure a vibrant future for Camp by making a gift in your will, trust, retirement account, or life insurance policy? Contact Mollie Breger at mollie@tawonga.org to learn more.