Shabbat Shalom from Camp Tawonga! On this second Shabbat of Session B, it's a time to reflect and feel connected to our own personal form of Judaism and spirituality. How lucky we are to be together in community – after being apart for so long – in this beautiful place, cherishing these moments we've spent building this unique and transformative community.
The evening began with a beautiful Shabbat Stroll where, bunk by bunk, cleaned-up campers joined a sweet serenade through all of Camp, led by our songleaders. Once we reached the outdoor dining pavilion after strolling through first the Ridge side of Camp followed by the River side, the entire community physically and emotionally embraced each other with love and gratitude,  sharing "Shabbat Shalom" wishes.
After Shabbat prayers, homemade challah, and a delicious dinner, we moved into the traditional freylach (yiddish for "happy" or "cheerful") song session and unit Kabbalat Shabbat services, where every bunk had the opportunity to welcome in Shabbat in their own way.
From Camp Tawonga to all of you back home, we wish you a safe, peaceful and very sweet Shabbat.
---
🍳 Today's Kitchen Menu
Breakfast
🍌 Banana bread, oat bars, eggs and melon
Lunch
🌶 Vegan three-bean chili with all the toppings and cornbread
🍑 Fruit: Peaches & nectarines
Dinner
🍗 Shabbat chicken dinner with rice pilaf, roasted brussels sprouts and challah bread
🍓 Dessert: Berry cobbler
A Note on Alternative Foods
🥑 Tasty vegetarian and vegan options are available for every meal, in addition to a "middle table" with alternative meal options to meet every camper's needs.
🥣 During breakfast, the middle table offers a wide selection of cold cereal and milk (dairy-free options too), in addition to hot cereal with toppings. Each lunch and dinner, campers can choose from options at the middle table, like sun-butter and jelly sandwiches, tuna sandwiches and hummus. 
🏕 Backpacking Trips and Challenge Course
Today
The bunks of Chalutzim unit (AG-9, B-10, G-9, G-10, G-11, G-12, B-11, B-12) are hiking out of the backcountry today and returning to Camp.
Bunks AG-4 and G-5 are having a blast on the Challenge Course.
Tomorrow
No backpacking trips on Shabbat.
No bunks on the Challenge Course on Shabbat.
🎂 Birthdays 
What's so special about today? We're celebrating the birthdays of campers Jake W. and Casey V.! Happy Birthday Jake and Casey – enjoy your birthday treats!
Curious what celebrating a birthday at Camp Tawonga looks like? Check out this post.
☀️ How's the Weather? 
Sunny with a high of 93, low of 63
When it's hot out, campers and staff alike enjoy cooling off in the pool during free swim.
🐐 Fun Fact!
Every summer Tawonga is home to several goats and other farm animals that campers learn about and play with during farm and garden programming. One beloved goat named X Box had two baby kids this spring!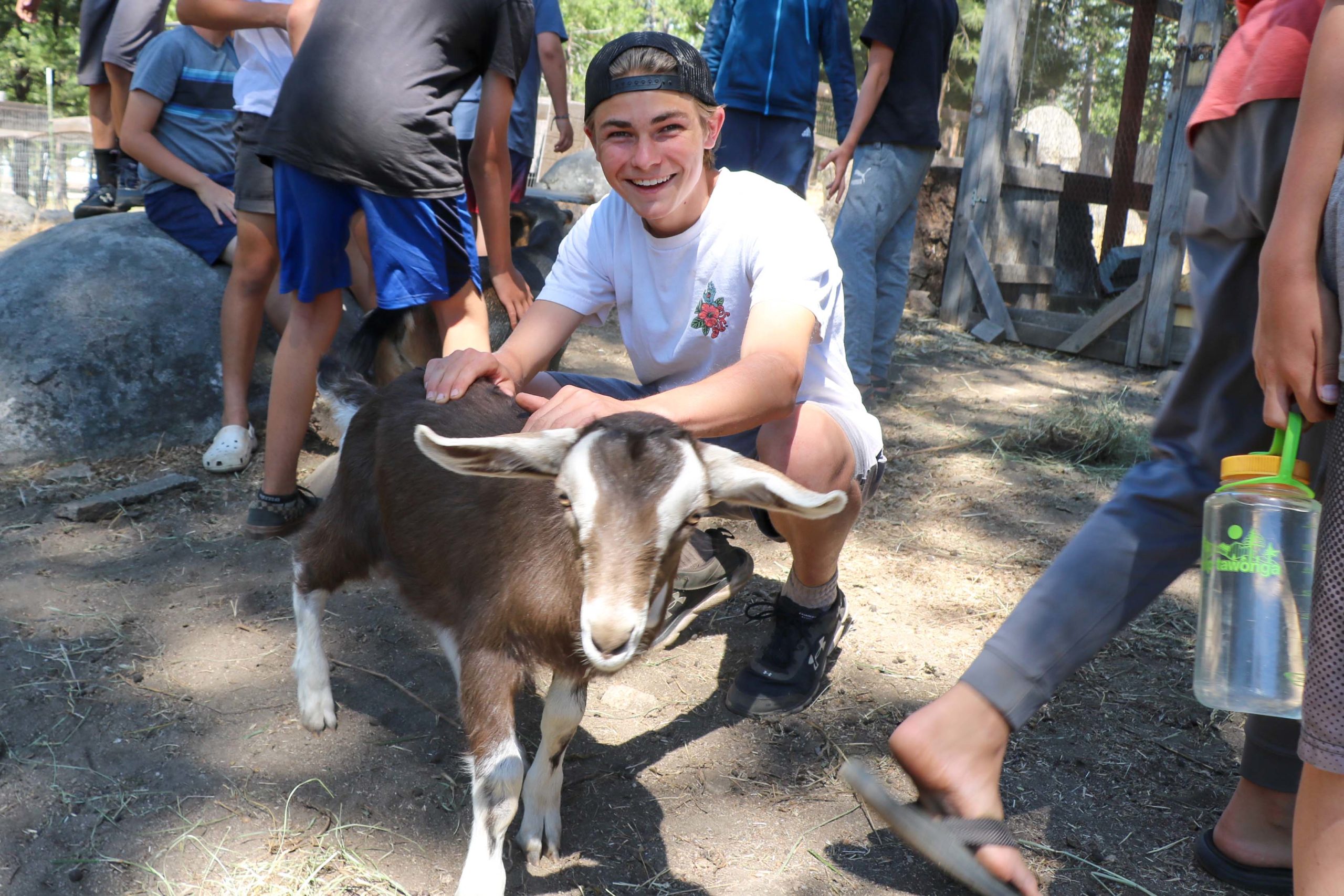 The Tawonga Tidbit provides a daily dose of Camp with our kitchen menu, Camp birthdays and more. We hope this series brings you a bit closer to Tawonga! 
---
Photos from today
Enjoy photos from this evening including G-11, G-12, G-8, the shabbat stroll, B-8B, B-8A, B-7, G-10, shabbat and freylach.