We're well into our second week of Session 4, and campers are making the most of their time at Tawonga with lots of fun blocks, bunk bonding and so many laughs. 
Earlier this week, everyone participated in the All-Camp Program, which was Renaissance Faire themed. Campers rotated from station to station, completing different tasks at each to win a "silver coin", with which they aimed to "send home" a time-traveling member of the Greater Department of Programming, stuck in the wrong time period. Stations included writing toasts at the Tavern (Dining Pavilion), Tug-o-war versus other bunks and counselors, Jousting in the Dining Hall and  "Knights vs Dragons" at the Moat (Pool).
Tonight, all of Camp will gather again at the Moadone for Earth Evening, a celebratory and educational program centered around the natural world and all the ways we can enjoy and respect it. Campers are looking forward to activities like face painting, walking galleries, slack lining, tea in the Garden and a photobooth. We'll also get to see the staff band The Earth Tones, for their second show ever at Tawonga – last session campers went wild for their performance of "Rivers and Roads" and "Home". 
Spotlight on Bunks
Around this time of the session, we can see camper bonds becoming stronger than ever, and none more than the friendships within a bunk!
This session we have 27 bunks of campers, comprising approximately 12 campers to a bunk. Each bunk is like a little family within their units, which are made up of similar-aged campers in groups of four or five bunks. Tawonga prides itself on a bunk-centric approach to the camp experience, which facilitates lasting relationships and a highly supportive, cooperative environment in which campers can flourish. 
Bunkmates sleep in the same cabin, eat meals together and participate in blocks as a group. Some Camp favorites enjoyed as a bunk include a day on the Challenge Course and backpacking trips.
Being a part of the bunk means campers are also expected to contribute to daily tasks which support the group. Daily chores like clearing at meals or reminding everyone to apply sunscreen are maintained throughout a session with a "Work Wheel", so that every camper can share equal responsibility. (For a closer peek into how Tawonga creates a cooperative community through shared responsibility, check out this post from last summer about how meals operate at Camp, written by our beloved former executive director, Ken Kramarz z"l.)
Bunkmates also create and implement the time-honored cabin tradition, the bunk "10 Commandments". These commandments are written the first night of the session, and everyone gets to contribute to the guidelines, which help to set clear boundaries and expectations for a bunk. 
At Tawonga, we know that people support the things they help to create, and the commandments are a blueprint for how the bunk operates and treats one another; they hang their commandments in the cabin as a reminder of their shared agreement. Commandments like, "Respect others' choices" and "Support fellow bunkmates" help to guide campers all session long. Check out some examples of Commandments and Work Wheels from this session in the gallery below!
And lastly, bunks come together on most evenings to share and reflect during Tawonga nighttime rituals. Sharing their "stars and wishes" or "roses, thorns and buds", sitting in a circle, campers open up about challenges they may have faced that day and overcome, or things they are excited to celebrate with their fellow cabinmates. 
Together, all of these bunk practices support the sacred bunk unit. For Session 4 parents tuning in, we can't wait for you to hear all about your child's newfound lifelong Camp friendship when they return home next week!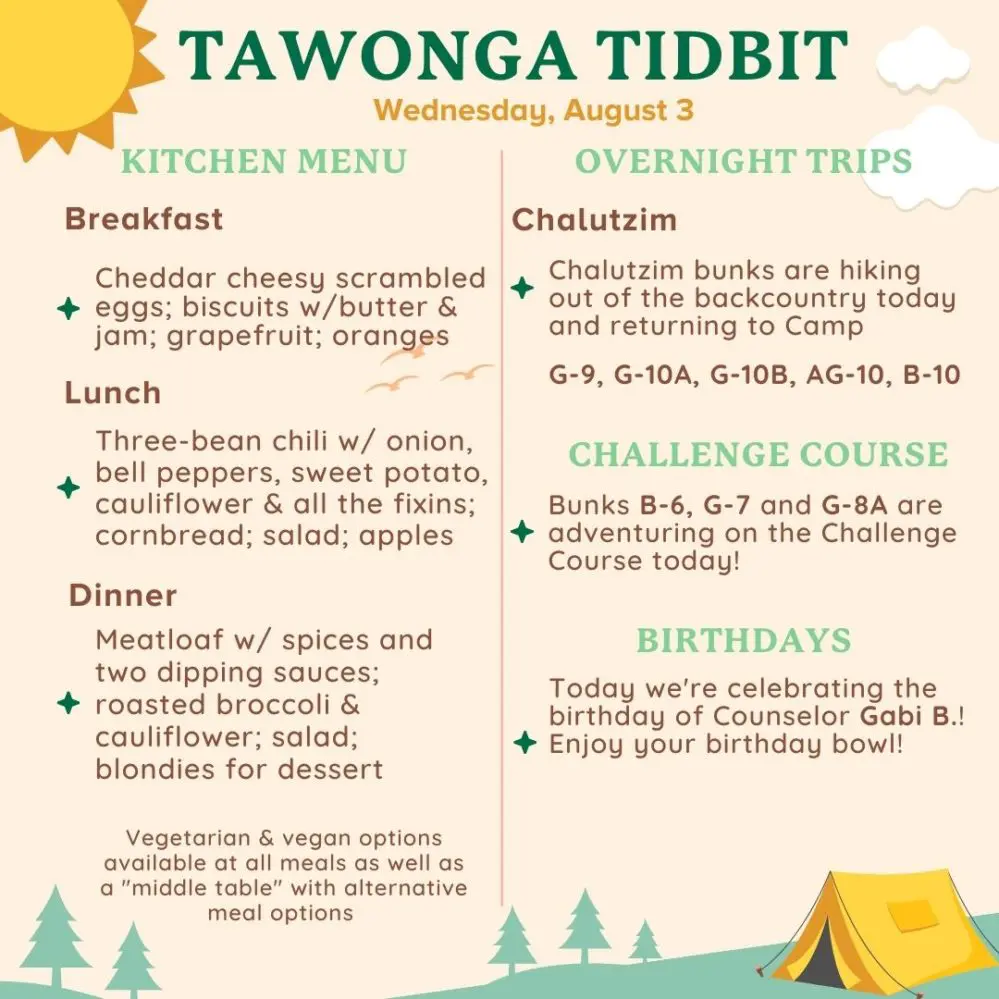 ---
Enjoy photo highlights from Session 4 below!