By: Charlie Berman
John Muir said "Going to the mountains is going home", and that's how those who have been to Tawonga feel about returning to Camp. It has been a hard few years for all of us, so I knew when I saw the invitation to Men's Weekend that I needed to give it a try.
Coming down the driveway brought so many familiar feelings, but I didn't really arrive until Shabbat's Torah Service at "Makom Shalom", Tawonga's "Place of Peace". The Rabbi shared that a song we were about to sing was the same our ancestors sang when they escaped slavery but faced the Red Sea and did not know what would come next. They sang, we sang, about finding strength in faith and each other, and they entered the water and were set free.
I didn't know what to expect out of the weekend. I knew there would be stereotypically "male" activities like pickup basketball, BBQ, and an experiential seminar on Russian River Beer. What I didn't know was that it would be hard to find a seat at a group called "The Vulnerability of Masculinity".
In addition to coming to have fun, people came to work on themselves. Every morning, while there were also yoga classes going on, I grabbed a coffee and joined a group hiking to the Ridge. And every morning, on the way up and on the way down, I had meaningful conversations with men I had never met, whom I opened up to more than I open up to almost anyone in my life.
"I am a Tawonga Man." That is what we used to say at Men's Campfires, and I got to say it again on our first night at "the Burn". Since I went to Camp, conversations about gender have gotten more sophisticated, and Tawonga has led the way. We talked about how masculinity is not a spectrum, but a circle, and all the participants at the weekend connect to masculinity in different ways. Tawonga taught me that masculinity involves respect –for yourself and others – recognizing your privilege and honoring how others bring out the best parts of themselves.
Though I haven't been to Camp in over a decade, I carried the Tawonga spirit with me during this time through a Men's Group that I started with friends I met at Camp. While I stay connected with these men through meetings down the mountain, and they walked me down the aisle when I got married to a song we wrote at Secret Beach (a river spot along the Tuolumne), there is something about being down Mather Road that reconnected me with a feeling that I can't get anywhere else.
I grew up at Tawonga, and knew some familiar faces at Men's weekend, but not everyone who came did. I carpooled with a friend who has sent his kids to Tawonga for the past decade, but he had never seen this place that they had talked about so often. It can be intimidating going to such a mythologized land not knowing many people and not knowing what the experience will be like, but he came with an open heart and found new friendships, participated in activities that he loved like the ropes course, softball and a hike to Lower Falls. When he left, he did so with pride, knowing that his name would go up in the dining hall on a plaque commemorating the first ever Men's Weekend that his kids could look up at and feel seen, knowing that he came and embraced a place so integral to them.
One of my favorite memories came on the final night when we gathered in the dining hall for an exceptional Oneg (snack) and people played in a poker tournament, danced in silent disco, or did both. It was my first silent disco, and Tawonga has these headsets that you wear with different music on different channels, and colored lights so others can see what channel you are on. While everyone rocked out, it really reached a peak at one point with men spinning in circles, jumping up and down, high-fiving, and stomping on the floor – and I looked around to see almost everyone was on the same channel. I realized that the song that got us there was ABBA's "Dancing Queen", and that made me so happy.
At the end of the weekend, standing in the river, preparing to immerse in a Mikvah, a Jewish purification ritual, I thought about times I had been here before. First as a camper, braving the shock of the cold water after the heat of my first Schvitz (Jewish sauna). Then as a teen, growing comfortable with my body as I became a man amongst my peers. Later, as a Counselor and Wilderness Leader, when I would refresh myself in the river in the midst of a long day at work. And today, coming back to Camp after more than a decade away, to remember the river still flows through a place that has meant so much to so many people.
Becca Meyer once told me that "like the river, when people pass through Camp each Summer, they leave something of themselves behind, and take something of Tawonga with them" as they go back down the mountain. Men's weekend, like the Mikvah, allowed me to leave behind some of the stress and sadness from the past few years, and reminded me of who I can be when I reconnect with places and people that bring out my best.
---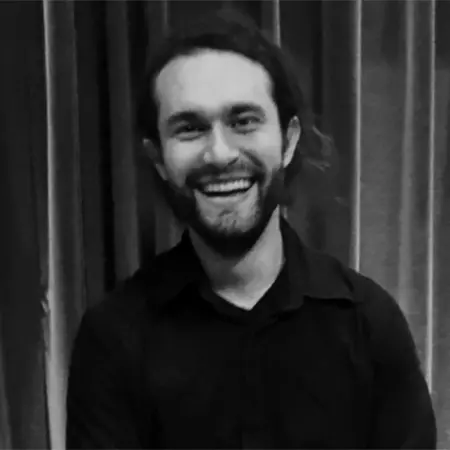 About Charlie
Growing up, Charlie spent 10 summers at Tawonga as a camper and staff. Now he's a Social Work Supervisor at UCSF Psychiatry, working with adults with severe mental illness who don't think they're sick and don't want help. Values from Camp infuse the work. Charlie shares a home and a hot tub on the slopes of Mt. Tam with his wife Rachel, Goldendoodle Tenaya, and a rotating cast of family and friends. Reach him through charliebermanlcsw.com.
The next Tawonga Men's Weekend will take place October 24-27, 2024.