Session Update
As Session 3 rounds out our second week, the energy here in Camp is palpable!
Yesterday, we said our goodbyes to Session 3a campers in the youngest unit of Nitzanim, who were here with us for two weeks. As they filled out their unit memory sheets and walked through our staff-made Tunnel of Love, it became clear how much these campers had grown over the last few weeks with us. We already miss them! 
One door closes, and another opens; just as 3a campers headed off on "jet buses" as the Tawonga tune goes, we welcomed our Teen Leadership Institute (TLI) teens into Camp for the last week of the session. These 47 teens had been on the road in Portland, bonding, exploring and participating in service learning work with the organization, Tivnu. Full of ruach (spirit), this incredibly bonded group is thrilled to be back at Tawonga and introduced an impressive TLI cheer at dinner that even gave CEO Becca Meyer a shout-out! 
Meanwhile, fully settled into Camp and thriving, our Session 3 campers are having the time of their lives. We welcomed Eilat and Chalutzim 2 unit backpackers back into Camp yesterday, just in time to have everyone in Camp for the Sabbath. 
TLI led us in the Fiddler on the Roof "Sabbath Prayer" with gusto, followed by our classic Shabbat feast, capped off by shabbobler (Shabbat cobbler). Our extended, spirited Shabbat song session after dinner, known as freilach, was a total highlight – our songleaders Devin and Shiloh rotating between traditional Israeli folk songs and pop tunes. 
Shabbat at Tawonga is a time to tap into reflection, spiritual moments and connecting to our Jewish identities – one of the rungs of Tawonga's mission. Below, take a peek into how campers are experiencing Jewish learning this summer and what makes our Jewish programming so special!
Spotlight on Jewish Programming
More than just a summer camp, Camp Tawonga is a place where kids can immerse themselves in meaningful programming that fosters a spiritual community. By teaching Jewish values and applying them to our daily lives at Camp, we build on generations of connectedness, wisdom and tradition. 
This summer, Jewish programmers are connecting with campers through creative activity blocks and Camp-classic Ruach Hour programs. Ruach Hour is a unit-wide, weekly activity designed to impart a lesson or value on campers, accompanied by fun activities. It's a time for campers to reflect on the values and teachings that have shaped the Jewish people for generations, and make it relevant and meaningful in their own lives. 
In a recent Ruach Hour block, Jewish programmers focused on gratitude. In an hour's time, programmers taught a song with our amazing song leaders, facilitated campers in writing gratitude cards for people in our community and held a mini nature-themed Shark Tank. 
"So much of Jewish Programming is experience," said Taren Rome, head of Jewish Programming. "And it's about creating programming using different modalities to get people engaged – especially with topics that allow kids to have really interesting conversations."
In addition to Ruach Hour, bunks have a variety of fun Jewish activities to choose from. Popular blocks this summer include Jews and Tattoos, Jewish Weddings, Jewish Magic and Baah-Mitzvahs with our goats Poopsie and Xbox. Rome says their staff love doing "weddings" between counselors, and they enjoy leading the Jewish Magic block, which discusses the history of Jewish magical practice and includes hands-on activities with amulet and sachet-making. 
With henna and flash tattoos, the Jews and Tattoos block is a popular choice across sessions as it stimulates deep conversations surrounding body modifications, images and forms of expression.
"A lot of the kids are in secular schools, and the only Jewish education they get is at Sunday School, so it's about creating Judaism they can connect to," Jewish Programmer Anna Dreher said. 
Camp Tawonga is the perfect place to embrace heritage, find resonant, spiritual moments and connect more deeply to our Jewish identities – all guided by the Jewish values intertwined in all of Camp's functions.
---
Read today's Tawonga Tidbit!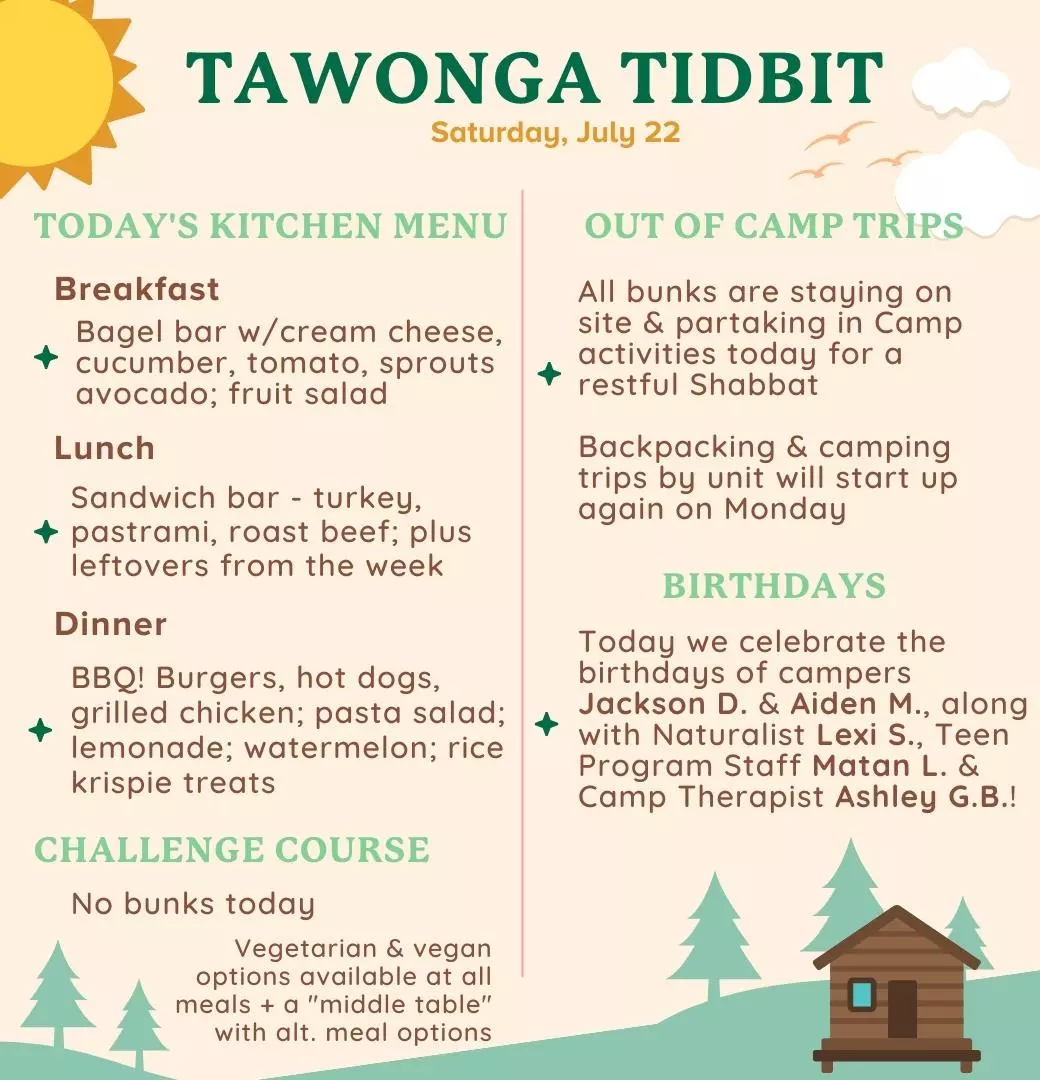 ---
Below, enjoy photos from the past few days of Camp!