By: Sam Catechi, Forestry Coordinator 
Sitting in the shade of the towering ponderosa pines, incense cedars and sprawling black oaks, campers get ready for their morning Forest Tikkun. In this activity, campers from Sessions 2 through 4 learn about the history and ecology of the land we call Tawonga, participate in restorative ecological work and reflect on the history of this place. 
The purpose of this program is to empower the community to take part in the stewardship of this ecosystem. In Hebrew, Tikkun Olam means "repairing the world." This Jewish principle is central to Tawonga's mission, and the Forest Tikkun is one way that campers get to live this value. 
We begin by working to understand the current conditions of the forest. Together with the forestry coordinator, campers talk about the impacts of climate change and drought, as well as the effects of logging and mining. Campers guide the discussion through their shared questions and observations. We observe the surplus of flammable materials in the forest and discuss the reasons for the fuel build up. For over 10,000 years, fires have regularly burned in this ecosystem. 
Native people have used fire to manage this ecosystem for as long as they have been here. On the land where Tawonga resides, the Mewuk have lived for over 4,000 years; however, in the mid 1800s, a wave of colonial violence forced most Native people from these mountains into reservations in the valley and foothills. Underbrush that was once maintained with fire as open, young and productive growth became thick with trees, increasing the demand for water and the density of flammable material. Similar historical experiences across the West are part of the increased intensity of fires that we are witnessing today.
Equipped with a new historical and ecological perspective, campers begin their work. Our primary task is to support the healthy reintroduction of fire to this landscape. In order to safely prescribe fires, we need to make sure the fire will burn with low intensity. Campers collect wood from underneath trees and concentrate it into burn piles located far from where they can cause damage. Campers also help safely process some of this excess fuel into biochar and learn about the beneficial properties of charcoal in the soil, which acts as a sponge that stores nutrients and water. 
When campers walk away from Forest Tikkuns, they feel empowered and excited. Completely re-evaluating their relationship with fire, campers are often excited to learn about the positive impacts of fire. Every Tikkun someone says "I used to think fire was only destructive, but now I know it can be healthy too."
The Tawonga Forest Tikkun is a special opportunity for campers to take part in important ecological work. It is an impactful activity that creates space for important conversations around our responsibility to care for this land. This young generation of Tawongans will carry these skills, practices and curiosity with them as they lead the way to a better future.
| | | |
| --- | --- | --- |
| | | Sam Catechi is Tawonga's Forestry Coordinator this summer. His interest in caring for this land began as a camper and continued through his time on TLI (Teen Leadership Institute) and on staff. Sam and his family are long-time Tawongans, going back over four decades. |
---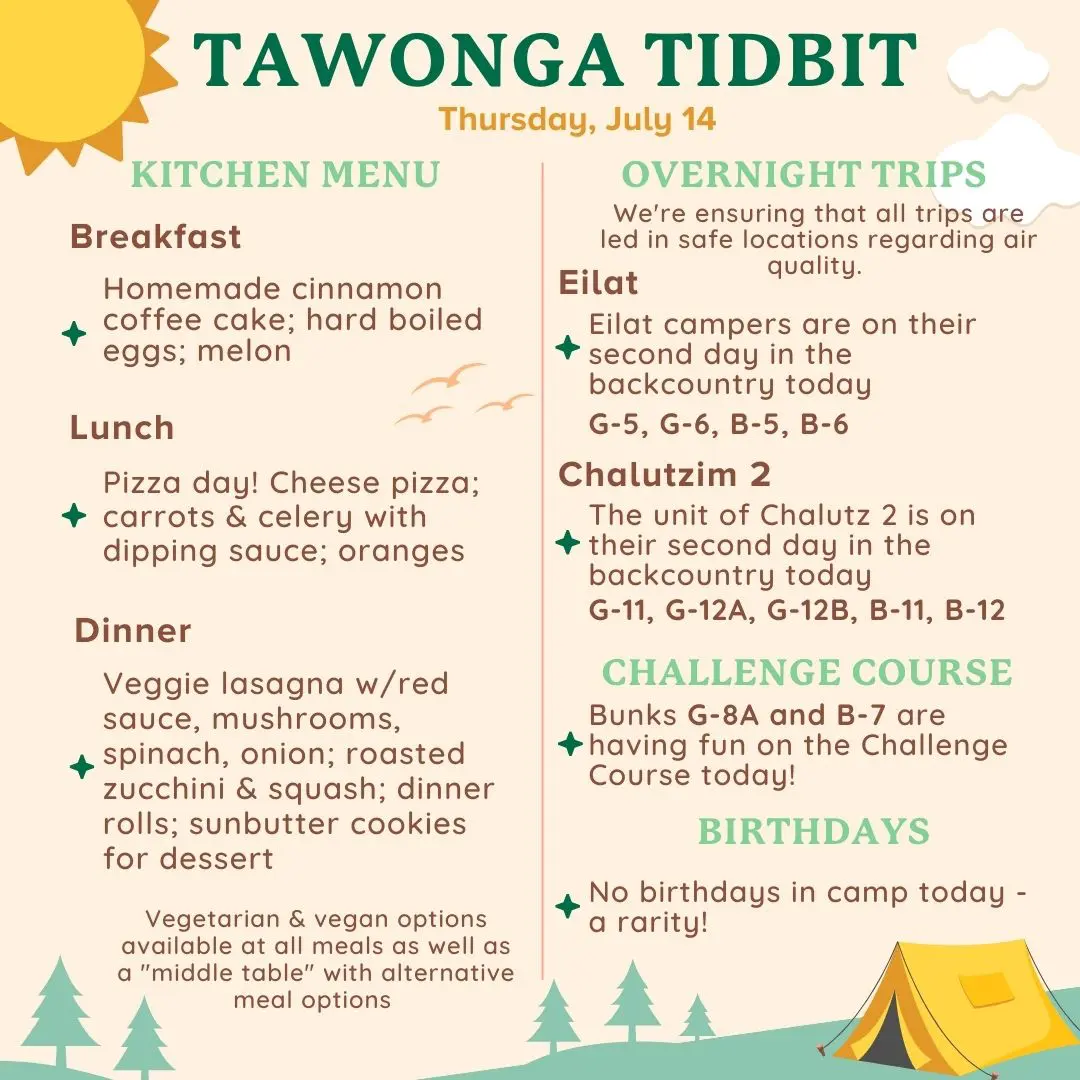 ---
See below for highlights from our Forestry and Tikkun programs
---
And check out some gorgeous shots from Session 3 as well!