Notes from the Road: Northwest Quest
Today's blog post takes you behind the scenes of Tawonga's 2022 Northwest Quest.
In late July, a rowdy group of fifteen adventurers returned from a three-week long trip filled with backpacking, river rafting and rock climbing. This Quest takes the group across state lines to Oregon, and farther than any other Tawonga program this summer. The bonding between questers on this longer session is unparalleled. Enjoy highlights and photos below, and a special reflection by quester Josie Almond!
---
Quest Leaders
Cate McGlynn-Mandel, Nathalie Gee & David Sherman
Questers
12 Questers entering 9th and 10th grades
Quest Itinerary
Camping at Samuel P. Taylor State Park

Cavern exploration at Lake Shasta Caverns

4-day backpacking trip in the Marble Mountains of Klamath National Forest

Camping in Umpqua National Forest

Whitewater river rafting on the Umpqua River in Oregon

Camping at Crater Lake
Two days of rock climbing at Smith Rock near Bend, Oregon

Hiking in Humboldt Redwoods State Park

Camping near the beach in Salt Point State Park
Quest Highlights
Epic cliff jumping at Crater Lake

Doing a ritual mikvah in the cool waters and feeling spiritually connected
Enjoying joyous Jewish tradition and having Shabbat dinner overlooking Crater Lake
The questers really challenging themselves and supporting each other on the 4-day backpacking trip
Staying at Tumalo State Park, minutes from gorgeous Smith Rock
Quester Quote: "This Quest changed how I think. I realized that I don't need "nice" things to be happy; I just love to be outside and under the stars."
Quest Leader Inspiration
Quest leader Cate McGlynn-Mandel on her powerful experience:
"This was the best three weeks of my life. I cannot believe I got to spend it seeing the most amazing parts of the West, getting to know two other incredible leaders, and twelve wild, curious, hilarious and joyous questers. My cup has never been this full. This program literally changed my life!"
---
"I Wanted to Breathe in the World Whole."

By Josie Almond
There is nothing like a Tawonga Quest. I'm often at a loss to describe the program to my friends and relatives. Merely "summer camp" sells it woefully short. "Road trip" brings to mind siblings bickering for hours on end.
So what is Quest, then? It's 12 kids, a few Wilderness Leaders, two vans (often named) and a heavily decorated trailer, for starters. Throw in backpacking, swimming and long drives filled with car snacks, talking and spontaneous sing-a-longs, and you're getting close.
But what really makes Quest Quest are the things that are impossible to predict — the people with you, the adventures and conversations you share and the spontaneous fun that erupts as you begin to move as a group through your Quest world of adventure.
This year, I went on my third and last quest. (I age out of the program next year.) I chose Northwest Quest, the big guy, the three-week saga taking you from the Bay Area all the way to the wilds of Oregon and back again, with plenty of adventures along the way – to caves, mountains and lakes. (And a mall in Bend, Oregon, with a rather impressive candy store.)
There were big moments that I will treasure forever.
Getting chills from the tales of Lumerians as we walked through the caverns of Shasta mountain, a place so full of mysteries that in those moments, surrounded by dripping crystals and delicate formations, the whole world took a turn for the mystical.
Backpacking on the Pacific Crest Trail, when, emerging from a particularly brutal uphill, the trail flattened out, and suddenly, beyond the wildflowers growing along the trail, the most spectacular view of my life was before me. Mountains upon mountains, stretching way back to the horizon, the closer ones furred with trees and the farther ones peaked with snow. I called, "Purple light!" (Our signal for an amazing view.) It was an incredible feeling, standing there, high up, on the edge of so much. I wanted to breathe in the world whole.
Then there was Crater Lake. It was the most beautiful water I had ever seen. The water was so, so blue, and when I finally got the guts to cliff-jump into the deep blue water, I hit the water with a surge of exhilaration and came up laughing, proud of myself for facing my fear, and stunned by the sheer beauty of the lake and the snowy cliffs surrounding it.
We had a mikvah further from shore, where the water was warmer. Mikvah, the Jewish cleansing ceremony, is where (on Quest, at least,) you hold hands in the water, and dunk three times, each time thinking of something different – what you want to give to the water, take from the water, etc. This is one of the Jewish traditions that's easiest to do on Quest – we're always jumping in any lakes we pass– even if it's incredibly cold.
As stunning as the natural world was, eventually we had to go into town and… grocery shop! But even for a mundane activity like this,
Quest gave us a new lens through which to experience it. We got budgets, we planned meals and I began to understand what shopping is like when your parents don't do all the planning. Quest gives us teen responsibilities, but to me this makes all the adventures more poignant. You get the feeling that it's not "adults are in charge" like it's been my whole life, but that we're all, truly, working together to help the group function. (While grocery shopping, someone remarked to Nathalie, our wilderness leader, about how much food we were getting — "We're a family of fifteen!" Nathalie responded.)
Quest is unpredictable in its nature. We never quite know what we're doing next. Big activities and routes are planned, but the quality of the next campsite, the next day hike, the animals we might see… those all unfold as we go.
To go on Quest is to be adrift in the world physically, taking in every diverse experience as it comes. Despite this, you never feel lost or alone on Quest – because of the 14 other people all on the journey with you, along for the incredible ride.
__________________________________________________________________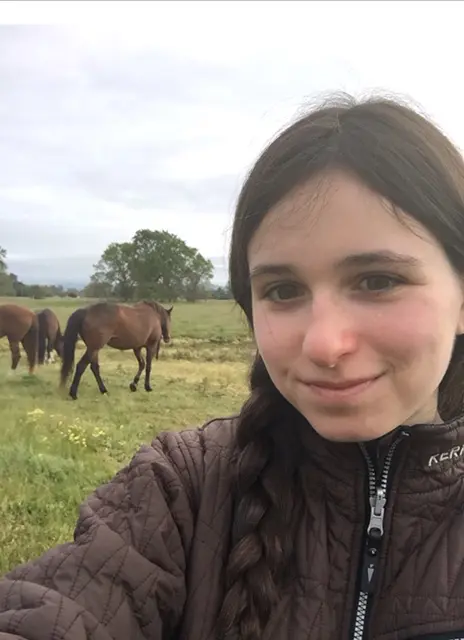 Josie Almond likes reading, writing, science and going to Camp Tawonga, especially Quest! She lives with her crazy family outside Boston. Check out another reflection by Josie, this time about the Surf 'n' Turf Quest, here.
Josie's dad, Steve Almond, is a Tawonga alum and New York Times best-selling author. You can read his reflections on Tawonga here on our Keshet Family Camp.
---
A Glimpse into Quest!
Enjoy photos from Northwest Quest.