Backpacking: A Tawonga Tradition
One of the hallmarks of coming to Camp Tawonga is venturing out to neighboring Yosemite National Park and Stanislaus National Forest for backpacking and car camping trips. During Sessions II, III and IV, our youngest bunks spend one night car camping, and our older campers either spend one or two nights backpacking. These trips are such a rewarding and memorable part of campers' time here. 
Session 4 campers all enjoyed one night trips, which includes the drive to the campsite, enjoying a yummy breakfast, exploring on a day hike, swimming and a lunch break, setting up the campsite, chilling and playing games, having a nutritious dinner, having bunk bonding time and then sleeping (usually under the stars!). The next morning campers learn to "leave no trace" when they clean up the campsite and prepare to hike back. 
It's not hard to imagine the natural beauty of the spots our campers visit, like Yosemite Creek, Chilnualna Falls and May Lake. Glistening waters, jumping rocks, towering trees and crisp fresh air make for a splendid trip out of Camp. 
Campers are always talking about backpacking. Whether it's the anticipation of an upcoming trip, talking about the neat things they learned from our incredible Wild leaders, remembering the beautiful locations they visited or chatting about past trips, they're all the buzz!  
Here's what campers have to say about their backpacking trips this session:
"I really liked the backpacking experience because we got to sleep under the stars and we got to go into the lake all together," G-5 camper July said. 
"The stars were super clear and beautiful," B-7 camper Tristan said. "It was special because normally I don't see that many stars because of light pollution, but out in the forest there's no light, so it was really cool."
"We were on a hike – we went on multiple hikes – and the first thing we identified was a darkling beetle, and as we kept walking, we found different species of fungi and plants," G-2 camper Harper said. "It was a highlight of Camp, for sure!"
Session 4 Update 
Today is the last full day of summer camp 2023, and Session 4 campers are making the most of it! Time sure flies when you're having fun! It has been truly special watching campers experience mission moments and connect with their bunkmates over the past two weeks. We've loved seeing campers create new friendships and enjoy countless Camp activities! This afternoon, campers will enjoy their last floats and visit their favorite stations, like archery or Arts & Crafts before packing for home. Tonight's Banquet Dinner will be the star of the show: Thanksgiving favorites served by Unit Heads in crazy costumes. Closing campfire will be a bittersweet end to the session, featuring plenty of talented acts and heartfelt sing-alongs. We'll end the campfire tonight as we always do with the singing of "Friends, Friends, Friends." With two weeks of bonding under campers' belts, new friends and old ones will sway with arms around each other's shoulders for a sweet culminating moment. 
To commemorate their fun times, many bunks elected to create plaques, a Camp tradition. Acting as a time capsule of sorts, plaques line the walls of every Tawonga cabin, and some even end up in the Dining Hall. Returning campers often venture around Camp to find their plaques from previous years. Earlier this summer, two campers even found their parents' names on a plaque together from the '80s! 
Tomorrow morning we'll sing "Leaving on a Jet Bus" and will lead the campers through the Tunnel of Love onto the buses home. We hope to see these Session 4 campers again next summer!
---
Check out today's Tawonga Tidbit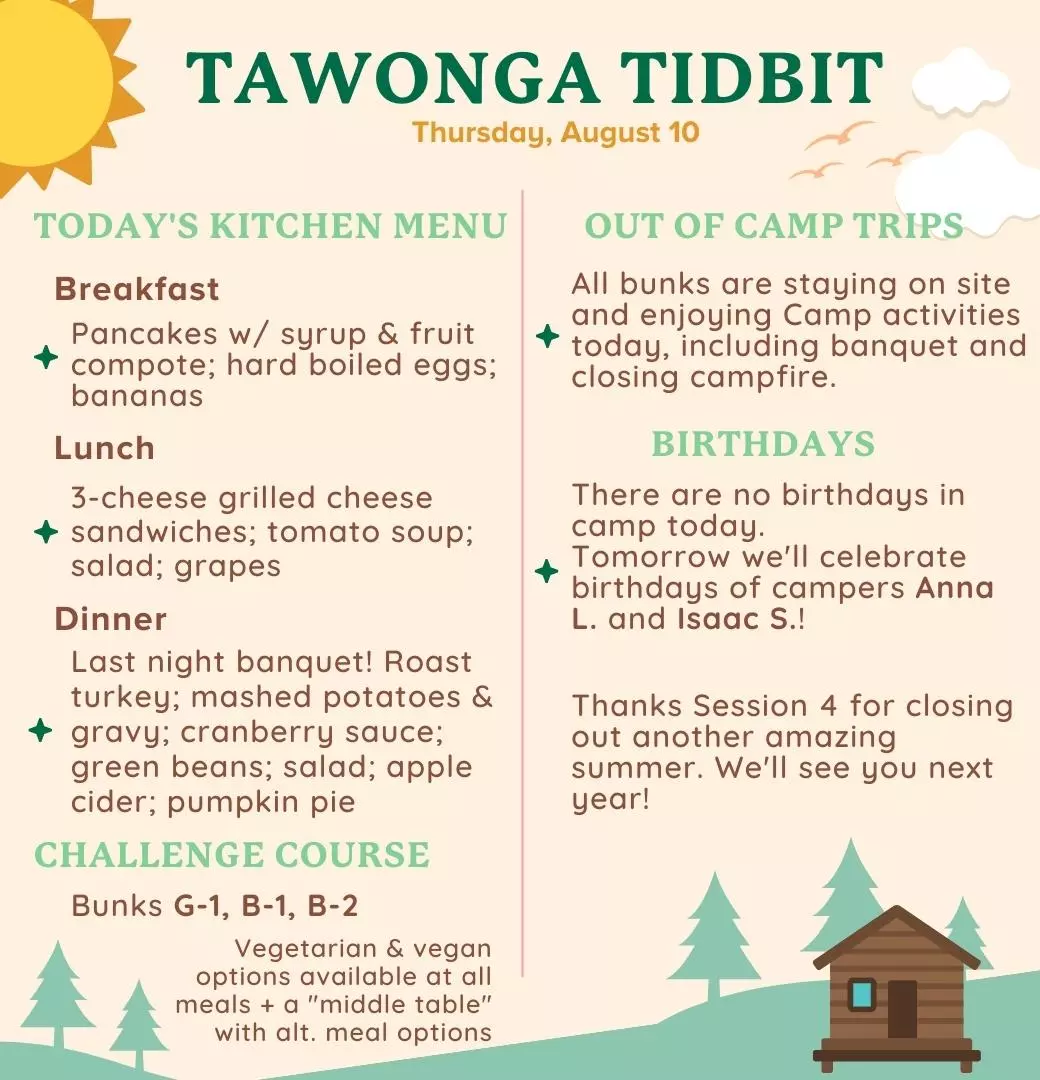 ---
Below, enjoy photos from the past few days of Camp