Just two days ago, we had the great pleasure of welcoming over 300 campers to Tawonga for Session 3 – our longest program of the summer! Their energy, excitement and laughter has already brought new life to Camp. As the campers descended from the buses, they were greeted by the traditional Tawongan cheer: 
"We welcome you to Camp Tawonga, mighty glad you're here. Send the air reverberating with a mighty cheer. We'll sing you in, we'll sing you out! For you we'll raise a mighty shout! Hail, hail, the gang's all here, Camp Tawonga welcomes you!"
This session is made extra special by the fact that almost all campers are returning Tawongans. Campers were ecstatic to be reunited with their friends from previous years, as well as getting to see some familiar faces on staff.
The first few hours at Tawonga are quite busy: meeting (and reuniting) with bunkmates and counselors, getting to know each other through fun and silly games, settling into their cabins, collaborating on Work Wheels (the system through which bunks share responsibilities like cleanup after meals) and setting out on Havurah Hikes with bunkmates. These hikes help campers to re-familiarize themselves with Camp facilities like the Health Center, Arts & Crafts or the Rainbow Lounge, the Camp therapy space.
On their first night at Camp, all bunks gathered in their units for celebratory opening campfires where campers met their summer staff, showed off bunk themes and cheers and set intentions for the coming weeks. 
Tawonga traditions are alive and well this session with so many veterans taking the lead; yesterday (on just the second day of the session), campers loved their lunch of corn dogs and chicken nuggets so much that they brought out Tawonga cooks from behind the scenes with our age-old "We want the kitchen staff" cheer to share their appreciation. 
Last night, the second evening of the session concluded with another special Tawonga tradition: the Gender Campfires. Campers were given an option to participate in one of three campfires: a girls' campfire, a boys' campfire, or (starting in 2017) a third option for those who don't feel like they quite fit into the other two categories. 
The Gender Campfires are an opportunity for campers of all gender identities to gather and discuss relevant gender issues and to establish a safe and inclusive space for everyone. Through poems, stories, songs, personal sharing and group activities, campers unpack some of the beauty and challenges of growing up within their gender identity. They also set the tone for the rest of the session, bringing alive our mission and creating a place where kids can be themselves and feel supported by the larger community. 
Here at Tawonga, we celebrate differences by providing a safe space and the support necessary to give everyone who attends Camp a great and memorable time that will have a lasting positive impact on their lives.
With loving, welcoming intentions set, we can't wait for what this session has in store for these amazing campers! This afternoon, just about everyone is excited for Floats, where campers can explore activities independently from their bunks. Our backpacking program and challenge course adventures have also officially begun – Session 3, here we go! 
Below, have a look at the "Tawonga Tidbit" for some more fun Camp facts from the day. 
P.S. In case you're just tuning for the first time this season, please note that we will be posting updates to the blog here about twice a week for our entire community. Parents and guardians of campers currently in session can also access daily photos and updates through the new Campanion app.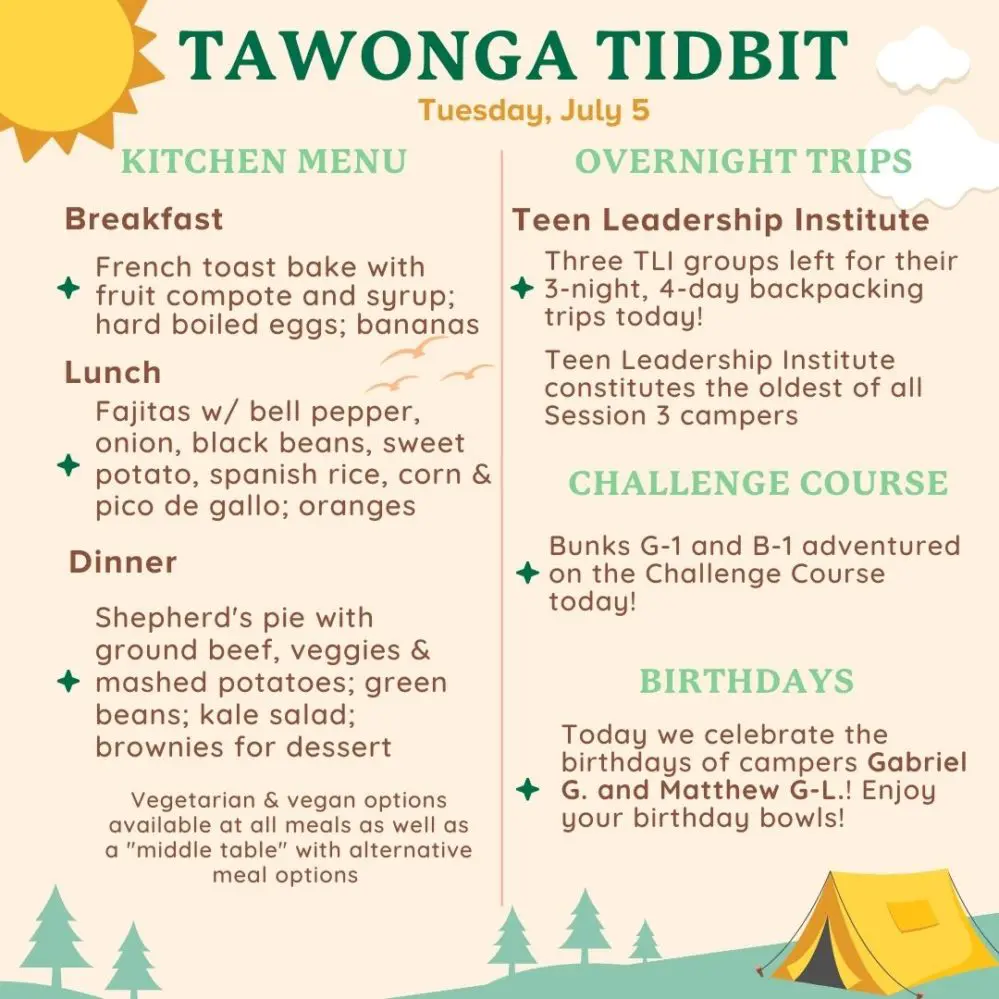 ---
Enjoy photos from the start of Session 3 below!