By: Rabbi Eliana, Jewish Programming Lead
Hello Tawonga community! I'm Rabbi Eliana, and it is with so much excitement that I get to introduce myself to you and share a bit about how the campers are connecting to Judaism at Tawonga this season! 2
I knew from a young age that Jewish ritual felt soul-nourishing in a very special kind of way. Today, I am fortunate to have the opportunity to accompany young folks on their own Torah travels. Something that drew me to Tawonga (aside from my rabbinical school classmate Rabbi Deborah Newbrun) was the encouragement to find what works for you in Jewish tradition. There is so much delicious content in Jewish practices, and I love the Tawonga idea that Judaism is a buffet – or as I also like to think of it — a choose your own adventure series. I'm here to build confidence in making those brave choices and foster Jewish originality in the campers through ritual, innovative activities and creative expression.
There are a few ways campers get to experience Jewish at Camp. First is Ruach (spirit) hour, which is a time where whole units (groups of like-aged bunks) meet with Evan, our incredible Jewish Program Assistant, and myself. We begin and end with music and dancing to set the tone and bring in as much ruach as we can. We get silly with games like Torah TV, where each bunk acts out a Torah story as their favorite TV or movie genre. We've had some creative gems this summer including Noah's ark as Jurassic Park, the ten plagues as SNL's Weekend Update, Israelites crossing the Red Sea as Keeping Up with the Kardashians, and creation as a cooking show called God's Kitchen: Where Miracles Happen. After these educational skits, we move into Kabbalat Shabbat prep to discuss the week's Torah portion and weekly Shabbat theme — a new cadence for this summer, replacing the summer-long themes from previous years. For Session 2, the theme was "My voice is powerful," and the first theme of Session 3 is "Rock Shabbat: Miracles and Messiness." 
I have been so blown away by the wisdom shared from campers that for Session 2, instead of giving the drash for Saturday morning Torah service myself, I had four campers lead it to inspire and motivate the community to raise their own voices. It was such a meaningful experience for everyone that we will be incorporating this into Sessions 3 and 4.
Another way campers can experience Jewish at Tawonga is through the blocks we offer for individual bunks. A few from this summer are "Jewish beasts and where to find them", "Jews and tattoos", "Jews and comic books" and even a dreidel masterclass. They've all been tons of fun, and the creativity the campers have shown has been exceptional!
At the heart of it, I am here to meet campers where they're at, motivating them to dive deeper into Torah and Jewish thought in new ways. My hope is to inspire campers to think about how Jewish texts and traditions relate to them here and now, and have them leave feeling positive, accomplished and ready to explore even more. We approach Jewish learning from a place of love, compassion and understanding – and believe every camper deserves the opportunity to thrive! We are focusing on campers taking the lessons and values off of the page and into their own hands. 
I'm so grateful to be learning with the campers and to be part of such an amazing team. Tawonga has exceeded every expectation and then some. Seeing the community here engage in such joyous Judaism day after day has been an absolute blessing!
Rabbi Eliana Kayelle (they/them) is an educator, theater maker, and community organizer. They are passionate about creating art, making Jewish tradition accessible, and working towards collective liberation.
P.S. Enjoy today's Tawonga Tidbit below as well as photos from the last few days of Session 3! Reminder that parents and guardians of campers in session can also access daily photos and updates in the Campanion app.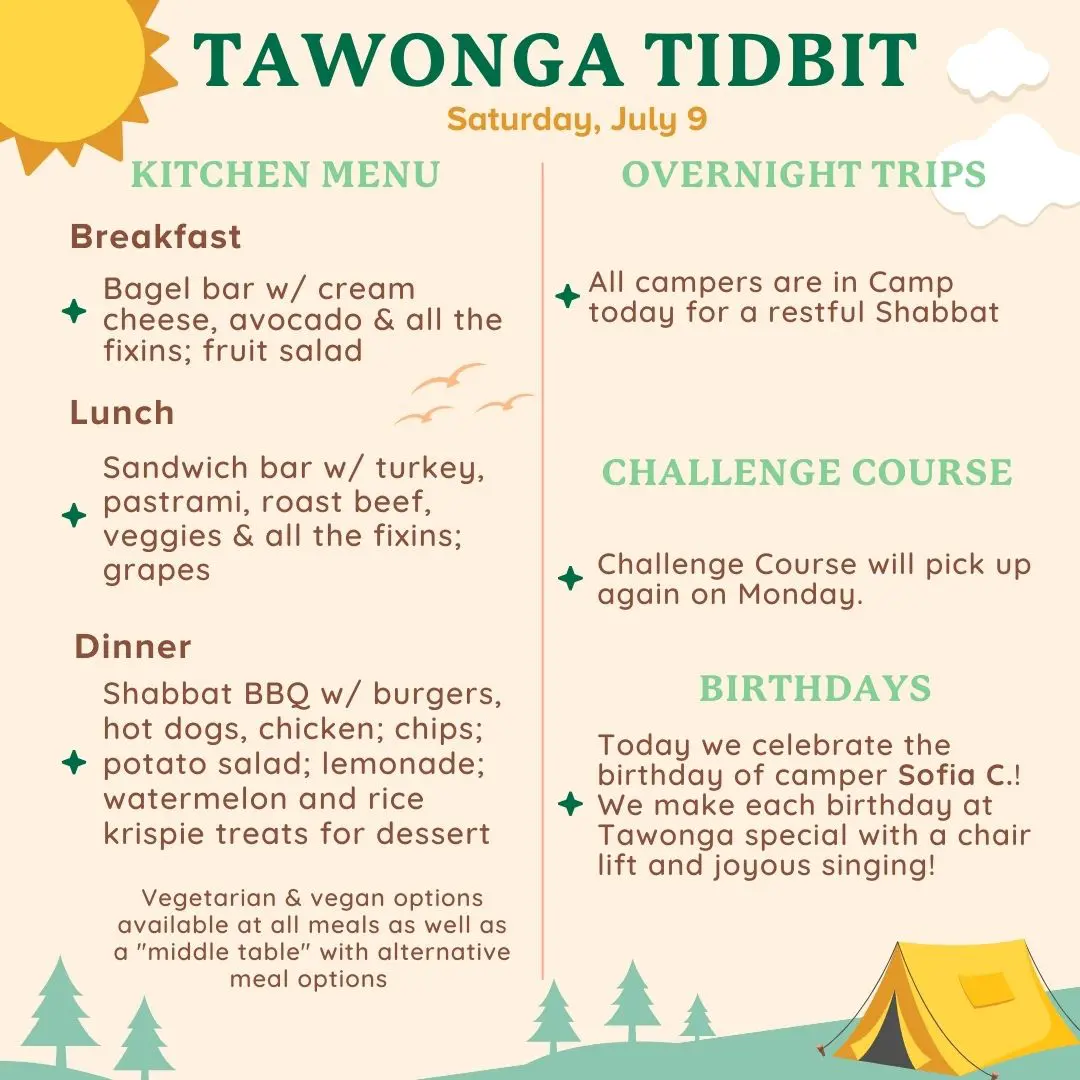 ---
Check out photo highlights from this week, including Shabbat, below!